Many were disheartened when Olive Garden pulled out their capellini pomodoro. Who wouldn't be? It was one of their freshest pasta dishes, and everyone loved it. Just because it's off the Olive Garden menu, doesn't mean you can't recreate it at home. You heard it right, we've got a delicious recipe for pasta pomodoro that will blow your socks off! It tastes amazingly similar to Olive Garden, and it's incredibly easy to make. And we've got the perfect pomodoro sauce that goes brilliantly with it!
What is Pasta Pomodoro?
Pomodoro is the Italian word for "tomato". So basically, pasta pomodoro is a pasta with tomato sauce. With only simple seasonings like fresh herbs and garlic, it is the use of the freshest tomatoes that gives the sauce a naturally juicy taste which makes for a perfect base for pasta. Despite the small number of ingredients, it packs a whole lot of flavor! You can never get anything fresher than a plate of pasta pomodoro.
Now that you know what builds this fresh tomato pasta, let's take a closer look on the actual Olive Garden Capellini Pomodoro.
How Olive Garden Makes Their Pasta Pomodoro
It is no secret that Olive Garden makes the freshest dishes for their customers. And they kept their word on that when it came to their capellini al pomodoro. Here's why.
Their pasta is not cooked-to-order, but rather pre-cooked in the morning to al-dente. They don't salt their pasta as well, because they trust that their delicious sauces will do the flavoring for them! And we have to agree. You can never go wrong with a pomodoro sauce as fresh as Olive Garden's. And that speaks volumes for every other pasta sauce they're cooking up in the kitchen.
Olive Garden pulled out this delicious fresh tomato basil pasta years ago. But you never have to wonder if you'll ever get a taste of it again. Stick around as we show you our scrumptious capellini pomodoro recipe!
Tips To Making The Freshest Tomato Pasta Pomodoro
For our pasta pomodoro, we use capellini, which is an Italian pasta variety. It's similar to angel hair pasta, which is often used in many dishes. A few examples of these dishes are the capellini al forno that's fried and served like pie and the lemon capellini for a tangy twist, to name a few. If you're looking for another recipe that uses capellini pasta, you can check out our copycat savory shrimp pasta that's just like Olive Garden's!
Apart from the pasta, our Olive Garden Capellini Pomodoro recipe uses only the freshest ingredients. The two most important ingredients to ensure a perfect pasta pomodoro sauce are:
Plum Tomatoes: We recommend using plum tomatoes for a more concentrated tomato flavor. You can also use canned diced tomatoes, but make sure to use the best quality or brand out there.
Fresh Basil: We've also incorporated fresh basil for a subtle, peppery flavor with a hint of mint. So if you're growing your own basil in your backyard, this is the perfect time to toss those into this dish!
In addition, as far as any capellini pasta recipe goes, it's important to keep a few things in mind. One is to generously salt your pasta. You can totally skip this part if you want to go all-out Olive Garden style. But if you want full-bodied flavors for your dish, make that water as salty as the sea! Another great tip to keep in mind is to reserve some of that pasta water. A good half cup should work, which you can add to your pomodoro sauce during cooking. This will add flavor and help glue the pasta and sauce together.
Switching up This Pasta Pomodoro
You can also make this pasta pomodoro your own by adding a few more ingredients! Try adding a bit of protein to your dish by tossing in some flavorful shrimp. Some recipes also call for just a pinch of chili flakes, so add that on for some spice. Want to imitate a lemon capellini? Add a splash of lemon into the mix for a tart bite! And if you ever want to make this dish vegan-friendly, try using vegan angel hair pasta or any legume-based pasta. There is so much more you can do to make this dish extra special. So don't be afraid to experiment on it a bit to get your desired flavor.
Now that sounds about easy, right? Serve this fresh pasta al pomodoro up for your next dinner party! It's great to make in a pinch and comes with only the most basic ingredients. Make sure to serve it up with this Rhubarb Wine Recipe for a more classic dining experience. And for more simple pasta recipes like this, check out our Domino's Pasta Primavera Recipe!
How To Make Copycat Olive Garden's Capellini Pasta Pomodoro
This savory pasta pomodoro has a juicy and flavorful tomato bite. It has notes of fresh basil and creamy cheese for a delectable dinner meal!
Ingredients
3

cloves

garlic,

minced

2

lb

plum tomatoes,

seeded and diced

1

oz

fresh basil leaves,

minced

⅓

cup

extra virgin olive oil

3

oz

parmesan cheese

12

oz

angel hair pasta,

dry, cooked

¼

tsp

pepper
Instructions
Heat the olive oil in a skillet over medium heat then add garlic.

Cook the garlic until it turns white. Do not let it burn.

Add the plum tomatoes and pepper.

Heat through, stirring constantly, for about 2 to 3 minutes or until the tomatoes start to soften.

Remove pan from the heat.

Transfer the hot, cooked pasta into a large bowl.

Add the tomato mixture, basil, and half of the parmesan cheese into the large bowl, then toss the pasta gently in the mixture.

Serve at once with a sprinkling of the remaining parmesan, and enjoy!
Recipe Notes
When making the tomato mixture, stir constantly, but do not try to press your spoon against the tomato. The diced tomatoes should retain their shape to get the best pomodoro sauce!
Nutrition
Calcium:

309mg

Calories:

604kcal

Carbohydrates:

74g

Cholesterol:

14mg

Fat:

25g

Fiber:

6g

Iron:

2mg

Potassium:

777mg

Protein:

21g

Saturated Fat:

6g

Sodium:

358mg

Sugar:

8g

Vitamin A:

2429IU

Vitamin C:

33mg
Nutrition Disclaimer
Commonly Asked Questions
How do I store my pasta pomodoro?
Store your dish in a tightly sealed container or bag, removing as much air as possible. This will last in the fridge for up to 1 to 2 days. If you want to prevent getting soggy pasta, store your angel hair pasta and pomodoro sauce separately. To do this, allow your cooked pasta to cool before tossing 1 tablespoon of olive oil into it. This will prevent your pasta from sticking together in storage. Once done, simply store in an air-tight container, and will keep for 3 to 5 days in the fridge. Similarly, but without the olive oil, store your pomodoro sauce in an air-tight container and it should last for up to 5 days.
Can I use other types of pasta for this recipe?
If you don't have any angel hair pasta lying around, fret not! You can certainly try this with other kinds of pasta like spaghetti or even fettuccine. For a more authentic style, try using Capelli d'angelo pasta, which you may find in most grocery stores.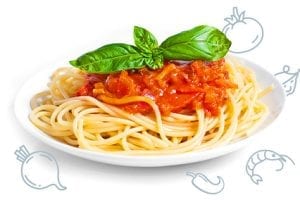 Conclusion
You never have to feel sad about losing Olive Garden's tasty capellini pasta pomodoro. Recreate our recipe that's just like it at home, and serve it up to your friends and family. Try serving with a side of breadsticks and a glass of wine for a classy dinner meal!