Many were surprised when Olive Garden pulled out their capellini pomodoro from their menu. Who wouldn't be? It was one of their freshest pasta dishes and saying everyone loved it is an understatement. Now, just because it's off the Olive Garden menu, it doesn't mean you can't enjoy it at home. How? We have here a delicious capellini al pomodoro recipe that will blow your socks off! The result of this recipe is amazingly similar to that of the Olive Garden. It's incredibly easy to make! Just follow this guide and be on your way to some slurping goodness! 
What is Capellini Pomodoro?
Pomodoro is the Italian word for "tomato". So basically, pasta pomodoro is pasta with tomato sauce. In this recipe, we used capellini pasta. It looks like a much more thinner and delicate spaghetti, almost like angel hair pasta. As it is very thin, we should be careful not to overcook capellini because it has the tendency to fall apart if it gets too mushy.
Capellini pomodoro is made with very simple ingredients like fresh basil, the use of the freshest tomatoes, and some aromatics, it's perfectly easy to give the sauce natural juiciness and an authentic Italian taste. You can never get anything fresher than a plate of capellini pomodoro.
Tips on Making Olive Garden's Capellini Pomodoro
Olive Garden pulled out this delicious tomato and basil pasta years ago. But you no longer have to pine after it, as you can make your very own homemade version with this easy recipe. Here's how you can make it like you once ordered it:
Use plum tomatoes

as

they bring about a more concentrated tangy flavor. You can also use canned diced tomatoes, but make sure to use the best quality or brand out there.

Peel and remove the seeds of your tomatoes

before you use them as an ingredient for our Pomodoro. It will give the pasta softer and juicier tomato bites and its flavor will spread out quickly this way.

Use fresh basil if you can.

Basil has a minty, subtle, peppery flavor, which makes it perfect for pasta dishes such as pasta pomodoro. If you're growing your own basil in your backyard, this is the perfect time to pick up some!  

Do not salt your pasta

if you're after the all-out Olive Garden taste. But if you want a full-bodied flavor for your capellini Pomodoro, sprinkle your pasta water away!

Save some of that pasta water. Adding half a cup of it won't only add flavor to your sauce, but it will also help the pasta and sauce stick together.
You can also check out the 50 types of pasta and their best pairing sauce!
How To Make Capellini Pomodoro (Olive Garden Copycat)
This savory capellini pomodoro is full of rich and popping tomato bites. Add notes of fresh and peppery basil and the creaminess of Parmesan cheese for a delectable Olive Garden-inspired meal!
Advertisement
Continue Reading Below
Ingredients
3

cloves

garlic,

minced

2

lb

plum tomatoes,

seeded and diced

1

oz

fresh basil leaves,

minced

⅓

cup

extra virgin olive oil

3

oz

parmesan cheese

12

oz

angel hair pasta,

dry, cooked

¼

tsp

pepper
Instructions
Heat the olive oil in a skillet over medium heat then add garlic.

Cook the garlic until it turns white. Do not let it burn.

Add the plum tomatoes and pepper.

Simmer, stirring constantly, for about 2 to 3 minutes or until the tomatoes start to soften.

Remove pan from the heat.

Transfer the hot, cooked pasta into a large bowl.

Add the tomato mixture, basil, and half of the parmesan cheese into the large bowl, then gently toss the pasta in the mixture.

Serve at once, sprinkling it with the remaining parmesan.  Enjoy it as if you're in Olive Garden!
Recipe Notes
When making the tomato mixture, stir constantly, but do not try to press your spoon against the tomato. The diced tomatoes should retain their shape for the best pomodoro sauce!
Advertisement
Continue Reading Below
Advertisement
Continue Reading Below
Commonly Asked Questions
Is capellini the same as angel hair?
Capellini means "thin hairs" in Italian. Capellini and angel hair pasta are very similar. They are both thin and delicate. But angel hair pasta is actually slightly thinner than capellini.
Can I use other types of pasta for this recipe?
If you don't have any capellini or even angel hair pasta lying around, fret not! You can certainly try this recipe with other kinds of pasta like spaghetti or even fettuccine.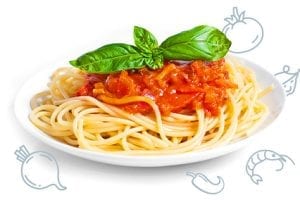 Conclusion
This capellini pomodoro recipe is the remedy for your blues about the iconic but discontinued Olive Garden meal. Make it feel like you're ordering takeout again by recreating it in the comfort of your home.
Advertisement
Continue Reading Below
Topics:
Advertisement
Continue Reading Below
Advertisement
Continue Reading Below