You might be spending your weekends chilling or holding get-togethers at home. In case you want to do both, you can make a Chick-Fil-A Spicy Chicken Sandwich for any activity or occasion. You don't have to be a professional cook to serve the best spicy chicken sandwich, because you can easily serve this tasty and hearty sandwich right to your party table.
If you're not into spicy dishes but are a fan of an easy-to-do chicken sandwich for quick snacks and midnight kitchen escapades, you can try our recipe for Chick-Fil-A's Chicken Sandwich! Even more, we recommend serving Chick Fil A Nuggets along with a smokey mustard flavored Chick-Fil-A sauce to complete the ensemble.
What's in this chicken sandwich, you might ask? Besides our marinated and breaded fried chicken meat, our sweet and spicy sauce makes this sandwich addicting to a fault. When you need to take a quick break or a day off, and you just need to grab a quick snack, you can always rely on the quick and easy preparation of this sandwich. Go ahead and try it out!
Choosing The Best Bread Buns For Your Chicken Sandwich
Bread buns can take your sandwich to the next level by adding an amazing flavor to your sandwich while absorbing meat juices and every drip of the most satisfying sauce.  Try making your spicy chicken sandwich with the following bread buns:
Plain Buns – In making a sandwich, there's your usual plain bun like what we use in this recipe. Some may think that using these buns would be boring, but the sandwich started with plain and simple bread buns. Plain buns make the perfect simple base for your sandwich, highlighting the flavors coming from the mouthwatering juices of the meat and other ingredient fillings.
Sesame Seed Buns – A sprinkle of sesame seeds on your bread makes a lot of difference in terms of the texture of the bread. They add in amounts of crunch and a bit of flavor in every bite. It's also perfect for your weekend emergency cookouts, for you can easily find this type of bread in any store around the corner. 
Potato Bread – Potato and bread? Sounds like a lot of starch. 

But potato bread actually has a spongy texture and potato flavor that matches well with different cheeses. So if you're planning to add a lot of cheese into your chicken sandwich, we suggest using potato bread for your buns.

Ciabatta Bread – Originally invented in 1982, this Italian bread didn't fail to compete with the reign of the French Baguettes. With its chewy center and fluffiness, it can hold all the fillings you choose to put in without losing the tender bites that you rarely get in baguettes. Besides using Ciabatta on this chicken sandwich recipe, you can make Prosciutto on Ciabatta for your new go-to deli sandwich.
Tips In Making Spicy Chicken Sandwich
Although this sandwich recipe is already easy as it is, we have a couple of tips for you in making this delicious sandwich plus some recipe variations that you can try:
Marinate your chicken pieces in buttermilk for at least 45 minutes to overnight before proceeding with the recipe. Marinating them in buttermilk can

help tenderize and moisturize your chicken when you deep fry it and enhances its flavors.

You can keep this tip in mind

every time you cook fried chicken. 

Add more tabasco into your sauce or add more chili powder to your breading mix, if you want to add more spice to your sandwich.

Add ba

con strips, fries, meat, or the classic chili-con-carne to your fillings to 

add more exciting flavors to your sandwich.

Steam your bread buns for 10 minutes to make them extra soft. This will also help the bread buns absorb more moisture and turn less dry.
For other easy spicy chicken sandwich recipes, try making our Copycat Son of a Gun Chicken Sandwich with a spicy coleslaw filling or our mildly spicy Hatch Chile Turkey Panini Sandwich that's crunchy, delicious, and easy to make.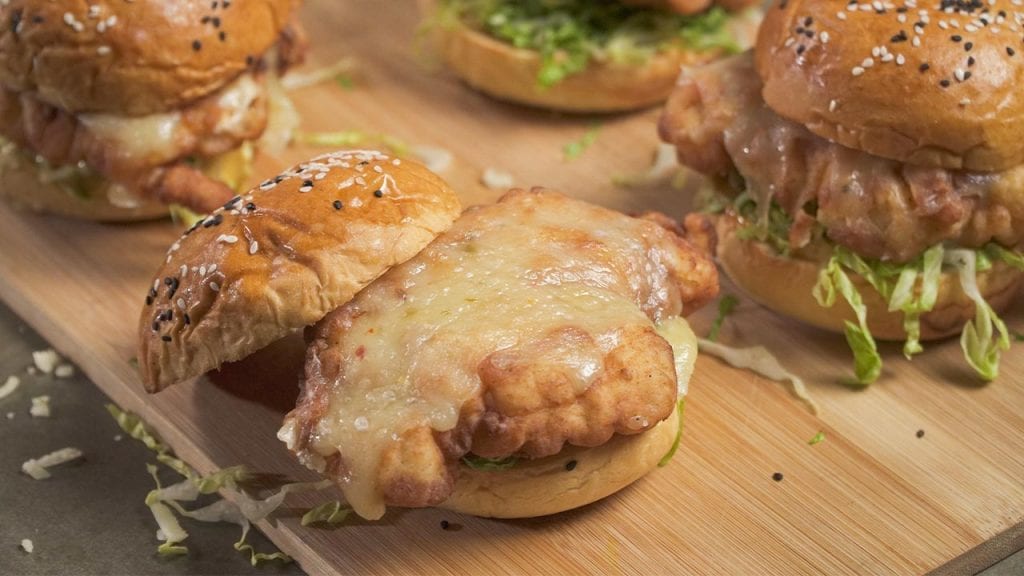 Copycat Chick-fil-A Spicy Chicken Deluxe Sandwich Recipe
How To Make Copycat Chick-fil-A Spicy Chicken Deluxe Sandwich
Enjoy a delicious chicken sandwich with a spicy kick by making our copycat Chick-fil-A Spicy Chicken Deluxe Sandwich. You'll love the savory and spicy combo of this fried chicken sandwich with a sweet and spicy barbecue mayo sauce.
Ingredients
For Chicken Sandwich:
4

chicken breasts,

(8 oz each), boneless

½

cup

pickle juice

½

cup

pineapple juice

1

cup

milk

1

egg

vegetable oil,

for frying

4

hamburger buns,

split

3

cups

Pepperjack cheese,

grated
For Sauce:
½

cup

mayonnaise

1½

tbsp

mustard,

prepared

1½

tbsp

honey

½

tsp

garlic powder

½

tsp

paprika

1

tsp

lemon juice

1

tsp

barbecue sauce,

preferably Hickory flavored

salt and ground black pepper,

to taste
For Breading:
1

cup

all-purpose flour

3

tbsp

confectioners' sugar

½

tsp

paprika

1

tsp

black pepper

½

tsp

chili powder

½

tsp

salt

½

tsp

baking powder
To Serve:
side of potato chips,

preferably Dill Pickle flavored

lettuce or coleslaw,

sliced

cucumbers,

sliced

tomatoes,

sliced
Instructions
Chicken Sandwich:
Lightly flatten your chicken breast using the flat side of a mallet. Then set aside.

Combine the pickle juice, pineapple juice, and chicken breasts in a resealable plastic bag.

Transfer it to a chilled area, seal, and let it marinate for 1 hour.
Sauce:
In a bowl, add the mayonnaise, mustard, honey, garlic powder, paprika, lemon juice and barbecue sauce. Whisk until combined well.

Season to taste with salt and pepper. Adjust accordingly to your preference and then set it aside.
Breading:
Prepare your breading station for the chicken breasts. Combine the all-purpose flour, confectioner's sugar, paprika, black pepper, chili powder, salt, and baking powder. Set it aside.

In a separate bowl, beat together the milk and egg.

Preheat the vegetable oil to 350 degrees F in a Dutch oven or a deep skillet, and your oven to 400 degrees F.

Line a roasting tray with parchment paper and set it aside.

While waiting for the oil to heat, bring out the marinated chicken breasts for breading.

Dredge the chicken breasts in the flour mixture, dip them in the egg mixture, and return to the flour mixture to coat. Repeat the process with the rest of the chicken breasts.

Deep fry the chicken breasts until cooked through, crispy, and golden brown evenly on all sides.

Drain them over a basket lined with paper towels and transfer onto your greased roasting tray.

Divide your grated cheese among the chicken breasts and sprinkle it on top.

Preheat your oven to broil for 10 minutes before you put the chicken breasts. Keep broiling until the meat is no longer pink, and it melts the cheese. Once the temperature of the chicken reaches 164 degrees F, remove them from the oven then set them aside.
To Serve:
Warm your burger buns and assemble your chicken sandwiches.

Spread the sauce on the top half of the bun and mayonnaise on the bottom half.

From the bottom half, layer the lettuce, tomato, and cucumber.

Layer next to the gratinated chicken, and cover with the top bun.

Serve immediately with a side of chips.
Nutrition
Sugar:

23g

:

Calcium:

840mg

Calories:

1069kcal

Carbohydrates:

69g

Cholesterol:

207mg

Fat:

62g

Fiber:

2g

Iron:

5mg

Potassium:

539mg

Protein:

56g

Saturated Fat:

24g

Sodium:

1840mg

Vitamin A:

1061IU

Vitamin C:

6mg
Nutrition Disclaimer
Frequently Asked Questions
Is the Chick-fil-A Spicy Chicken Deluxe Sandwich really spicy?
Yes, it's perfect for spicy food lovers out there. However, if you have little tolerance for spicy food, you can tone down the heat by simply reducing the chili powder you include when making the breading or leaving it out of the recipe.
How do I air fry chicken sandwich?
First, preheat your air fryer to 370 degrees F. Then lightly spray your chicken breasts with cooking spray and put in in the greased rack of your fryer for about 10 to 13 minutes, switching sides mid-way through the said cook time then serve.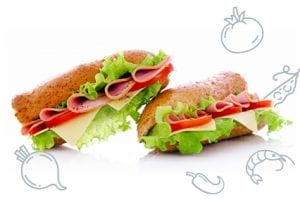 Conclusion
This chicken sandwich recipe can be your go-to because you can easily make it for quick snacks and last-minute meals. Plus, customizing the ingredients in making this sandwich is very fun to do. If you're doing this for a party, you can even serve different toppings and buns on the table and let your guests make their own spicy chicken sandwiches. Enjoy it with a side of fries and you'll be all set for a meal that's tasty and filling without having to stand in line at a fast-food joint.
Topics: