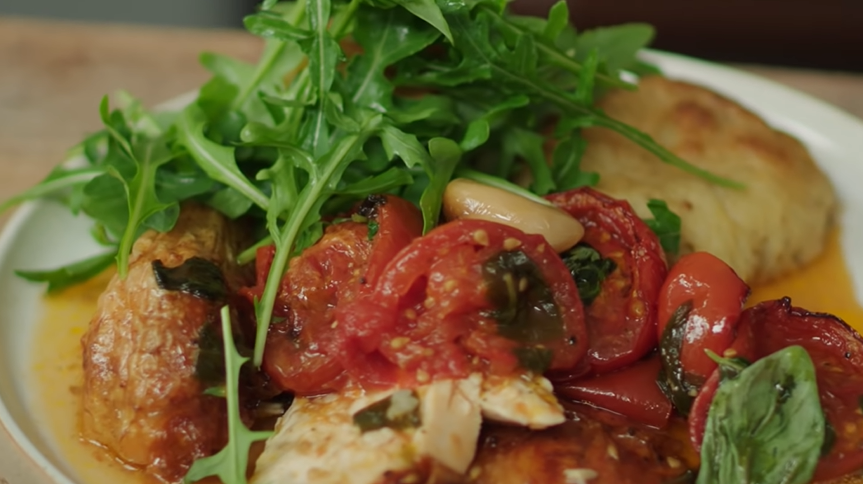 Grilled Chicken Margherita Olive Garden Recipe (Copycat)
I love cooking home-style Italian dishes since they almost always use a lot of herbs and seasonings to perfect their flavor. Some Italian recipes call for even more cheese on top to achieve a gooey and cheesy finish. An Italian dish with melted cheese is one of my favorite meals to make, just like this delicious grilled chicken Margherita Olive Garden dish which I wanted to recreate at home.
This copycat Olive Garden grilled chicken Margherita recipe is the best weeknight dinner meal. I made this for my family, and it was really satisfying and filling to eat. If you've never had this tasty Olive Garden chicken fast food dish, then it's basically grilled chicken breasts that are perfectly tender and drenched in pesto sauce and lemon garlic sauce. It's then topped with melted mozzarella cheese, and garnished with fresh tomatoes and sliced basil.
The arrangement of this copycat recipe is similar to a , but it uses chicken meat instead of pizza dough. And, it definitely tastes more delicious than the pizza. This recipe doesn't just grill the boneless chicken, but it's also marinated in Italian salad dressing beforehand so it's extra flavorful. After the chicken is cooked, I brushed lemon garlic sauce on each chicken, added a slice of mozzarella cheese, and finished it off with my homemade pesto sauce.
I popped it in the oven so that the sauces and mozzarella cheese blend perfectly with the chicken. After a few minutes, it was ready to serve. I brushed some more of the lemon garlic sauce, and added the fresh tomatoes and basil garnish. I was proud of my plating since it made the dish extra appetizing and fancy to eat.
It definitely looks like the ones served in Olive Garden (or maybe even better!). The taste was definitely savory and rich in flavor, and the mozzarella also added some texture and depth to the dish. Overall, this grilled chicken Margherita Olive Garden recipe was so good that I'm making more of it next time to share with my friends.
How To Make How To Make Grilled Chicken Margherita Olive Garden (Copycat)
Amp up your meals with this copycat grilled chicken Margherita Olive Garden recipe that's topped with mozzarella cheese, pesto sauce, and cherry tomatoes.
Marinate Time:
30 minutes
Ingredients
2

lbs

chicken breasts,

(4 portions), boneless

1

cup

Italian salad dressing,

for marinade

2

tbsp

olive oil

¼

cup

fresh basil,

thinly sliced

½

cup

*pesto,

(see Recipe Notes for recipe)

2

tsp

garlic,

minced

6

tbsp

butter

1½

tbsp

lemon juice

¾

cup

chicken broth

½

lb

mozzarella,

sliced, 1 slice for each piece of chicken

1

cup

cherry tomatoes,

or grape tomatoes
Instructions
Preheat oven to 350 degrees F.

Pound chicken out between 2 sheets of plastic wrap. Place the chicken breasts into a gallon-sized zip-top bag. Add Italian salad dressing for the marinade, and allow the chicken to marinate for at least 30 minutes before cooking.

Wash cherry tomatoes, and slice in half. Set aside.

Add olive oil to a large cast-iron skillet. Cook the chicken on medium-high heat for 7 to 8 minutes on each side, or until the chicken is almost done, remove the chicken from the skillet and place it in a baking dish.

While the chicken is cooking, add butter, minced garlic, chicken broth, and lemon juice in a small pot. Heat thoroughly.

When the chicken is fully cooked, brush it on the chicken. Add 1 slice of mozzarella to the chicken. Add 1 tablespoon of pesto on top of the mozzarella cheese.

Place the chicken in the oven, and bake for 7 to 10 minutes until the cheese begins to melt and brown.

When plating the chicken, brush with additional lemon butter and garnish with sliced cherry tomatoes, and sliced basil.

Serve and enjoy!
Nutrition
Calories: 

1194.05kcal

Protein: 

63.41g

Cholesterol: 

239.76mg