We've got you on the best chicken dinners that taste like your favorite fast food. Our KFC grilled chicken recipe serves the best bbq chicken that tastes exactly like KFC's. Brining is the secret to this recipe which guarantees our chicken a soft and juicy texture. Let's not forget the bright spices in its savory coating that we're adding in for extra flavor. And being grilled rather than fried, it's definitely a healthier option to try out.
There is so much love placed on this lip-smacking fast food grilled chicken recipe. Your barbeque party guests will be so impressed by the effort alone. Serve it with a healthy side of KFC'S classic green beans or coleslaw. Finally, feel free to end your meal on a sweet note with a plate of sweet and tangy grilled pineapples.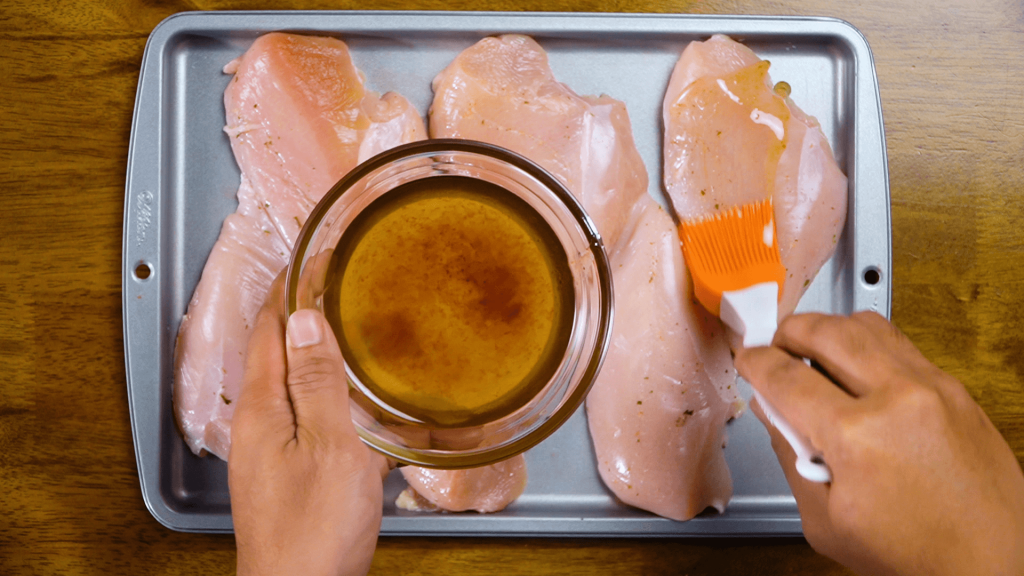 Is KFC Grilled Chicken healthy?
KFC grilled chicken is one of the healthy options served under the expanded KFC menu which now includes healthier meals. They contain fewer calories than KFC'S regular fried chicken, without sacrificing flavor. That's a win for anyone watching out for the weight! 
Many Kentucky grilled chicken lovers adore this dish with some green beans, coleslaw, and corn. It's no wonder that it's still one of the few sought-out options in the restaurant today. Have we piqued your interest yet? We'll show you how to make this iconic dish with this KFC grilled chicken recipe that will be done in less than three hours!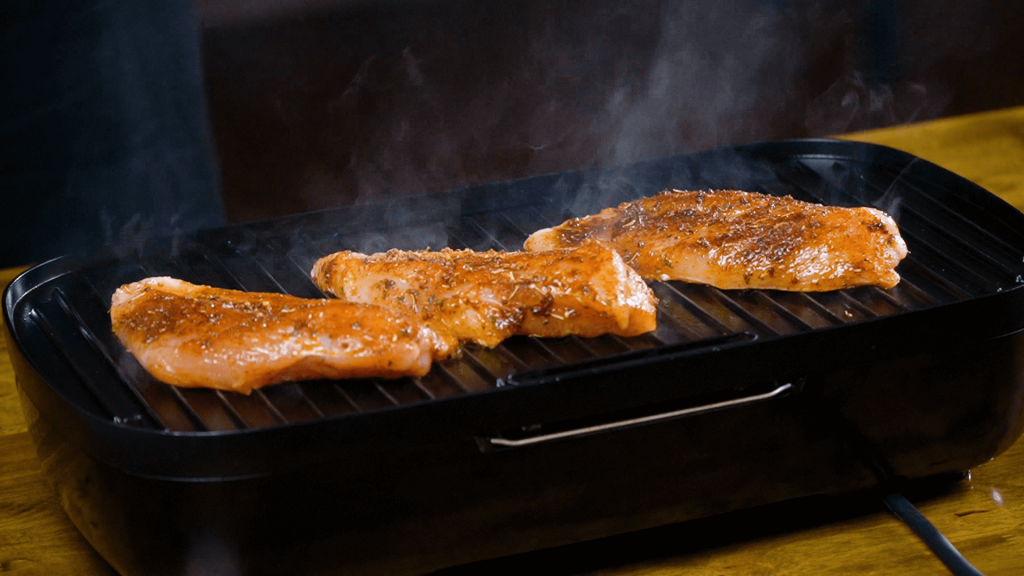 How to Grill Chicken KFC-Style
In order to make the best grilled chicken recipe that's like KFC's, we did a few things to really help develop their flavors. It all comes down to two very important steps: brining and marinating.
Brining the boneless chicken in saltwater brine is key in developing the proper flavors and ensures moist and tender meat. Our brining method takes about two hours. It may seem like a lot of time, but we assure you that this step helps build the flavors in our chicken in preparation for marinating.
Marinating the chicken, then, is a key step to help develop the base flavor of the dish from the brine. We used a savory chicken marinade for grilling made of oil, liquid smoke, and soy sauce to really bring out rich and smoky flavors. Marinating also helps keep it from becoming dry and chewy as you grill it and lessens your cooking time for it. We finish it off with a simple mix of condiments and spices that make up our KFC seasoning.
After all the prep and grilling the chicken to perfection, we get to enjoy our tender and juicy marinated grilled chicken breasts with a flavorful exterior. When you make the extra effort of doing these important steps, you're guaranteed a plate of finger-licking goodness! Serve it to your friends then let them determine if it's KFC worthy. And trust us, it will be! Making grilled chicken breast has never been this easy and delicious! Indulge your friends with some homemade KFC dishes today.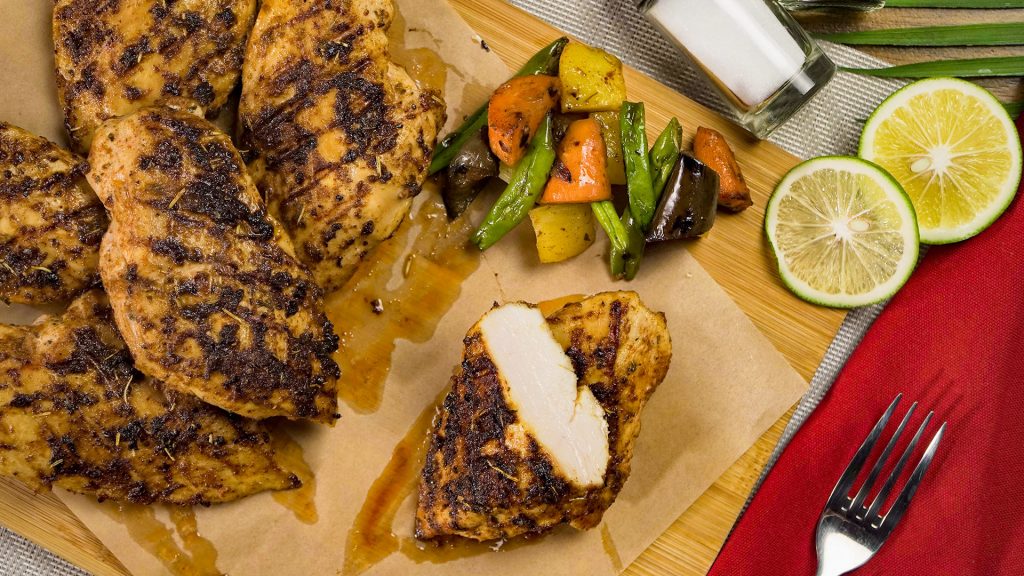 KFC Kentucky Grilled Chicken Recipe (Copycat)
How To Make KFC Kentucky Grilled Chicken (Copycat)
This KFC grilled chicken recipe serves the best BBQ chicken inspired by the crowd-favorite Kentucky-style fast food. A grilled chicken dish that has been perfectly brined and coated with an herb-filled sauce for ultimate flavor.
Ingredients
For the Chicken Brine:
2

lb

chicken breasts,

boneless

10

cups

water

¼

cup

garlic salt,

preferably Lawry's
For the Chicken Seasoning:
⅔

cup

olive oil

1

tsp

liquid smoke

1

tsp

soy sauce

1

tsp

honey

1

tsp

salt

1

chicken bouillon,

powdered or crumbled

1

tsp

ground black pepper

1

tsp

dried rosemary

1

tsp

dried basil

1

tsp

dried oregano

½

tsp

dried marjoram

½

tsp

onion powder

¼

cup

Accent seasoning,

or any similar product
To Serve (Recommended):
½

cup

green beans,

potatoes, or carrots, cooked to your preference
Instructions
Chicken Brine:
Dissolve the salt into a large mixing bowl with water.

Submerge the chicken in the salted water, cover the bowl with cling wrap, and transfer to a chilled area for at least 2 hours, no more than 4 hours. If you have a brine injector or syringe, you can also inject roughly 1 cup of the brine around the chicken before submerging.

Grease a roasting tray with cooking spray and preheat the grill to 350 to 360 degrees F. Then, preheat the oven to 360 degrees F.
Chicken Seasoning:
Mix the olive oil, liquid smoke, soy sauce, and honey together in a bowl.

In another bowl, combine the accent seasoning, chicken bouillon, marjoram, rosemary, onion powder, black pepper, oregano, and basil.

Rinse the soaked chicken with cold water and pat them dry. Brush the liquid smoke mixture around the chicken and season heavily with the prepared spice mix.

Grill the chicken pieces for approximately 3 to 5 minutes per side until evenly grilled, then transfer to the greased roasting tray and into the oven.

Roast for roughly another 3 to 5 minutes, until the chicken is cooked through. Baste with the liquid smoke mixture while roasting.

Serve with some green beans, potatoes, and carrots, and enjoy!
Nutrition
Sugar:

1g

:

Calcium:

47mg

Calories:

482kcal

Carbohydrates:

2g

Cholesterol:

97mg

Fat:

49g

Fiber:

1g

Iron:

2mg

Monounsaturated Fat:

23g

Polyunsaturated Fat:

6g

Potassium:

371mg

Protein:

32g

Saturated Fat:

7g

Sodium:

5291mg

Trans Fat:

1g

Vitamin A:

199IU

Vitamin C:

1mg
Nutrition Disclaimer
Commonly Asked Questions
How do I keep my grilled chicken from burning?
Sticking is one of the biggest causes of chicken burning. So if you're grilling chicken breast in a well-oiled grill then you don't need to worry about it sticking or going up in flames. Feel free to add more oil to the grill as necessary.
How do I store cooked grilled chicken?
Cooked chicken can be stored for up to two days in the refrigerator. However, if you're wishing to store them in the freezer, they can last for up to 3 months per USDA standards. For storing in the fridge, simply place them in an air-tight container. For freezing, try freezing them separately onto a baking sheet. Once frozen, you can collect them in a Ziploc bag; making sure to remove any excess air. This will keep the chicken from sticking together and will be much easier to thaw separate pieces.
How do I reheat my cooked grilled chicken pieces?
We recommend doing it like how KFC advises. First, arrange your grilled chicken into an oven-safe container. Second, cover it with foil to seal in the juices and to keep your chicken from drying out. Lastly, then bake it in an oven at 350 degrees F for 20 minutes or until you reach the desired heat for your meal. Take them off the oven and enjoy!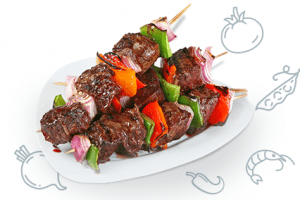 Conclusion
Satisfy your finger-licking good cravings with our KFC grilled chicken recipe. It doesn't take too much time to make a healthy option. Our grilled chicken tastes just like KFC that you won't even spot the difference! It's guilt-free and absolutely worth having seconds for.