Nothing says a filling lunch meal like a delightful wrap of chicken burrito. Our recipe for chicken burrito is just like how Qdoba makes them! It's chock-full of fresh ingredients, succulent chicken, and traditional spices. You don't have to wait in line for a hearty meal like this when you can make them at home!
We make the best copycat recipes from the Qdoba menu. So don't forget to pair this tasteful chicken and rice burrito with our take on their queso dip. Queso is always free in Qdoba, but nothing tastes more fulfilling than making your own to pair with this Mexican chicken burrito.
Scrumptious Chicken Burrito Meal Deal
Qdoba is well known for making one of the most tasteful burritos, competing with the likes of Taco Bell and Moe's. And one of these is their chicken burritos, which now comes in a meal deal with chips, salsa verde or roja, and dessert. The secret to their chicken burrito filling is a simple mix of grilled chicken, cheese, pico de gallo, rice, and beans. And if you go down to the store, you can even request their free hand-smashed guacamole and queso which are made daily. There isn't a day when customers never enjoyed these fresh flavors.
But what sets the Qdoba Chicken Burrito apart from any other is how they make their chicken. Their grilled chicken burrito comes with a unique adobo marinade. Adobo mainly consists of vinegar, paprika, oregano, and garlic, for a tangy and savory flavor. The chicken is also grilled in-house to give you the freshest meal possible!
This tightly-packed wrap can also be made into a chicken burrito bowl, which is also found on the Qdoba menu. But regardless of ordering them in a bowl or wrap, you're sure to get the finest chicken flavor. So stick around as we show you how to make chicken burrito that's as good as Qdoba's!
Beans, Chicken and Rice Burrito Like Qdoba's
We have added our own twist to this dish, but trust us when we say this is the best chicken burrito recipe we have. We definitely still have the main components of chicken, beans, rice, cheese, and pico de gallo. But it's how we chose to make some of these and how you can assemble it is what makes them extra special.
We made our own chicken burrito seasoning using red wine vinegar, tomato, and tasty spices. Each chicken bite should give you bursting flavors of tomatoes, tangy vinegar and spicy seasonings. It's kind of like adobo, but with a twist of tomatoes for a different flavor. Then, instead of grilling, we've made it easy for you by simply frying the marinated chicken in olive oil. With flavors and a cooking method this easy, you're off to a great start for the rest of the recipe.
Despite our many ingredients, don't forget to make this Qdoba burrito your own! Our recipe comes with their famous lime cilantro rice, but feel free to switch it up with brown rice. Don't like that generically canned beans taste to your wrap? You can just skip adding them or make a beans mix that you'll love. There is no wrong or right rule to making this recipe your own, so enjoy mixing and matching to your liking.
Our burrito will give you a taste of Qdoba made at home. But feel free to change up the flavors to your liking. Serve these with a side of chips, salsa, and dessert for a real meal deal!
More Burrito Recipes Just Like This
Our easy chicken burrito recipe is packed with the best seasonings for flavor and color. You can meal prep these ahead of time so you never have to line up at the store for lunch again. But that's only the tip of the iceberg for our wraps recipes, so don't forget to check out others just like it!
For more burritos with tasty chicken fillings, try out our Chipotle Chicken Burrito. And for the best breakfast meal, our Chick-fil-A Chicken Breakfast Burrito is the way to go. Don't forget to serve your burritos with some of the classic side-dishes like our Better-Than Taco Bell's Famous Nachos! And if you're up for something healthier, our Fresh Avocado and Cottage Cheese Salad will match brilliantly with burritos.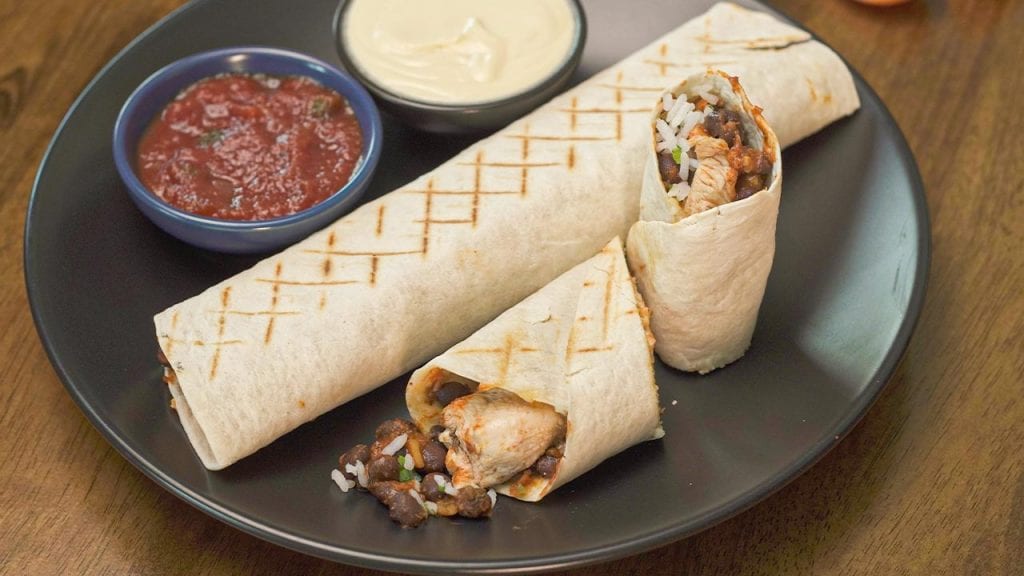 Qdoba Copycat Chicken Burrito Recipe
How To Make Qdoba Copycat Chicken Burrito
A rich and savory chicken and rice burrito that's sure to satiate your burrito cravings! It's filled with the right amount of spicy from the chicken and tangy from the cilantro rice.
Ingredients
For the Chicken:
2

lb

chicken tenders

2

cups

Italian dressing

1

tsp

ground cumin

1

tsp

dried oregano

1

tbsp

smoked paprika

2

tbsp

tomato sauce,

or tomato passata

2

tbsp

red wine vinegar

2

tbsp

water
For the Burrito:
2

cups

white rice,

cooked

1

tbsp

lime juice,

or lemon juice

½

tsp

sea salt

¼

cup

cilantro,

chopped

15

oz

black beans,

(1 can), undrained

1½

tsp

dried oregano

1½

tsp

ground coriander

1½

tsp

ground cumin

1

tbsp

ground achiote

3

tbsp

olive oil,

divided

2

tbsp

red onion,

minced

1

tbsp

garlic,

peeled and minced

6

large tortillas,

(1 package)

8

oz

Mexican cheese,

(1 package), shredded
To Serve:
¼

cup

tomato salsa

¼

cup

sour cream
Instructions
Chicken:
Whisk together the Italian dressing, cumin, oregano, smoked paprika, tomato sauce or passata, vinegar, and water.

Chop the chicken tenders into 1-inch pieces and place them in the bowl with the marinade.

Toss the chicken in the marinade, then cover the bowl with plastic wrap. Marinate the chicken for 2 hours or more.
Burrito:
In a separate bowl, combine the rice with lime juice, sea salt, and cilantro.

In a sauce pan, sauté the onion and garlic in 1 tablespoon of olive oil. Pour in the can of beans, cumin, achiote, coriander, and oregano. Continue sautéing. Set aside.

Heat 2 tablespoons of olive oil on high in a frying pan and cook the chicken for 4 to 5 minutes.

Once the chicken is done cooking, assemble the burrito. Put all of the ingredients that you want on your burrito, or follow the recommended amount, and fold it into a burrito.

Should you prefer the cheese melted, grill the burritos over a preheated greased grill briefly for about 5 minutes on each side, until the cheese melts.

Serve and enjoy with a side of chips and a variety of sauces.
Recipe Notes
You can u

se whole wheat or flour tortilla to replicate the famous wrap at Qdoba's.

For smaller, bite-sized pieces of chicken

,

try cutting your chicken tenders into cubes. Or, once cooked, try to shred them to get a taste of chicken after each bite.

You can also marinate your chicken ahead of time in case you ever need a quick burrito fix! Poultry like chicken can be marinated for up to 2 days.
Nutrition
Sugar:

10g

:

Calcium:

343mg

Calories:

913kcal

Carbohydrates:

80g

Cholesterol:

138mg

Fat:

41g

Fiber:

8g

Iron:

4mg

Potassium:

1112mg

Protein:

53g

Saturated Fat:

12g

Sodium:

1528mg

Trans Fat:

1g

Vitamin A:

1099IU

Vitamin C:

5mg
Nutrition Disclaimer
Frequently Asked Questions
What can I use in place of the ground achiote?
The ground achiote is commonly used in many Mexican cuisines. It is there to add a yellowish color to your chicken burrito, but also provides you with peppery, earthy flavors with a touch of bitterness. They are commonly found in many groceries and supermarkets. But if you do not have achiote on hand, try using ½ teaspoon turmeric and ½ teaspoon sweet paprika to yield the same flavor and color.
How do I store my chicken burritos?
Wrap your burritos tightly with some foil. Then, place them in a freezer-safe container, like a Ziploc bag, and freeze them. These will last you for three to six months. You may also store these in the fridge for 4 to 5 days, given that they are properly sealed in an air-tight container.
How do I reheat chicken burritos?
To reheat frozen chicken burritos, remove them from the foil, place them on a microwave-safe plate, and microwave on defrost for 7 minutes on each side. This should give a rightly heated burrito. But for extra flavor, feel free to place the burrito on a medium heated skillet right after then cook on both sides until brown and crispy. Burritos from the fridge may also be reheated in the microwave like you would a frozen burrito. Sprinkle a bit of water on top to moisten the tortilla, then reheat for 1 minute on each side. Make sure to sprinkle some water when flipping the burrito for a more pliable tortilla.
What sides work best for this burrito recipe?
You can add in sour cream, guacamole, or salsa as suggested. These can easily be bought at any grocery or supermarket. If you wish, you can even make your own salsa or guacamole at home.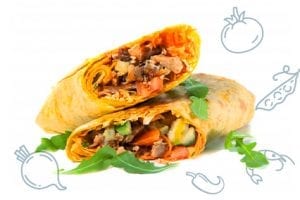 Conclusion
Lunches will be more fun with this amazing chicken burrito recipe that's just like Qdoba's! You're never short on the best flavors, and will be full to the brim, especially when eaten with the right sides. Make plenty for a burrito party or make just enough to meal prep for the next few days.