Outback Steakhouse Style Shrimp On The Barbie
Recipes.net Team
Published
October 8, 2020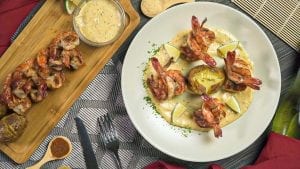 Michael Fletcher | Flickr
Soaked in a lemony, garlicky marinade, shrimp on the barbie with a homemade creamy remoulade sauce is delish enough for a backyard cookout. This grilled seafood is a buttery staple that's incredibly easy to prepare. 
Fire up that grill and get grillin' with our Outback Steakhouse copycat recipe.  Grilled and marinated shrimp with a hint of sweetness, creaminess, and tangy seasonings—a perfect combination of flavors that tastes exactly just like Outback Steakhouse shrimp on the barbie.
With this deliciously grilled shrimps blended with flavory shrimp seasonings, you'll surely enjoy a seafood backyard party!
What Is Shrimp On The Barbie? 
The catchphrase "shrimp on the barbie" originated from an Australian tourism ad starring Paul Hogan during the 1980s. The actual slogan of the ad was "come and say G'day, but he'd changed it to "I'll slip an extra shrimp on the barbie for you." This phrase means 'to cook a shrimp on a barbecue.' Since then, it has long been used to refer to Australia in pop culture.
'Barbie' is actually an Australian slang for barbecue. And Aussies are the masters of barbecuing from seafood to steak. They are ready to put another shrimp on the barbie whenever there's an occasion or on an ordinary weeknight. Aussies' infamous shrimp on the barbie is the go-to grilled dish for quick dinners or fun cookouts. Baste a seasoned sauce onto the shrimp before grilling. Serve with a flavorful sauce to bring out the deliciousness of the smoky marinated shrimp. 
If you're honing the grill master in you, we've got lots of other barbecue and grilled recipes that you can try at home.
How To Grill Shrimp On The Barbie Like Outback Steakhouse
Outback Steakhouse takes pride in their appetizing steaks. And you no longer have to drop by Outback Steakhouse to have a taste of their superbly grilled meals. You can now make these grilled dishes at home with our Outback Steakhouse Style recipes from grilled salmon to steak with delightful grilled vegetables.

Tip:
If you want juicier shrimp, grill the shrimp close together. And if you prefer charred and crispy shrimp, simply space out the shrimp.
Prepare your own Outback Steakhouse grilled shrimp on the barbie with our easy recipe. Our Outback shrimp on the barbie recipe also uses homemade remoulade sauce and garlicky shrimp seasoning that taste exactly like those from Outback Steakhouse.
Remoulade is a French sauce made from mayonnaise, herbs, and other savory seasonings. While it is a classic French sauce, most of us are more familiar with the Southern version which is used in this recipe. No Outback Steakhouse grilled shrimp on the barbie is complete without the creamy and spicy remoulade sauce.
Shrimp on the barbie is also a versatile dish that pairs well with other dishes. If you are craving for something posh, pair it with an elegant salad like our Fresh Avocado And Cottage Cheese Salad.
How To Make Outback Steakhouse-Style Shrimp On The Barbie
Deliciously grilled and served with a creamy homemade remoulade sauce, this shrimp on the barbie is an easy grilled shrimp recipe for summer.
Preparation Time:
10

mins
Ingredients
Remoulade Sauce
½

cup

mayo

1

tbsp

ground mustard

2

tsp

milk

1 ¼

tsp

horseradish

1

tsp

diced fine celery

1

tsp

minced yellow onion

1

tsp

diced fine green bell pepper

¼

tsp

minced fresh parsley

¼

tsp

distilled white vinegar

¼

tsp

paprika

⅛

tsp

fresh ground black pepper

⅛

tsp

ground cayenne pepper

1

pinch

salt
Shrimp seasoning
½

tsp

salt

¼

tsp

garlic powder

¼

tsp

onion powder

¼

tsp

fresh ground black pepper

¼

tsp

chili powder

¼

tsp

granulated sugar

⅛

tsp

cayenne pepper

⅛

tsp

ground allspice

6

large shrimp

lemon juice

1

tbsp

melted butter

minced fresh parsley
Instructions
Preheat the grill to medium-high heat.

Mix all the remoulade ingredients in a small bowl.

Cover and refrigerate for 30 minutes, prep the shrimp in the meantime.

Combine all the shrimp seasonings in a small bowl.

Peel and devein the shrimp.

Thread the shrimp on the skewers.

Drizzle the shrimp with fresh lemon juice. Then, brush melted butter generously on the shrimp. Lightly sprinkle some of the seasoning on the shrimp. Toss to coat.

Place the shrimp onto your hot grill with the seasoning side down.

Brush the uncoated side of the shrimp with the butter and sprinkle with seasoning.

Grill for about 2 to 3 minutes, then turn the skewer over.

Continue grilling another 2 to 3 minutes until shrimp become pink and lightly charred.

Remove the shrimp from the grill and slide them off the skewers onto a plate.

Sprinkle a pinch of parsley.

Serve the shrimp hot with a side of with your homemade remoulade sauce!
Recipe Notes
You can use either a wooden skewer or metal skewer when grilling the shrimp.

Make sure that the shrimp is raw and fresh. The shrimp will turn out hard and overcooked after grilling if it's previously cooked. 

Make sure not to overcook the shrimp. Overcooked shrimp tastes tough and rubbery.
Nutrition
Calcium:

82mg

Calories:

962kcal

Carbohydrates:

8g

Cholesterol:

169mg

Fat:

99g

Fiber:

1g

Iron:

2mg

Potassium:

52mg

Protein:

11g

Saturated Fat:

21g

Sodium:

2342mg

Sugar:

5g

Vitamin A:

815IU

Vitamin C:

9mg
Commonly Asked Questions
How long does remoulade sauce last?
Make sure to store the remoulade sauce in a container with an airtight lid, then put it in the refrigerator. If stored properly, remoulade sauce can last for up to two weeks.
What shrimp should I use for shrimp on the barbie?
When planning to grill the shrimp, it is better to use extra large shrimps because they can handle the heat more than the small ones. They are also easier to cook with tongs and less likely to slip through the gaps of the grill.
Is it better to grill shrimp with the shell on or off?
You can grill shrimp with or without their shells. Shell-on is an option. The shell provides a layer of shield against the flame. But it's best to peel the shrimp except for the tail part. Without the shell, the shrimp marinade and grilled flavors will penetrate the tender meat, giving the shrimp on the barbie superb flavors.
Conclusion
If you are looking for a tasty grilled meal for your backyard parties—summer or not, shrimp on the barbie is the perfect recipe for you. Serve it with a freshly made remoulade sauce to complement the smoky, buttery shrimp.