Soaked in a tangy and flavorful shrimp marinade, our Outback shrimp on the barbie with homemade creamy remoulade sauce is delish enough for a backyard cookout. This grilled seafood is a buttery staple that's incredibly easy to prepare. Baste your shrimp with a flavor-packed shrimp marinade before grilling and you'll be enjoying smoky juicy shrimp in no time. 
Fire up that grill and get grillin' with this copycat recipe. Our Outback grilled shrimp on the barbie will surely be the star of your next seafood backyard party. If you love your seafood with a bit of heat, add this sriracha grilled shrimp recipe to your list. And if you're crazy about barbecues, we suggest you get yourself the best pellet grill for easy and convenient cooking of your favorite grilled recipes.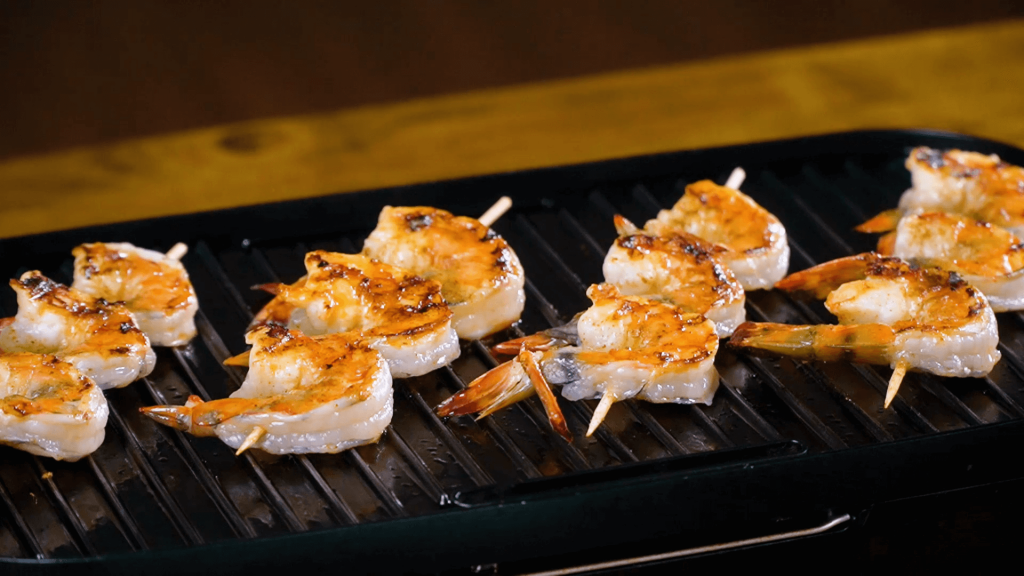 Tips in Making Outback Shrimp on the Barbie
Keep these in mind for a couple of tips that can be handy when making your Outback shrimp on the barbie:
Use fresh raw shrimp if available. You can also use frozen shrimp, j

ust make sure to thaw them before using them in this recipe.

Use large or jumbo shrimp. It works best

with this recipe because shrimp tends to shrink up a lot once cooked.

They can also handle the heat more than the small ones and are easier to cook with tongs and less likely to slip through the gaps of the grill.

Do not marinate shrimp longer than 15 to 30 minutes.

We marinate it briefly like in this recipe because they turn mushy when left in the marinade for a long time.

Do not overcook the shrimp.

Make sure to take your skewers off the grill once they turn pink because they turn tough and rubbery once overcooked. Remember to watch the grill because shrimp cooks really fast.

If you want juicier shrimp, grill them close together.

And if you prefer charred and crispy shrimp, simply space out the skewers.

U

se our creamy remoulade sauce

as a dip for your

meaty crab cake

or pour it over some grilled salmon kebabs

.

Serve your leftover grilled shrimp over a zesty italian salad.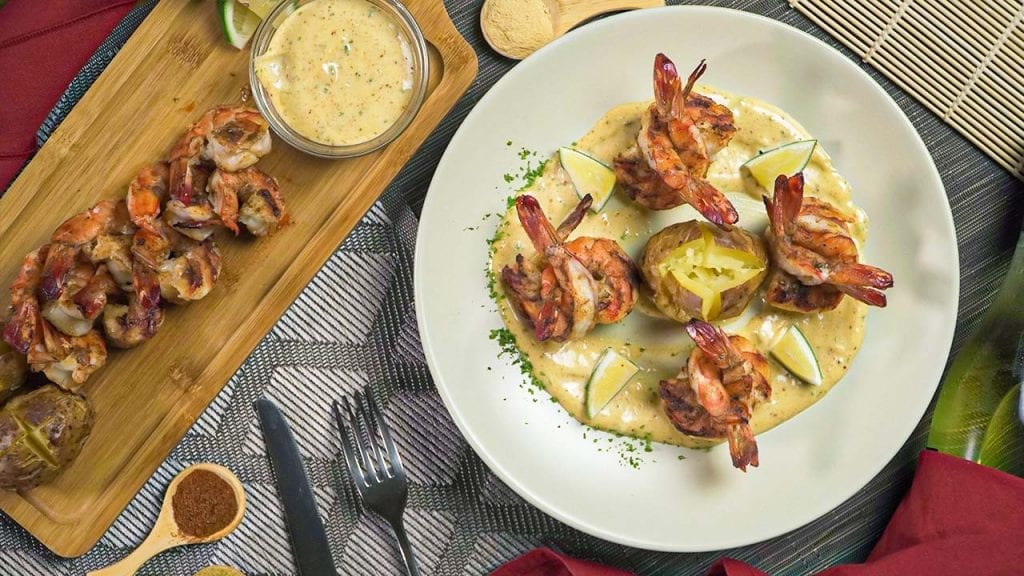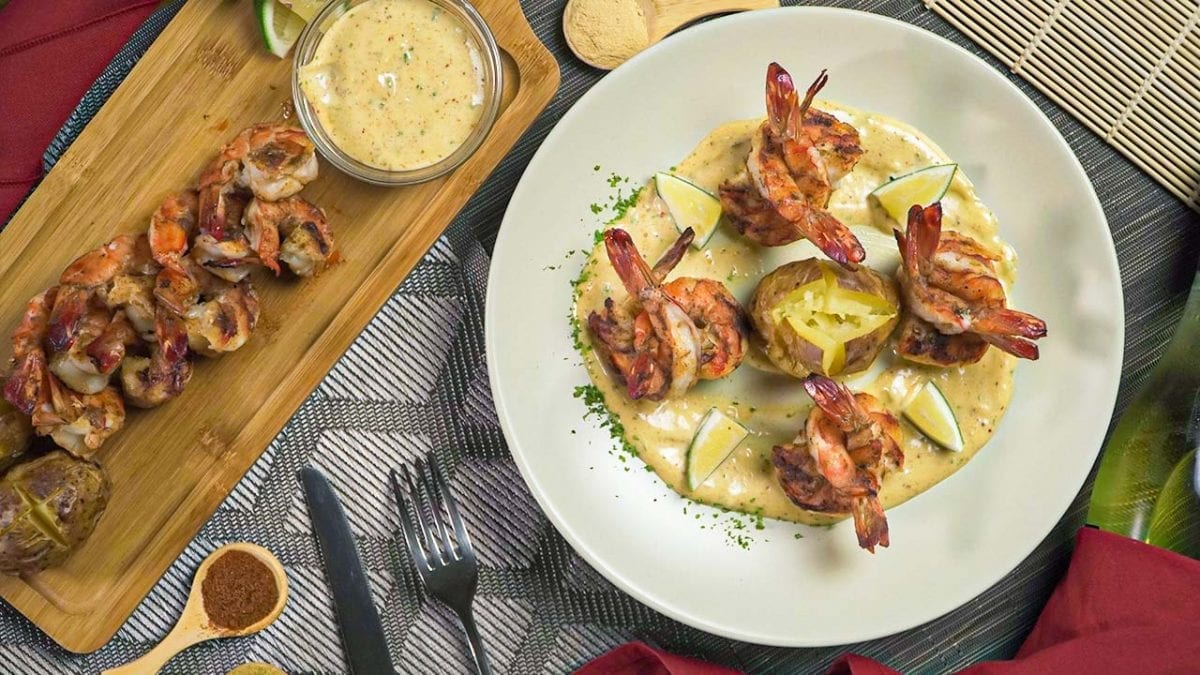 Outback Shrimp On The Barbie Recipe (Copycat)
How To Make Outback Shrimp On The Barbie (Copycat)
Our Outback shrimp on the barbie serves deliciously grilled juicy shrimp with a creamy homemade remoulade sauce on the side. Try this easy grilled shrimp recipe that you can make in under an hour.
Ingredients
For Remoulade Sauce:
½

cup

mayonnaise

1

tbsp

yellow mustard,

ground

1

tbsp

milk

1¼

tsp

grain mustard

1

tsp

celery,

diced

1

tsp

yellow onion,

minced

1

tsp

green bell pepper,

diced

¼

tsp

fresh parsley,

minced

¼

tsp

red wine vinegar

¼

tsp

paprika

⅛

tsp

black pepper,

ground

⅛

tsp

cayenne pepper,

ground

⅓

tsp

salt
For Shrimp Seasoning:
1

tsp

salt

½

tsp

garlic powder

½

tsp

onion powder

½

tsp

black pepper,

ground

½

tsp

chili powder

½

tsp

coriander,

ground

¼

tsp

cayenne pepper

¼

tsp

ground allspice
For Shrimps-on-the-Barbie:
1

lb

large shrimps,

deveined, shell-on, and tails-on

1

tbsp

lemon juice,

or lime juice

2

tbsp

butter,

melted
To Serve:
4

lime wedges

5

oz

baked potato

½

tsp

parsley,

chopped
Instructions
Preheat the grill to medium-high heat and grease with cooking spray.

Mix all the remoulade ingredients in a small bowl. Set aside.

Combine all the shrimp seasonings in a small bowl. Set aside.

Thread the shrimp on the skewers and place it on a baking sheet.

Combine melted butter & lemon juice together, then brush on both sides of the skewered shrimps. Allow to marinate briefly for about 5 minutes.

Season the shrimps generously with the prepared seasoning on all sides. Place these onto your hot grill.

Grill for about 2 to 3 minutes on both sides, until shrimps turn pink and lightly charred.

Remove the shrimp from the grill and slide them off the skewers onto a plate.

Garnish with parsley. Serve the shrimp hot with a side of with your homemade remoulade sauce, together with baked potato and lime wedges.
Nutrition
Sugar:

1g

:

Calcium:

152mg

Calories:

320kcal

Carbohydrates:

8g

Cholesterol:

238mg

Fat:

36g

Fiber:

1g

Iron:

2mg

Potassium:

258mg

Protein:

20g

Saturated Fat:

4g

Sodium:

1576mg

Trans Fat:

1g

Vitamin A:

389IU

Vitamin C:

11mg
Nutrition Disclaimer
Commonly Asked Questions
What does shrimp on the barbie mean?
The catchphrase "shrimp on the barbie" started when Paul Hogan said he'd "slip an extra shrimp on the barbie for you" on an Australian tourism ad in the 1980s. It means 'to cook a shrimp on a barbecue.' 'Barbie' is actually Australian slang for barbecue and Aussies are the masters of barbecuing from seafood to steak. They are ready to put another shrimp on the barbie whenever there's an occasion or on an ordinary weeknight.
Do you grill shrimp with the shell on or off?
In this recipe, we're using deveined shrimp with the shell and tail on. Buying deveined and peeled shrimp would make cooking a lot easier for you but it can be expensive. But the real reason why we prefer buying it shell-on is that it gives us juicier, tastier, and moist shrimp pieces once grilled.
What other sides can I serve with Outback shrimp on the barbie?
Grilled shrimp is the perfect summer appetizer so it goes best with summer salads. You can pair it with a healthy pear green salad then a Mexican fruit salad for dessert. For a heavier bite, serve it with a colorful pasta salad which is amazing with grilled food.
Conclusion
If you're looking for a tasty grilled meal for your backyard parties—summer or not, our Outback shrimp on the barbie is the perfect recipe for you. Serve it with a freshly made remoulade sauce to complement your smoky, buttery shrimp.