You may have heard of the shrimp scampi dish and thought that it is a high-class dish. But, it is not. What's better is that you can make some shrimp scampi in the comfort of your own kitchen. Try making this shrimp scampi recipe and we guarantee that you will never forget about it.
For today's recipe, we'll show you how you can make shrimp scampi recipe the Red Lobster way. This recipe tries to recreate the restaurant's scrumptious recipe and now you can have it anytime. Luckily, this dish is simple and hassle-free. All you need to do is follow these simple steps and you're good to go.
Make sure to choose the freshest ingredients for this shrimp recipe. Lastly, serve this with some crusty bread and your preferred wine and make every dinner fancy. We find that this recipe goes perfect with a few slices of crusty bread. Why bread? Crusty bread is one of the best things to soak up this garlicky-buttery sauce! Baguettes are our favourites but you can toss any type of bread in the over for a few minutes to give it a good bite!
If you love seafood and are in need of another recipe idea, try our Copycat Outback Steakhouse Grilled Salmon recipe.
How to Make Red Lobster Shrimp Scampi Copycat
Learn how to make the famous shrimp scampi in the comfort of your own home. Experience the delectable plate of seafood enough for the family, without having to go over the budget.
Ingredients
1

lb

Medium Shrimp

1

tbsp

Olive Oil

1/2

tbsp

Kosher Salt

1/2

tbsp

Black Pepper

1

tbsp

Italian Seasoning

3

cloves

Garlic

minced

1 1/2

cups

White Wine

2

tbsp

Fresh Lemon Juice

1/2

cup

Butter

2

tbsp

Fresh Parsley

chopped

Grated Parmesan

for garnish

Lemon Wedges

for garnish
Instructions
First, grab your shrimp and toss them in a bowl along with your salt and pepper.

Give them good mix as you want to ensure that you evenly spice the shrimp. Set aside.

In a medium-sized pan, heat up the olive oil.

Carefully pour your shrimp into the pan.

Keep an eye on the shrimp, stirring occasionally for about 2 to 3 minutes. Remove once pink.

In the now-empty pot, add your minced garlic. Reduce heat so as not to burn the garlic.

Stir the garlic for roughly 1 minute till it becomes fragrant.

It is now time to add the white wine. Scrape the pan to ensure you get all the tasty pan drippings mixed in thoroughly.

Bring the heat back up and allow it to come to a boil. This should take between 4 to 5 minutes.

Once the liquid starts to boil, you can reduce the heat slightly and allow it to simmer until it has reduced to about half the volume.

Next comes the Italian seasoning followed by another good couple of stirs.

Now add the butter and allow it melt. This is followed by the chopped parsley.

Return your shrimp to the pot and toss carefully to coat with the sauce. Remove from heat almost immediately as you do not want to overcook the shrimp.

Plate and garnish with parmesan cheese, a sprig of parsley, and some fresh lemon wedges.
Nutrition Facts
Calories:
432
kcal
|
Carbohydrates:
5
g
|
Protein:
24
g
|
Fat:
28
g
|
Saturated Fat:
15
g
|
Cholesterol:
347
mg
|
Sodium:
1962
mg
|
Potassium:
200
mg
|
Fiber:
1
g
|
Sugar:
1
g
|
Vitamin A:
890
IU
|
Vitamin C:
11
mg
|
Calcium:
209
mg
|
Iron:
3
mg
Commonly Asked Questions
How Can I Determine The Freshness of Shrimp?
Fresh shrimps do not exhibit foul, fishy odor. While it is common for shrimp to smell fishy, those that are no longer fresh smell a bit like ammonia. So to be sure that you have the freshest shrimp for this recipe, you have to go to the freezer section of the supermarket to get your shrimp.
How to devein shrimp?
You want to make sure your shrimp is peeled and deveined before cooking with them! Some people, like us, prefer to leave the tails on but you can nick those off if you prefer. Start where the legs are and pull back to remove the shell. Most of it will come off easily enough. If you're keeping the tails on you can keep your grip on the tail while pulling the legs back. To devein, make a small slit along the back of your shirmp. You will notice that there is a black line that runs across the back. Us eyour knife to gently dislodge it before wiping it on a kitchen napkin or holding it under running water. Voila, peeled and deveined shrimp. Alternatively, you can buy your shrimp peeled and deveined for convenience.
How To Choose the Right Butter?
There are usually two types of butter in the market: the organic butter and the unsalted butter. Although both types of butter came from cows, the difference is that organic butter is made from the milk of grass-fed cows. Most nutritionists will suggest choosing this type of butter for health reasons.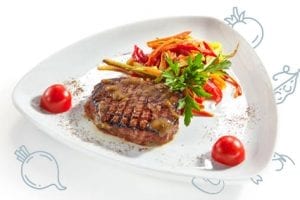 Conclusion
The buttery goodness of this shrimp scampi recipe will definitely call for some starch. You may serve this shrimp scampi with toasted bread, rice, or couscous. In most cases, like in restaurants, the shrimp scampi often comes with a salad.
Try tossing some Ceasar salad or even a vegetable salad to make this dish complete.