Pellet grills are the future of making delicious meals with these BBQ recipes. It's true there are other ways to cook your steaks, roasts, and other meats. But while others are interested in looking at electric smokers, smoker grills, gas or propane smokers, or even for the best charcoal smoker or the best hybrid grill, pellet grilling has brought something new to the world of cooking. With the help of this cooker, making Round Eye Steak and Grilled Teriyaki Pork Tenderloin will just be a breeze.
What Is A Pellet Grill?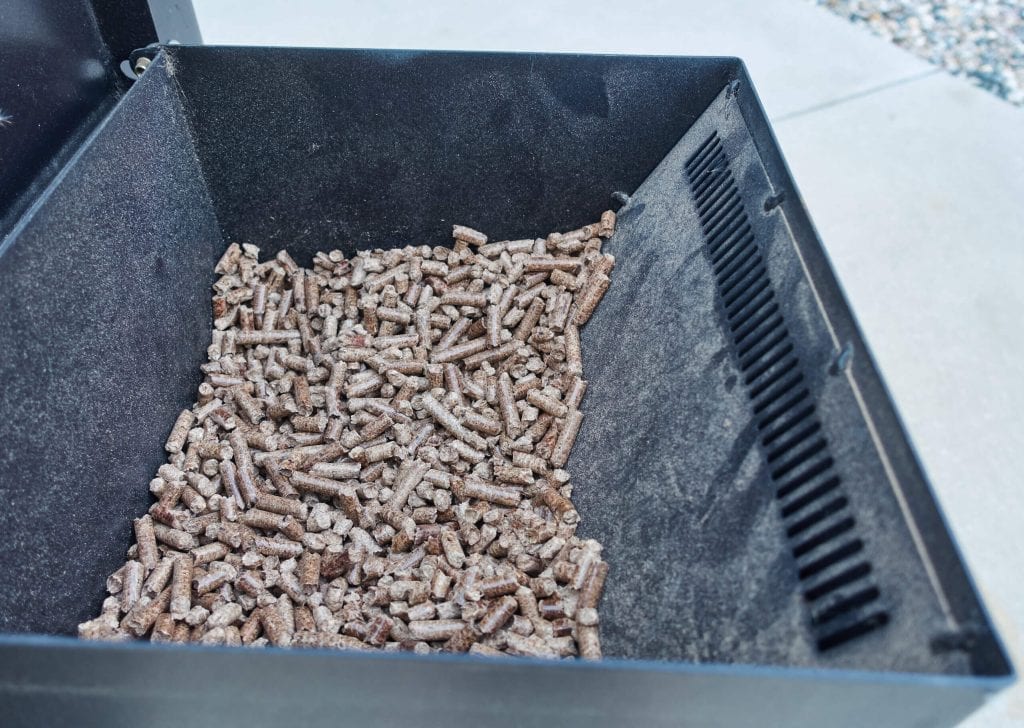 But first, what is it exactly? A pellet grill, or commonly known as a pellet smoker, is an outdoor cooker that combines the features of charcoal smokers and gas grills with ovens. It's also both electric and wood-fired. However, instead of using traditional wood or charcoal, this cooker uses wood pellets (hence its name) as its source of heat. In return, it has an electric control panel that can conveniently maintain consistent temperatures and regulate airflow. Also, it can automatically add more wood pellets or BBQ pellets to fuel the fire if needed so when cooking.
Pellet grills are very handy when cooking meals that need to be barbeque smoked or grilled. And because of its features, it can also be used for baking and even braising food. In fact, almost any recipe that needs baking, from Grill Baked Potatoes to even Baked Honey Ham can be done on this grill.
Really, what more can you ask for? Pellet smokers are convenient, flexible, and easy to use. Because of this, they have become an essential BBQ accessory to own nowadays.
How Does A Pellet Grill Work?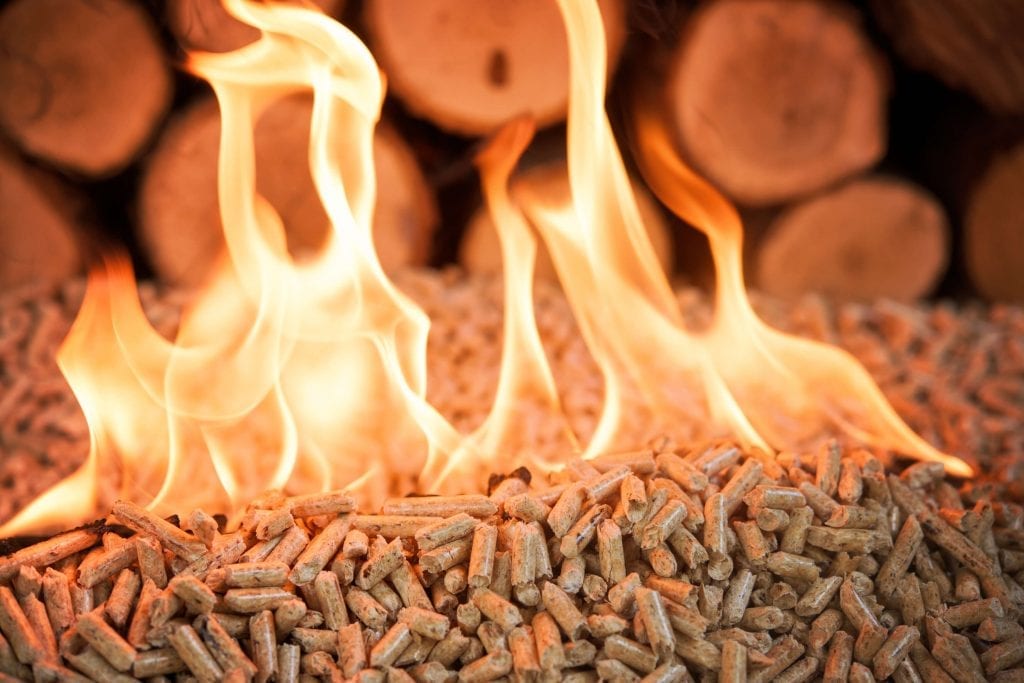 But how exactly does this cooking appliance work? There's actually a simple explanation behind its magic.
Cooking on pellet grills is easy since most of the work is already done for you. You need to first load the pellets manually onto the hopper (the chute leading to the fire). But after that, all that's left is for you to set it to the specific temperature you want.
Pellet smokers are a Set-It-and-Forget-It type of cooker, so its inner workings are more complicated since everything is already automated. Many mechanisms work together to let the grill reach and maintain your set temperature. The most important of these are the auger, fire pot, and fan system.
The Auger
There's a specific amount of pellets needed in order to reach your desired temperature, and to keep it at that same level of heat all throughout. An auger (which looks like a long screw) controls the amount of wood pellets to be released into the fire pot. It releases a specific ratio needed to reach and maintain your set temperature. The hotter the heat, the more pellets are released. And the lower the heat, the less pellets are released. It's that simple.
Fire Pot
Next, the pellets are poured into and ignited in the fire pot, the source of heat for the grill's whole cooking chamber.
Fan System
The fan system then blows the heat and smoke all around the grill, circulating through the food to get that signature smoky taste. This also helps to regulate the grill's airflow, fanning the fire and giving it the right amounts of oxygen it needs to continue blazing.
All these parts of the pellet smoker work together to help in its signature temperature control.
Benefits Of Using A Pellet Grill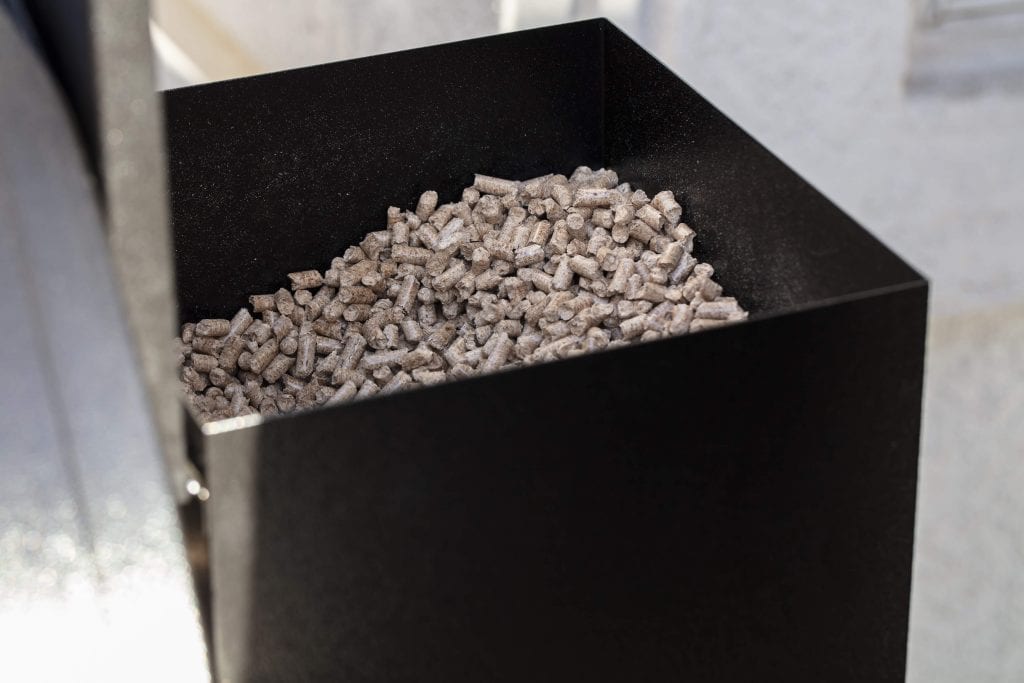 Pellet smokers are incredibly versatile, handy to have around and incredibly easy to use. No need to look up Ancona range hoods or other kitchen hoods when you have this around.
Only with these grills can you easily control temperature, with a heat range that can go as low as 130 degrees F to as high as 600 degrees F. You'll also have an all-in-one cooker which allows for long, slow cooking, fast searing or those in between. Cooking with this smoker will also involve minimal supervision, and you will no longer worry about flare-ups or uneven cooking.
10 Best Pellet Grills To Use For Cooking
There's no doubt about it, pellet smokers are extremely useful to have around the backyard. And with all the different kinds of grilled food dishes you can make with these outdoor cookers, it's worth looking into some of the best models currently on the market. That's why we listed 10 of the best pellet smokers in no particular order.
You might recognize some of the brands mentioned here, like Traeger (who used to own the patent for pellet smokers), and Pit Boss. The brands in this list are also some of the most trusted and well-reviewed when it comes to pellet grills. So you can rest assured that the models mentioned here are the best among the best!
And with that in mind, let's dive into our list of the 10 best pellet grills to use for cooking.
Traeger Pro 575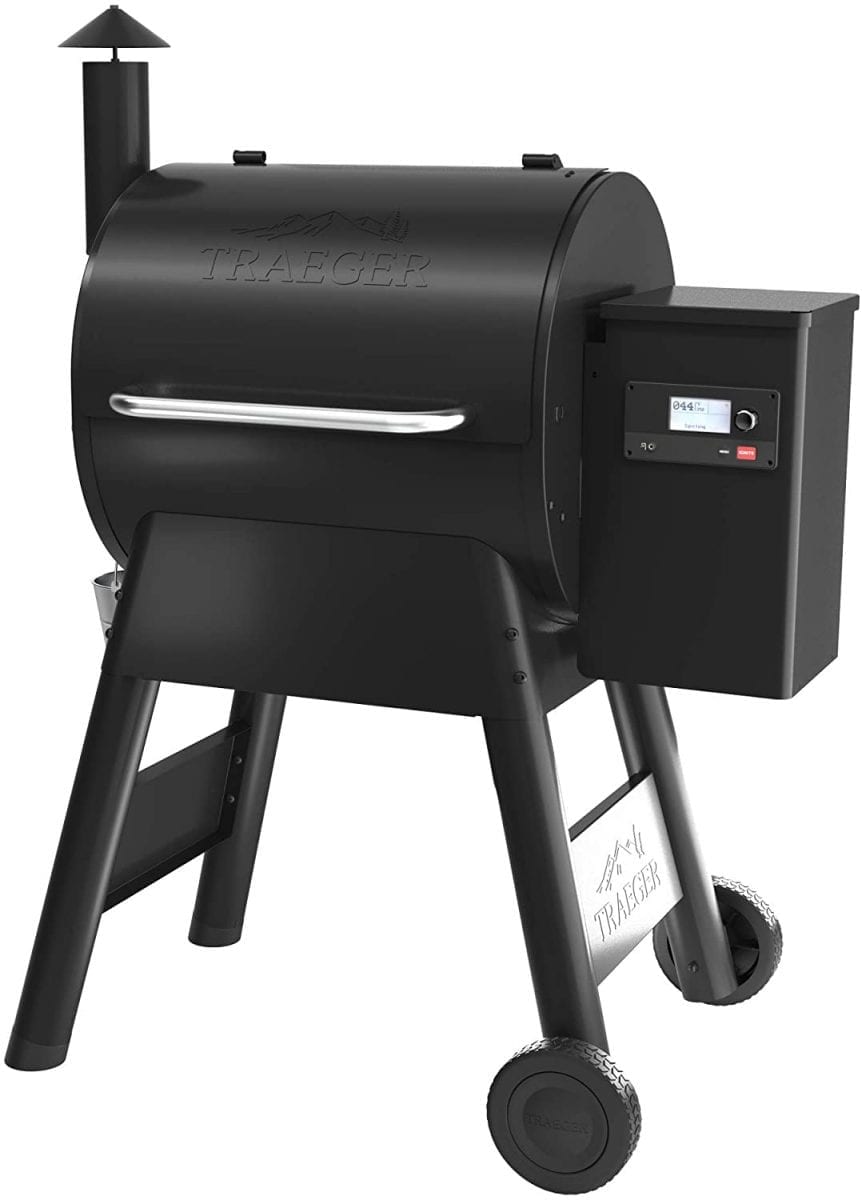 First in our list is the Traeger Pro 575. This pellet smoker has been a constant in many best pellet grill lists, and it's not surprising why.
Traeger's Pro 575 is the best standard pellet smoker in the market to date. This 18-pound smoker lets you cook for hours on end, with a grill wide enough to make room for up to 5 full racks of ribs.
It's a bit pricey, but Traeger models never fail to disappoint. The Pro 575 is no exception. It's one of the more advanced models with built-in Wi-Fi, which allows you to connect to and control your grill remotely. This is handy when you have errands to run, but have something cooking in the grill. With this feature, you can control and monitor the grill wherever you go.
The new Traeger Pro models have also updated their smoker technology. Old models used to face heating speed and temperature control challenges. Not with this model. With newly updated motors, its auger can now turn faster, heating the grill up real nice and quick.
This model also comes in two colors, black and bronze.
Purchase Traeger Pro 757 on Amazon.
Pit Boss 700FB Pellet Grill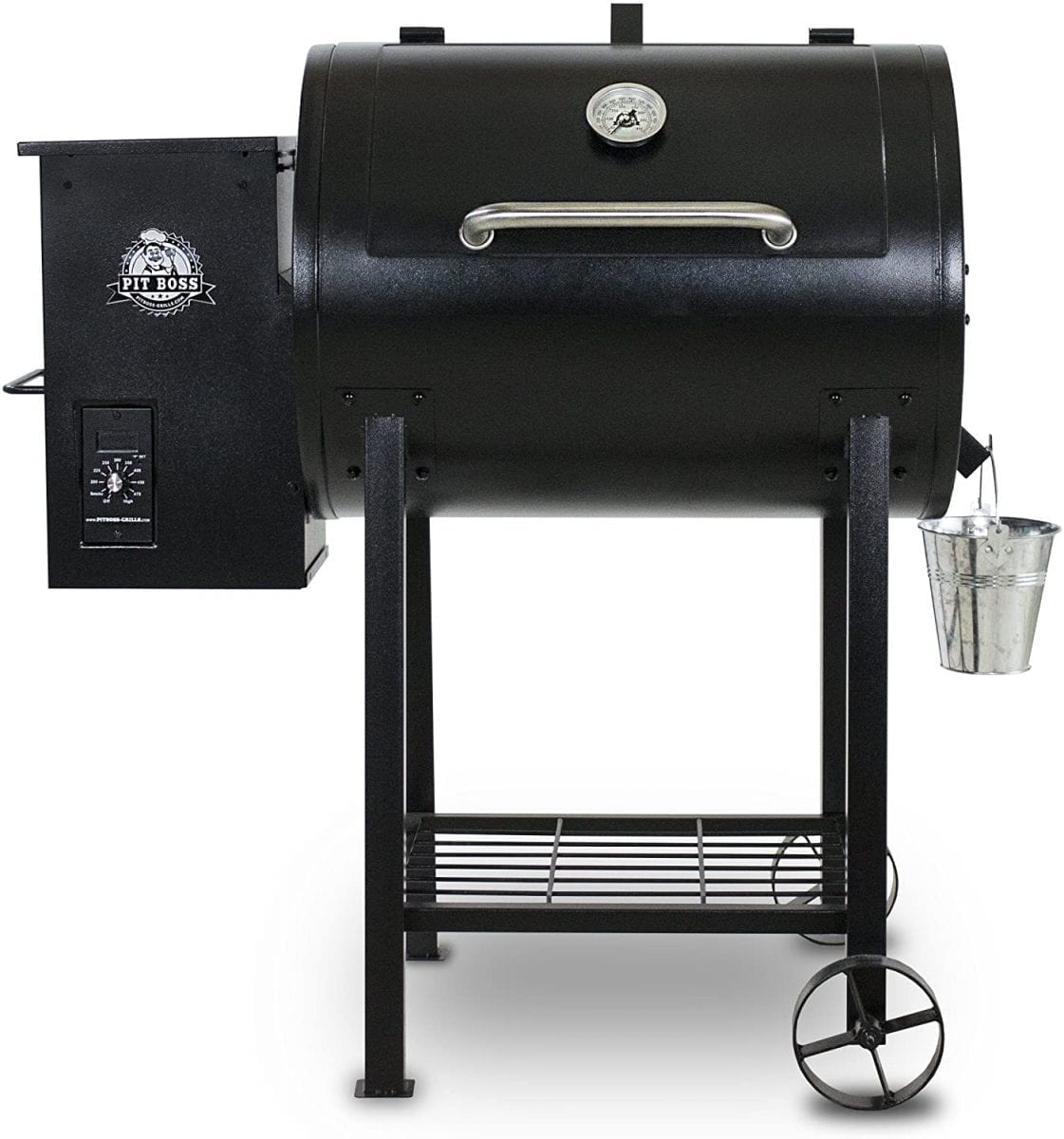 Next on our list is the Pit Boss 700FB Pellet Grill. Pit Boss is also one of the leading brands when it comes to pellet smokers. So their 700FB Pellet Grill is definitely one of the best out there right now.
Not one to lose to its competitors, this 21-pound model has a cooking surface of 700 square inches made with cast-iron. It also has dual cooking racks, so it's great for cooking for parties of 4 to 6 people. In terms of temperature, it offers a wide range from 180 to 500 degrees F, so it's incredibly flexible when cooking for various kinds of dishes.
It doesn't have built-in Wi-Fi for remote controlling of the grill, but it does have a sliding-plate system. This feature is useful for direct searing, a cooking technique that gives food, such as meat, a golden-brown exterior with a distinct smoky taste and texture. This makes cooking recipes with additional instructions such as searing easier to do!
Get Pit Boss 700FB Pellet Grill on Amazon.
Green Mountain Davy Crockett Portable Wood Pellet Grill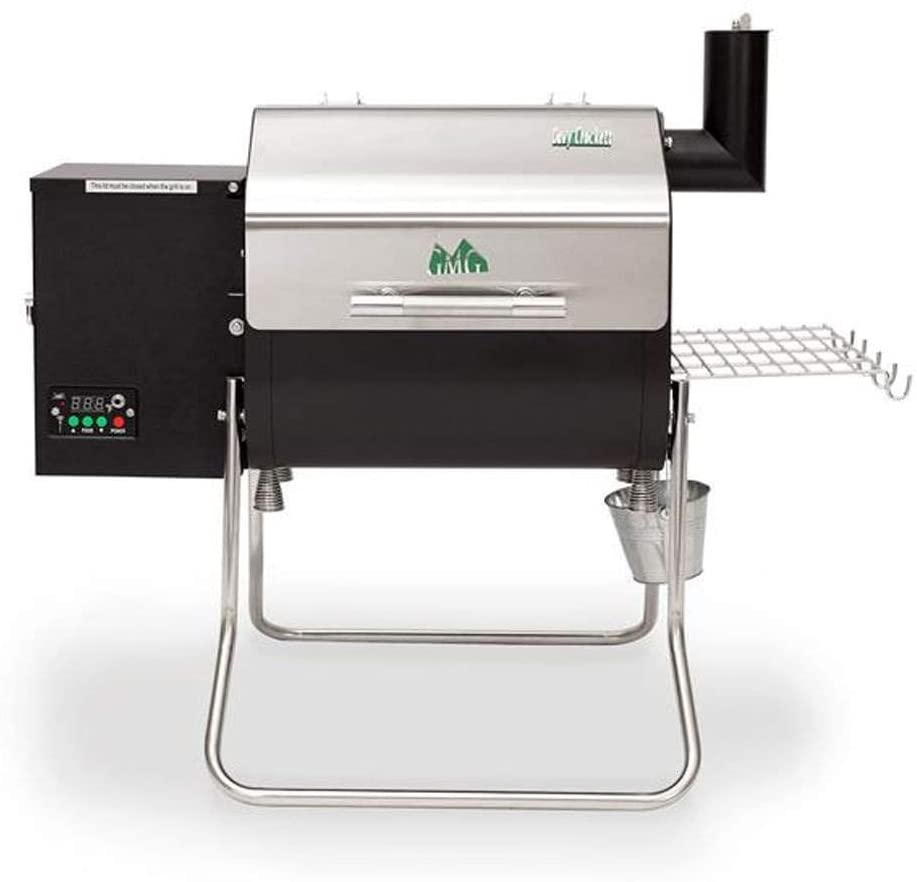 Another model with built-in Wi-Fi is the Green Mountain Davy Crockett smoker. This feature lets you control the grill using your smartphone or tablet via an app. And thanks to this app, you can also give your grill specific cooking instructions. You can set it to cook at 450 degrees F for 3 hours, and then have the temperature adjusted to 200 degrees F for 2 more hours. You also get smart alerts, like if the wood pellet supply in the hopper needs replenishing. This model really pushes pellet smokers' Set-It-And-Go feature further than other competitors!
The Green Mountain pellet grill is a good choice when it comes to portability. This 57-pound model has foldable legs, proving that you can easily take it with you wherever you go. It's perfect if you want to have a grill at your friend's house, or even when camping. That's because it comes with adapters that can let you hook the grill up to your car's battery or even its cigarette lighter. And true to its portability, it has a convenience tray with hooks for utensils.
Buy Green Mountain Davy Crockett Portable Wood Pellet Grill on Amazon.
REC TEC Mini Pellet Grill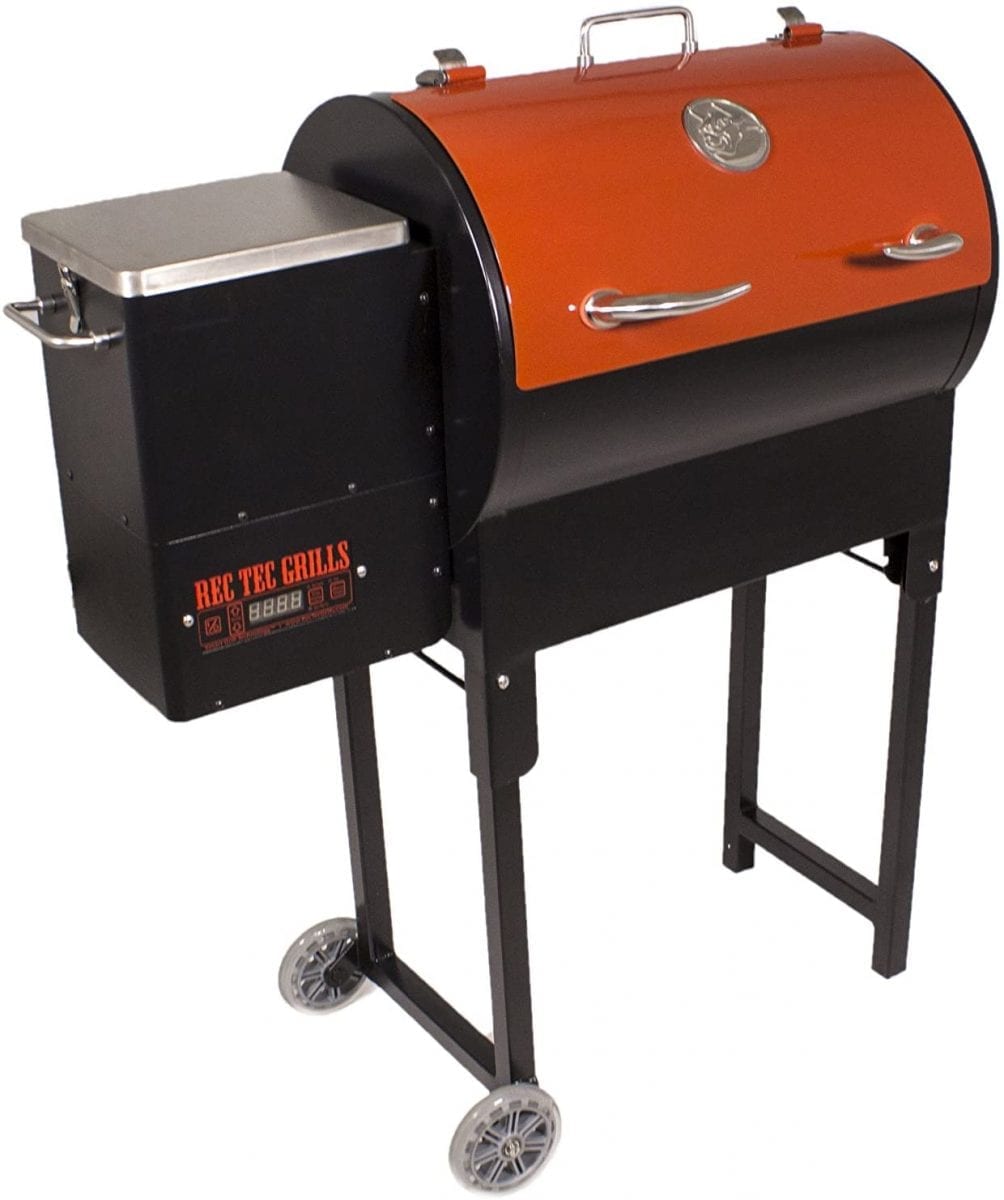 Another model with portability as its main feature is REC TEC's Mini Pellet Grill. Like the Green Mountain pellet grill, REC TEC's mini pellet smoker is a 100-pound, mid-sized grill that's great for tailgating. Its legs are foldable and equipped with wheels, making it easy to store and carry around almost anywhere.
Its cooking grate is sized at 341 inches. For size reference, you can cook roughly 12 burger patties on the grill, all at the same time. It also has an internal thermostat that lets you adjust the temperature at 5-degree intervals. This model's temperature range is 180 degrees F to 550 degrees F—not bad for a mid-sized grill.
And since it's REC TEC, this pellet smoker has their signature 'bull-horn' handles! it's a feature that can definitely get some jealous stares from a few friends.
Get REC TEC Mini Pellet Grill on Amazon.
Camp Chef SmokePro SG24
Camp Chef's SmokePro SG24 makes for the best combination of quality and price. This 146.9-pound grill is among the best-reviewed pellet smokers on the market to date. Not only is it updated with the latest temperature control technology, it also lets you control the amount of smoke too. Its wide, 429 square inch cooking area provides enough space to cook several steaks in one go! It also has an additional second tier that gives you another 365 square inches of cooking space.
Like other models in this list, Camp Chef's SmokePro SG24 has built-in Wi-Fi that allows for remote control of temperature. Its temperature range is wide for its mid-level pricing, letting you choose from 160 degrees F to 500 degrees F. The smoke can be controlled too; the app lets you adjust its levels from 1 to 10. And, its sliding-plate system also allows for direct searing in temperatures up to 650 degrees F. This pellet smoker model isn't included in many best pellet grill lists for no reason.
Buy Camp Chef SmokePro SG24 on Amazon.
Z GRILLS 700D Wood Pellet Grill & Smoker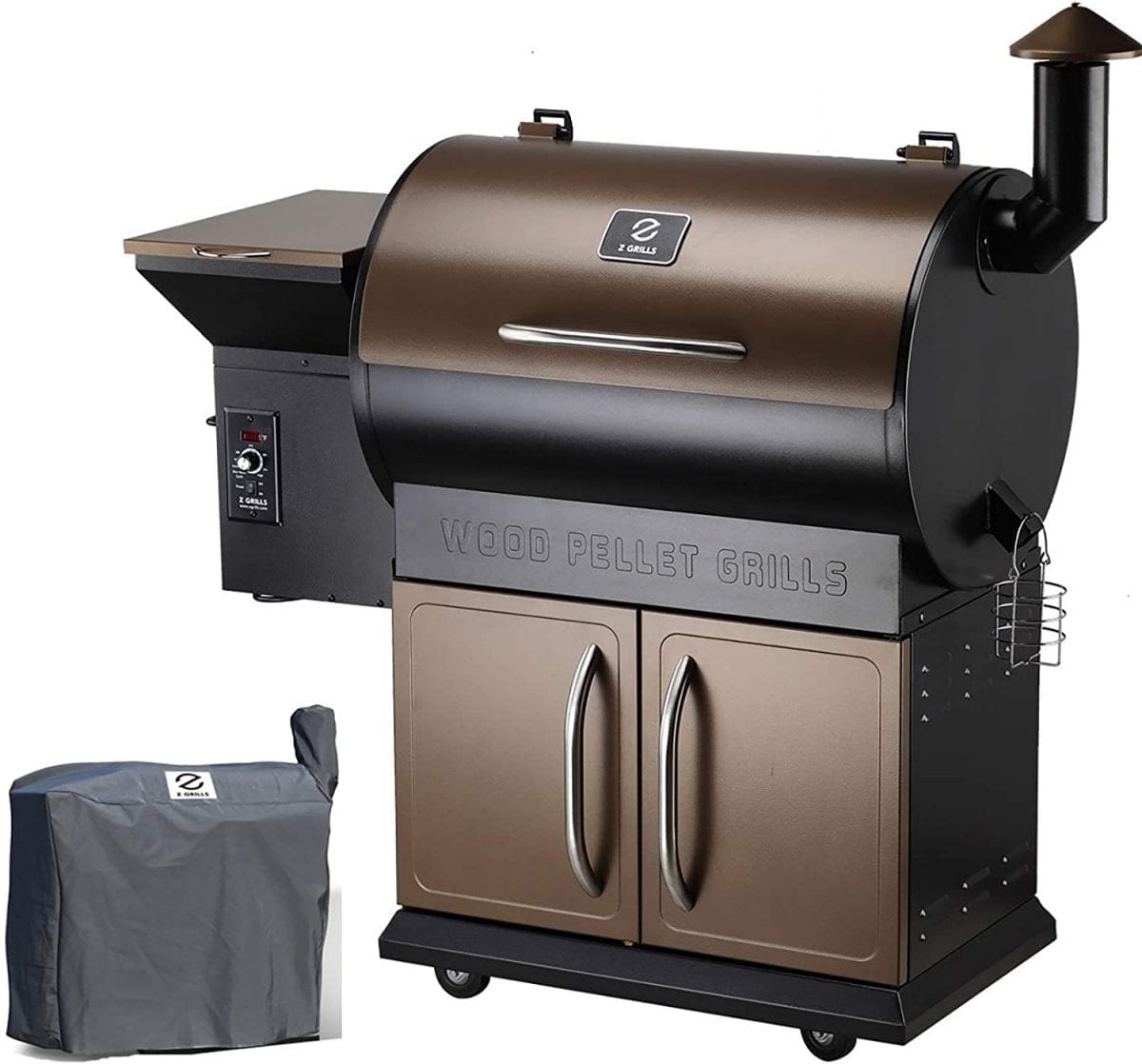 If you have a limited budget, then the Z Grills 700D Wood Pellet Smoker is your best option. Admittedly, it's difficult to rely on budget grills since temperature control requires intricate technology to deliver good performance. Fortunately, this Z Grills pellet smoker delivers on its promises of having Traeger-level quality at a more affordable price.
This 146-pound grill has a cooking area of 694 square inches, with a hopper capacity of 20 pounds. So this model gives you a bigger cooking space than the usual Traeger models at a lower price! Its temperature ranges from 180 degrees F to 450 degrees F, and produces a decent amount of smoke.
It doesn't have Wi-Fi connectivity, but it does boast of a 3-year warranty period, which is longer than other competitors.
Purchase Z Grills 700D Wood Pellet Smoker on Amazon.
Memphis Grills Pro Pellet Grill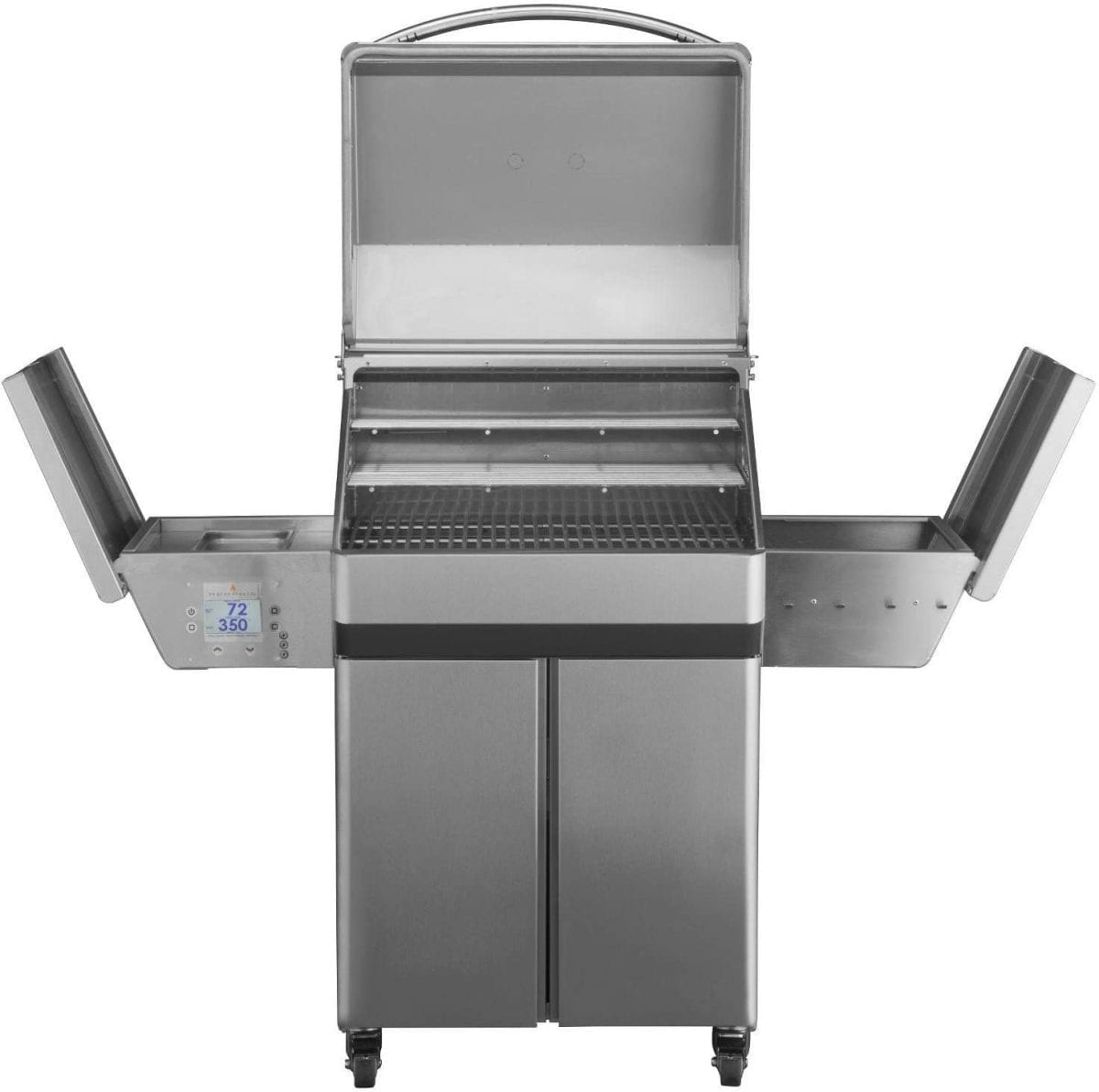 The Memphis Grills Pro Pellet Grill is more of a luxury grill for those looking for something premium. Like other models in this list, this pellet smoker has Wi-Fi features that let you control the grill remotely. Unlike the Green Mountain pellet grill, you can receive alerts not only through the app, but through email and texts as well.
True to its luxury status, this grill's temperature range can go from 180 all the way to 650 degrees F. It's certainly wider compared to the other models in this list.
Get Memphis Grills Pro Pellet Grill on Amazon.
Louisiana Grills Estate Built-In Pellet Grill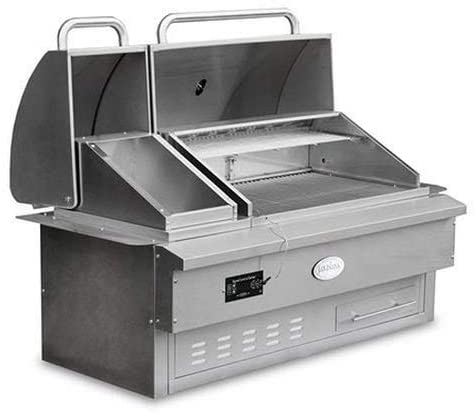 For those who don't know, built-in pellet grills also exist. And the Louisiana Grills Estate Built-In Pellet Smoker is great for your outdoor kitchen or barbeque island!
This luxury built-in grill has a flexible temperature range of 180 degrees F to 600 degrees F. It also has a wide grilling area of 579 square inches. Meanwhile, its upper rack is sized at 281 square inches, making its total cooking area a whopping 860 square inches. This 194-pound grill was certainly made for large parties in mind.
Buy Louisiana Grills Estate Built-In Pellet Smoker on Amazon.
Cookshack FEC100 Fast Eddy's Wood Pellet Smoker Oven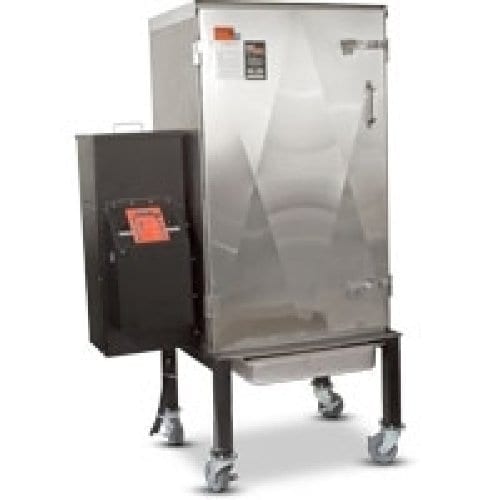 This Fast Eddy's by Cookshack smoker is a vertical-type of pellet smoker. It's great for cooking for large groups, with 4 steel racks measuring 23 by 17 inches. This model is also a good choice for those who don't have much room for their grills. That's because its vertical shape only takes up a small amount of space (without compromising its cooking area, of course).
Cookshack Fast Eddy's Pellet BBQ Smoker has a temperature range of 130 to 400 degrees F. Perhaps one of its more impressive features is its ability to smoke at 240 degrees F for 24 hours (or longer) non-stop! And it can smoke up to 100 pounds of food in one sitting. Talk about an oven! Lastly, it boasts of a 850-degree Spin-glass insulation that's responsible for keeping internal temperatures stable.
Get Cookshack FEC Fast Eddy's Wood Pellet Smoker Oven on Amazon.
Camp Chef SmokePro LUX Pellet Grill & Smoker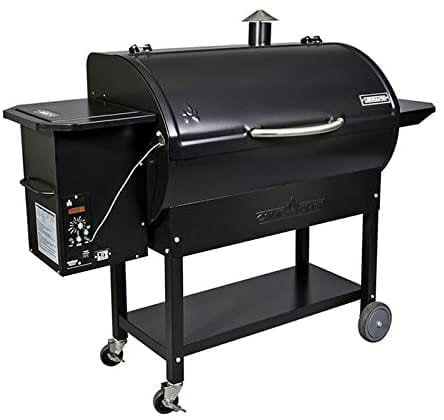 Last but not least, we have Camp Chef's SmokePro Lux Pellet Grill and Smoker. Like the Fast Eddys by Cookshack smoker, this Camp Chef model was made to serve really large groups of people. With perhaps the largest cooking surface, this smoker has a huge 875 square inches cooking rack. It's also heavy, weighing in at 180 pounds.
Despite it being big, this smoker's surprisingly easy to clean. Thanks to its ash cup cleanout system, you can even remove unused pellets from the hopper and auger. If you need any more reason to buy this grill, just know that it won a Vesta Award for its advanced cleanout system and user-friendly design.
Buy Camp Chef SmokePro Lux Pellet Grill & Smoker on Amazon.
Conclusion
There's no denying the usefulness of pellet grills. They're convenient, flexible, and incredibly easy to use. If this is the future of cooking, then it's certainly exciting!