Aside from pizza and spaghetti, Italy is also famous for its many types of bread. There's the focaccia, the ciabatta, and the pane Toscano (Italian for "Tuscan bread"). But in this recipe, we'll show you how to make a healthier version: Low Calorie Italian Bread. This Italian bread recipe is perfect for those looking after their calorie intake but misses the taste of bread for breakfast. Our recipe lets you enjoy delicious, soft Italian bread without feeling guilty about the calories that usually come with it. It's also easy to make! Even a novice at baking can pull off this recipe.
Italian bread is a staple food in its country of origin. The delicious pane (Italian for bread) was once dubbed as the "food of the masses" for how easy it was to make, and how affordable the ingredients were. Nowadays, there are over 250 types of bread in Italy, with each region having its own version of it. Unlike other types of bread, Italian bread is famous for its savory taste. It's also popular for its smoky flavor, brought out by baking it in a flat stone oven. To keep this lovely taste, in this recipe we bake the bread on a baking stone.
Our low-calorie Italian bread recipe is great for those who want to try their hand at baking their own pane. It's healthy, tasty, and easy to bake. Making your own bread is also handy since you don't have to depend on stores or bakeries for your daily dose of Italian bread. Plus, you get to try the freshest ones, straight from the oven! Why not try making some Italian Grilled Cheese and Tomato with your first fresh batch?
How To Make Low Calorie Italian Bread
No need for cheat days with our soft and savory Low Calorie Italian Bread. Even first time bakers won't have a hard time making this recipe!
Resting and Rising Time:
3

hrs
Advertisement
Continue Reading Below
Ingredients
1 ⅔

cups

water

2

tbsp

oil,

can also use melted butter or margarine

2

tsp

salt

2

tbsp

powdered soy milk

1 ¾

cups

yellow cornmeal

3

cups

bread flour

2 ½

tsp

dry yeast

Cooking spray,

or grease
Instructions
To make the dough, mix all the ingredients in a bowl.

Sprinkle flour on a countertop or surface and start kneading the dough for about 10 minutes. Make sure it doesn't stick to your hands.

Spritz the bowl with cooking spray or grease. Place the dough inside the bowl.

Spritz the dough with cooking spray or grease and cover with a plastic wrap.

Let the dough rest for 2 hours.

After 2 hours, spritz cooking spray on a piece of parchment paper. Then, sprinkle it with cornmeal.

Place the ball of dough on the parchment paper.

Spritz the dough with more cooking spray. Then, let it rest and rise for 1 hour.

Preheat your oven to 425 degrees F. Place a baking stone inside.

Dust some rye flour over the dough and score it with a sharp knife.

Together with the parchment paper, place the dough onto the baking stone.

Add 2 cups of boiling water into a small baking pan. Place it in the bottom of the oven to create steam.

Bake the dough for 30 to 35 minutes.

Let it cool after baking.

Serve your low calorie Italian bread with jam or butter. Enjoy while warm!
Advertisement
Continue Reading Below
Advertisement
Continue Reading Below
Commonly Asked Questions
How do you eat Italian bread?
Italian breads' savory flavor tastes even better when topped with olive oil, herbs, and even salt. Italians don't dip their bread into olive oil and balsamic vinegar as Americans do for an appetizer. However, they do eat bread topped with olive oil. They call this dish a fettunta which means oily slice in Italian.
What's the difference between Italian bread and French bread?
There are many differences between the two types of bread. While there are many kinds of Italian and French bread, in appearance, French bread is generally longer and thinner. Italian Bread, on the other hand, is more circular in shape. French bread also tastes sweet, while Italian bread tastes savory. But keep in mind that these are just some of the general characteristics that set the two apart.
Why is my Italian bread so dense?
There are many reasons for ending up with dense bread. You may not have spent enough time kneading the dough, used too much flour, or haven't given the dough enough time to rise. When kneading the dough, make sure to knead it or at least 10 minutes using a mixer, or 20 minutes by hand. Start slowly and steadily work the dough until it's flexible and springy. Remember not to use too much flour either. Avoid using types of flour that make bread heavy, like whole wheat or rye. Lastly, follow the recipe instructions to make sure that you're giving the dough enough time to rise. However, remember not to leave it for too long either.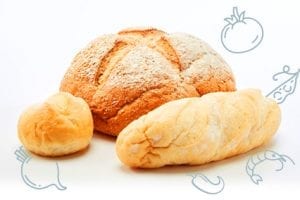 Conclusion
You won't need to buy Italian bread from stores ever again! Our Low Calorie Italian bread is soft and savory— the perfect accompaniment to pasta and other Italian dishes. Plus, you won't have to worry about your calorie intake ever again once you master our Italian bread recipe.
Advertisement
Continue Reading Below
Topics:
Advertisement
Continue Reading Below
Related Breads & Doughs Recipes
Advertisement
Continue Reading Below