Aside from pizza and spaghetti, Italy is also famous for its many types of bread. There's the focaccia, the ciabatta, and the pane Toscano (Italian for "Tuscan bread"). But in this recipe, we'll show you how to make a healthier version: Low Calorie Italian Bread. This Italian bread recipe is perfect for those looking after their calorie intake but misses the taste of bread for breakfast. Our recipe lets you enjoy delicious, soft Italian bread without feeling guilty about the calories that usually come with it. It's also easy to make! Even a novice at baking can pull off this recipe.
Italian bread is a staple food in its country of origin. The delicious pane (Italian for bread) was once dubbed as the "food of the masses" for how easy it was to make, and how affordable the ingredients were. Nowadays, there are over 250 types of bread in Italy, with each region having its own version of it. Unlike other types of bread, Italian bread is famous for its savory taste. It's also popular for its smoky flavor, brought out by baking it in a flat stone oven. To keep this lovely taste, in this recipe we bake the bread on a baking stone.
Our low-calorie Italian bread recipe is great for those who want to try their hand at baking their own pane. It's healthy, tasty, and easy to bake. Making your own bread is also handy since you don't have to depend on stores or bakeries for your daily dose of Italian bread. Plus, you get to try the freshest ones, straight from the oven! Why not try making some Italian Grilled Cheese and Tomato with your first fresh batch?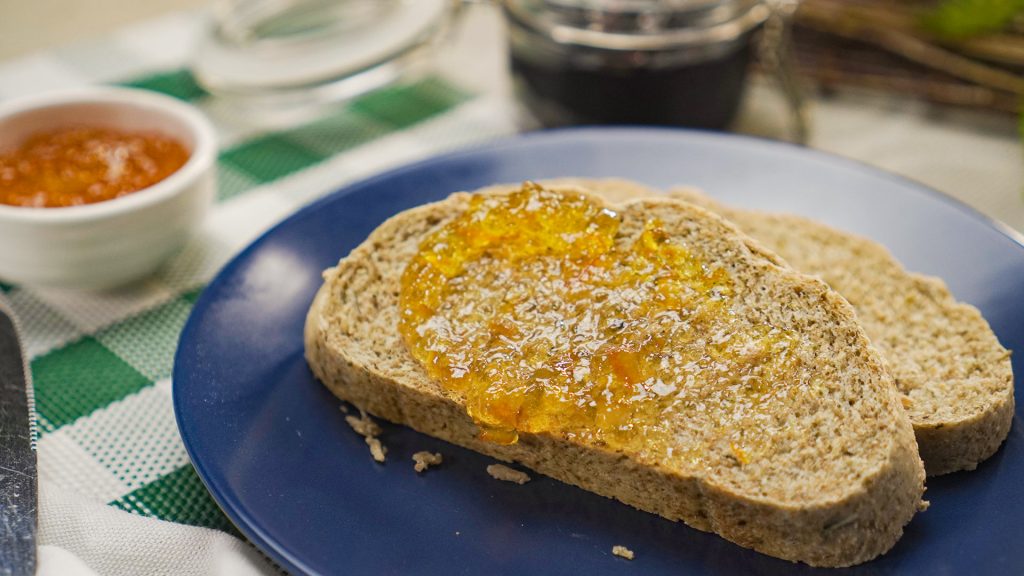 Low Calorie Italian Bread Recipe
How To Make Low Calorie Italian Bread
No need for cheat days with our soft and savory Low Calorie Italian Bread. Even first time bakers won't have a hard time making this recipe!
Resting and Rising Time:
4

hrs
30

mins
Ingredients
3¼

cups

whole wheat flour,

plus more for dusting

1½

cups

water,

lukewarm

2

tbsp

Italian seasoning

1

tbsp

active dry yeast

½

tsp

salt

cooking spray
To serve:
orange marmalade,

either jams or butter
Instructions
Line a baking sheet with parchment paper and grease with cooking spray.

In a large mixing bowl, combine lukewarm water and yeast. Stir to combine and set aside for roughly 30 minutes to allow the yeast to bloom.

While waiting, whisk together flour and salt.

After the yeast has bloomed, add your sifted flour mixture and Italian seasoning. Mix until it forms a sticky dough.

Cover with a damp cloth and set aside in a warm area. Allow the dough to rise for 3 hours. Note that this will not rise as high as a normal bread dough due to the absence of any sweeteners.

Dust flour on your work area, and knead the dough for about 10 minutes, until it turns smooth. Make sure it doesn't stick to your hands.

Form a ball with the dough and transfer this onto your greased baking sheet.

Cover the dough once again with a damp cloth and set it aside in a warm area. Allow it to rise for the second time for roughly an hour.

Preheat your oven to 360 degrees F while waiting.

Score the top of your dough with a sharp knife. Bake the dough for roughly 35 minutes until the crust turns golden. If you prefer a softer crust, bake for roughly 25 minutes instead.

Once baked, transfer onto cooling racks and set aside until it reaches room temperature. Your Italian bread should sound hollow when tapped, which is a good sign that it has baked nicely.

Serve your low-calorie Italian bread with ¼ cup of jam and butter. Enjoy while warm!
Nutrition
Sugar:

1g

:

Calcium:

76mg

Calories:

341kcal

Carbohydrates:

72g

Fat:

3g

Fiber:

12g

Iron:

4mg

Monounsaturated Fat:

1g

Polyunsaturated Fat:

1g

Potassium:

395mg

Protein:

14g

Saturated Fat:

1g

Sodium:

298mg

Vitamin A:

51IU

Vitamin C:

1mg
Nutrition Disclaimer
Frequently Asked Questions
How do you eat Italian bread?
Italian breads' savory flavor tastes even better when topped with olive oil, herbs, and even salt. Italians don't dip their bread into olive oil and balsamic vinegar as Americans do for an appetizer. However, they do eat bread topped with olive oil. They call this dish a fettunta which means oily slice in Italian.
What's the difference between Italian bread and French bread?
There are many differences between the two types of bread. While there are many kinds of Italian and French bread, in appearance, French bread is generally longer and thinner. Italian Bread, on the other hand, is more circular in shape. French bread also tastes sweet, while Italian bread tastes savory. But keep in mind that these are just some of the general characteristics that set the two apart.
Why is my Italian bread so dense?
There are many reasons for ending up with dense bread. You may not have spent enough time kneading the dough, used too much flour, or haven't given the dough enough time to rise. When kneading the dough, make sure to knead it or at least 10 minutes using a mixer, or 20 minutes by hand. Start slowly and steadily work the dough until it's flexible and springy. Remember not to use too much flour either. Avoid using types of flour that make bread heavy, like whole wheat or rye. Lastly, follow the recipe instructions to make sure that you're giving the dough enough time to rise. However, remember not to leave it for too long either.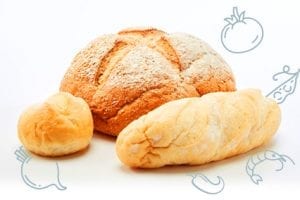 Conclusion
You won't need to buy Italian bread from stores ever again! Our Low Calorie Italian bread is soft and savory— the perfect accompaniment to pasta and other Italian dishes. Plus, you won't have to worry about your calorie intake ever again once you master our Italian bread recipe.