With layers of mouthwatering meat, yummy fillings (of your choice), and crunchy vegetables, Arby's reuben sandwich is truly an iconic dish! Who can say no to a sandwich stuffed with flavorful sauces, melted cheese, and luscious meat fillings? 
You'll love biting into the crunchy slices of rye bread and flavor-packed fillings of our corned beef reuben. For delicious sides you can serve with your reubens, try making our baked potato soup recipe or spice up your usual coleslaw with our dill pickle coleslaw with a tasty dressing.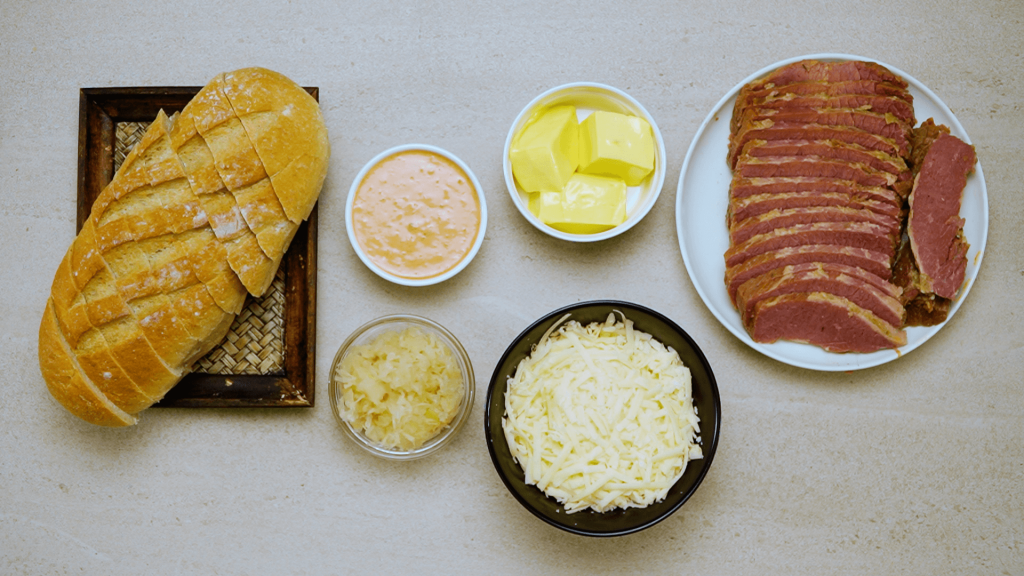 What Is a Reuben Sandwich Made Of?
We make the classic reuben sandwich with sauerkraut, Swiss cheese, corned beef, and Thousand Island dressing on rye bread. It won first place in the 1956 National Sandwich Contest. Since then, everybody wanted a bite of this scrumptious appetizer and practically every restaurant today has reuben sandwiches on their menus. 
Arby's introduced the reuben in 2005 and it has been a favorite since. Layers of lightly toasted marbled rye bread stuffed with thin-sliced corned beef, melted cheese, sauerkraut, and creamy Thousand Island dressing. Yummy, right? No wonder Arby's reuben sandwich is such a popular dish among diners.
Today, there have been a lot of tasty twists on this popular dish. Among the scrumptious new takes on the Reuben is the Rachel sandwich, which uses roast turkey or pastrami and coleslaw as its filling. Know more about it by reading our CAQ section down below.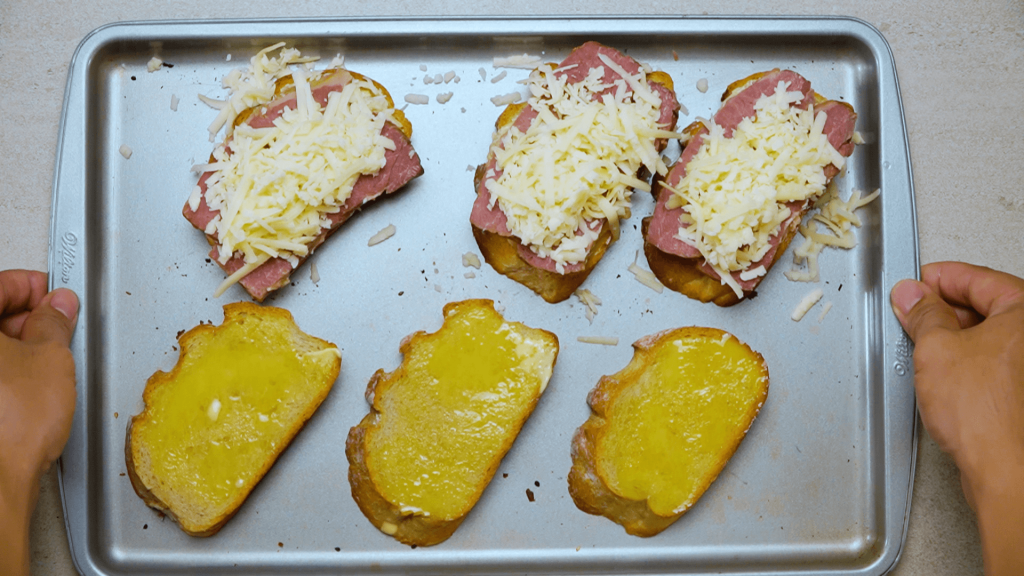 Tips for Making a Reuben Sandwich
You'd be surprised by how easy it is to recreate Arby's reuben. But to make it even easier for you in making the best reuben sandwich, keep these tips in mind:
Make sure to use quality bread.

Bread is an important component a sandwich. In this reuben recipe, we're using rye bread which is actually nutritious, soft inside, and crusty once grilled. 

Drain the liquid from the sauerkraut.

This is to prevent your sandwich from being soggy. You can choose to replace it with coleslaw if you want.

Use a panini press or griddle to grill your sandwich.
Use store-bought Russian dressing or chili garlic sauce

to replace the Thousand Island dressing. If you want a bit of heat in your sandwich, we suggest going with these sauces.
Learn how to make and layer a reuben with our easy recipe that you can do in just 10 minutes. For a fun appetizer, you can dip rye bread into our cheesy reuben dip and have a taste of this reuben sandwich in each bite.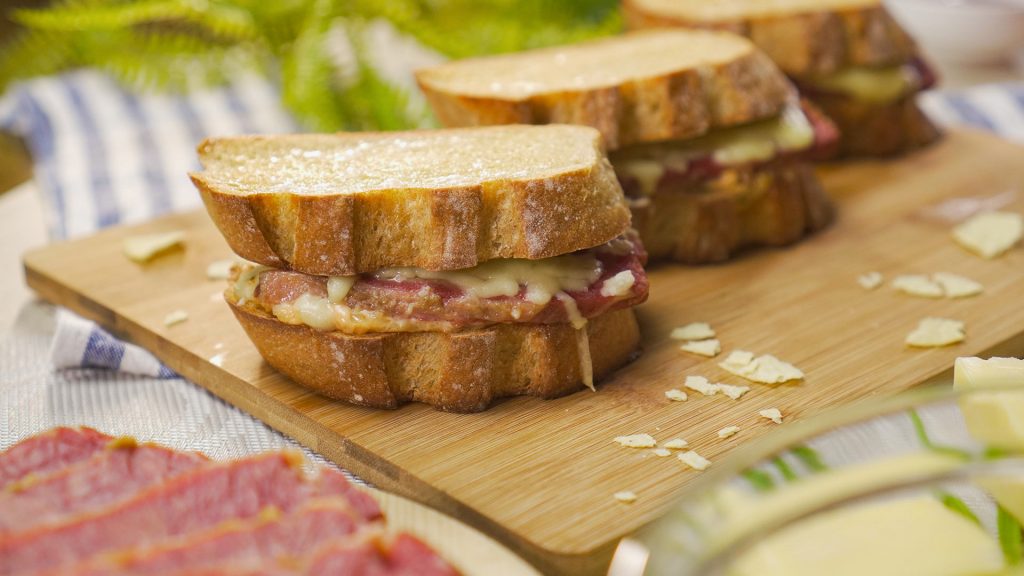 Reuben Sandwich Recipe (Arby's Copycat)
How To Make Reuben Sandwich (Arby's Copycat)
Arby's reuben sandwich lets you enjoy a flavorful filling made of savory corned beef, melted cheese, sauerkraut, and creamy reuben sauce on toasted marble rye bread. Recreate this classic deli with our copycat recipe.
Ingredients
1½

lb

corned beef slab,

pre-cooked and sliced thinly

1

loaf bread,

preferably rye loaf, sliced into 1-inch thick slices

⅔

lb

emmental or gruyere cheese,

grated

5

tbsp

sauerkraut,

canned or bottled, drained

5

tbsp

thousand island dressing

unsalted butter,

at room temperature for spreading
Instructions
Mix the sauerkraut and the thousand islands dressing together in a bowl.

Toast your bread, then spread butter on one side on each slice of bread.

Spread each of the sandwiches with roughly 1 tablespoon of butter on the top slice and roughly 2 tablespoons of the sauerkraut dressing mixture on the other side.

Layer roughly 3 ounces of corned beef and 2 ounces cheese per sandwich, then briefly broil in the oven just until the cheese has melted.

Cover with the top slice and serve!
Nutrition
Sugar:

5g

:

Calcium:

311mg

Calories:

373kcal

Carbohydrates:

35g

Cholesterol:

41mg

Fat:

19g

Fiber:

4g

Iron:

2mg

Potassium:

196mg

Protein:

15g

Saturated Fat:

8g

Sodium:

833mg

Vitamin A:

352IU

Vitamin C:

4mg
Nutrition Disclaimer
Frequently Asked Questions
Is a Reuben sandwich made with corned beef or pastrami?
The classic Reuben sandwich is made with corned beef. Meanwhile, the Rachel sandwich uses pastrami or turkey instead of corned beef and coleslaw in lieu of the sauerkraut. Pastrami is cured with a dry rub and then smoked while corned beef is cured with brine and boiled. Make it with our easy homemade pastrami recipe.
Is Russian dressing the same as Thousand Island dressing?
While both have a pinkish base due to their combination of mayonnaise and tomato or chili ketchup, Russian dressing is made spicier with horseradish and paprika. Thousand Island dressing, on the other hand, is made with pickle, which gives it more sweetness and texture. Russian dressing is the classic dressing that goes with a reuben sandwich but Thousand Island is the closest and next best alternative to it.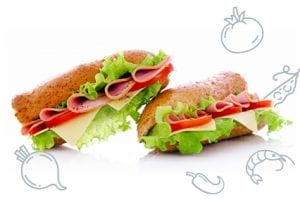 Conclusion
Have a delicious feast with this classic deli in the comfort of your home. It's easy and quick and will surely leave you satisfied throughout the day.