Sauerkraut or "sour cabbage" is a famous side dish originating from Germany. These thinly cut raw cabbages are fermented and stored in jars or cans for long periods of time. This gives them a distinctive sour flavor which can be enjoyed as is, or by adding in a bit of sugar for a Bavarian style sauerkraut. Pair this with cured meat to make this delicious crockpot ham and sauerkraut recipe, and then serve this meal combo with a side of crispy sweet potato fries.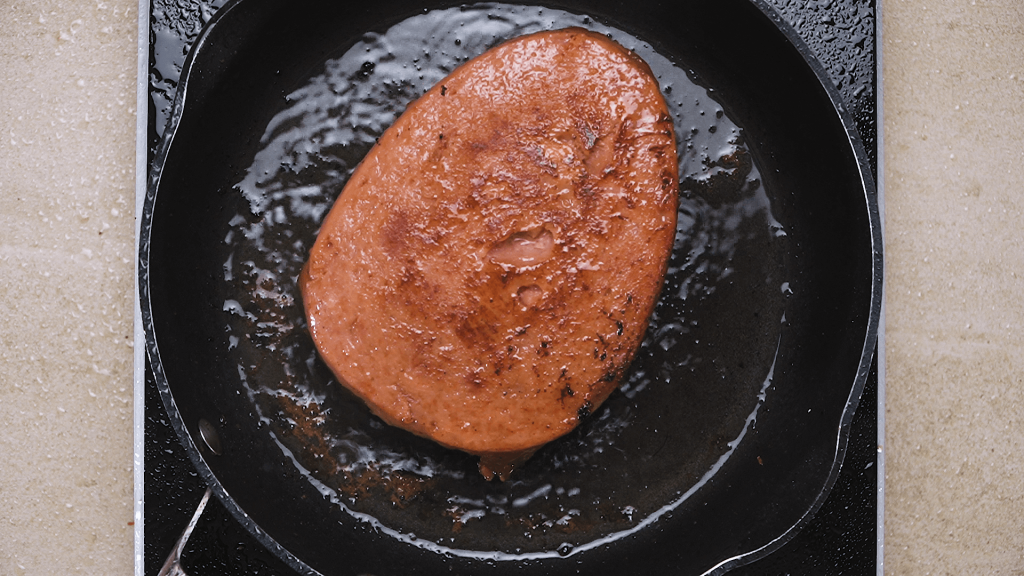 For a more authentic German meal, try using black forest ham instead of regular flavored hams. It's the best ham to use for this recipe. The intense, smoky, and subtle salty taste pairs well with the sourness of the sauerkraut.
If you want some more recipes with sauerkraut, then check out this delicious bowl of sauerkraut soup or this savory pork and sauerkraut casserole dish.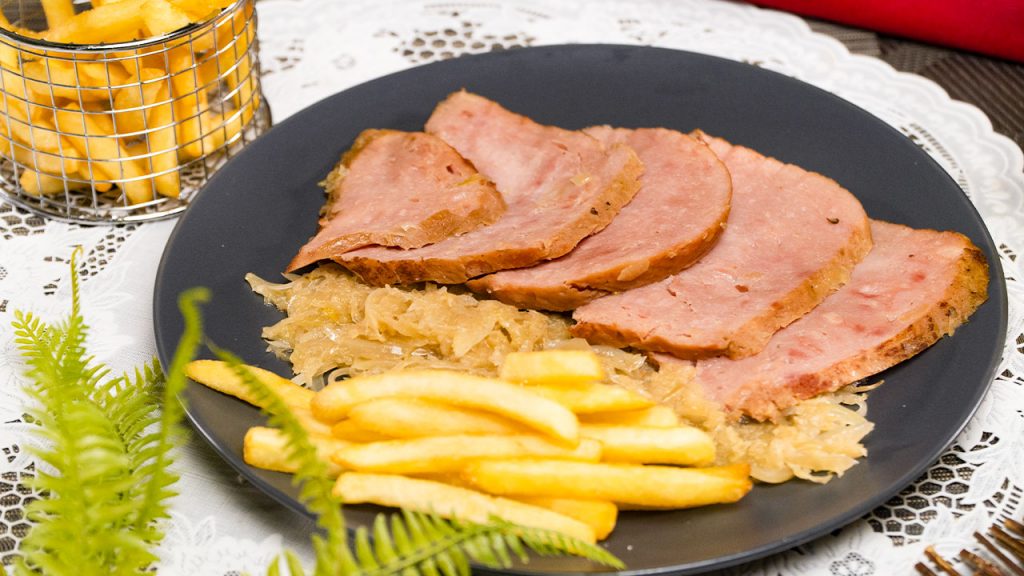 Crockpot Sauerkraut Ham Recipe
How To Make Crockpot Sauerkraut Ham
Enjoy a traditional German side dish with this ham and sauerkraut recipe that slow-cooks the ham in a seasoned mixture so it's extra tasty. Serve alongside tasty potato fries.
Ingredients
4

lb

ham,

boneless

2

cups

sauerkraut,

with liquid

5½

oz

yellow onion,

thinly sliced

1

pc

green apple,

grated

2

pc

bay leaves

4

tbsp

vegetable oil

salt and ground black pepper,

to taste
To Serve:
1

oz

potato fries,

per serving
Instructions
Combine sauerkraut, onions, apples, and bay leaves in a mixing bowl. Mix to incorporate and set aside.

Heat up a skillet with oil over medium-high heat. Add the ham and sear evenly on all sides.

Transfer this into your crockpot. Cover the ham with the mixed sauerkraut, cover, and cook on low for 3 to 4 hours or until fully cooked.

Once cooked, drain from the crockpot and allow the ham to rest before carving.

Season the sauerkraut mixture in the crockpot with salt and pepper. Adjust accordingly.

Carve your ham according to your preference, then place this together with the sauerkraut and potatoes. Serve.
Nutrition
Sugar:

2g

:

Calcium:

45mg

Calories:

848kcal

Carbohydrates:

6g

Cholesterol:

187mg

Fat:

61g

Fiber:

2g

Iron:

4mg

Monounsaturated Fat:

25g

Polyunsaturated Fat:

6g

Potassium:

1006mg

Protein:

66g

Saturated Fat:

26g

Sodium:

3927mg

Vitamin A:

30IU

Vitamin C:

9mg
Nutrition Disclaimer
Frequently Asked Questions
What foods pair well with sauerkraut?
Sauerkraut is traditionally eaten with sausages or salted meats. It's because the sour and savory taste blends perfectly with each bite. You can try pairing it with these delicious bacon-wrapped sausage links for a much more satisfying meal. Besides savory meat dishes, you can also try eating it with this crisp and healthy Asian chicken salad, or add it in a sandwich to make a tasty Rueben sandwich. Try out some of these sauerkraut dishes to fully enjoy the taste of this German side dish.
Should you rinse sauerkraut?
No, you shouldn't rinse jarred or canned sauerkraut. Since it's fermented cabbages, the brine or liquid that comes with it is needed to preserve its flavor and shelf life for up to 4 to 6 months after opening. That's why it's not necessary to wash or strain the liquid. However, if you want a milder-tasting sauerkraut for your dish, then rinsing it a bit with water before straining it would help.
Is sauerkraut good for you?
Yes, this sour fermented cabbage has its health benefits. It's rich in fiber, vitamins, minerals, and has probiotics that help the body absorb nutrients easily. Sauerkraut also helps with improving your digestion and immune system. However, it's best to eat this appetizing side dish in moderation since it's fairly high in salt due to the fermenting process. We recommend eating sauerkraut in small quantities so it's better for your health.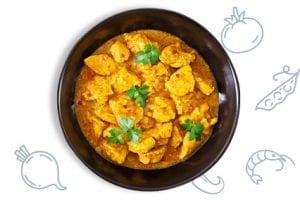 Conclusion
Enjoy one of Germany's traditional side dishes with this ham and sauerkraut recipe. Learn how you can make sauerkraut ham just by using a crockpot at home! It's surprisingly easy to make. Just follow these instructions and you're good to go.