A Chocolate Banana Mousse Recipe is probably all you need to cool down during the summer. And even when it's not the hot weather season, if you just really like having new desserts to try for a change, this is another sweet treat meant to impress. This recipe is so quick to make and it doesn't require any baking procedure. Invite friends over at your house just to brag about this fancy-looking, and yet absolutely affordable delicious recipe! Hosting a party? You can also make various mousse dessert recipes for your guests to choose from. Whether it's a fruity Peach Mousse or Light Vanilla Mousse, They are all easy to follow and almost require no baking procedure.

Tip: Ever wonder what secret ingredient patisseries use to make delicious pastries? It's salt! Just a little bit of it enhances the taste and magnifies the flavors of the ingredients. So don't be afraid to add a pinch to transform any dessert recipe.
Don't you just love an intensely sweet chocolate dessert? This Chocolate Banana Mousse Recipe uses bittersweet chocolate for that strong bitter taste. But the natural sweetness from the bananas counterbalances the bitterness, and gives it a smooth, creamy texture! You want a secret ingredient to add here? Add a pinch of salt to transform this recipe into a restaurant-grade dessert.
Serve this in pretty glasses like a champagne flute or a martini glass. Use a pastry bag with a small-mouth tip to transfer the mousse and have more control over it. Another way is to pipe the mousse into a glass halfway, add some berries, then fill the other half with more mousse. Though, just putting them into jars and slicing up some fruits along with crushed chocolates to make a nice garnish is the easier route.
How To Make Chocolate Banana Mousse Recipe
A light yet intensely sweet treat. With a few simple ingredients and some basic tools in the kitchen, you will be making a restaurant-grade dessert in no time!
Ingredients
5 ¼

oz

bittersweet chocolate

chopped

14

oz

cold heavy cream

3

large egg whites

1

oz

sugar

2

bananas

mashed
Instructions
In a large bowl set over a saucepan of simmering water, melt chocolate. 

In a bowl over ice, beat cream until stiff peaks form. Set aside.

Using a mixer, beat eggs until peaks form. Add sugar and continue whipping. 

Remove chocolate from heat and use a whisk to fold in all the egg whites. Fold in the whipped cream. Fold in the bananas.

Cover and refrigerate for 1 hour before serving.
Recipe Notes
Top it off with some chocolate drizzle or go lavish with chocolate pieces and chopped nuts. For extra texture, you can even cut up some raspberries or strawberries and mix them in before piping the mousse into the glass.
Nutrition Facts
Calories:
325
kcal
|
Carbohydrates:
21
g
|
Protein:
4
g
|
Fat:
26
g
|
Saturated Fat:
16
g
|
Cholesterol:
69
mg
|
Sodium:
40
mg
|
Potassium:
267
mg
|
Fiber:
2
g
|
Sugar:
14
g
|
Vitamin A:
757
IU
|
Vitamin C:
3
mg
|
Calcium:
45
mg
|
Iron:
1
mg
Commonly Asked Questions
What can I use for toppings?
Strawberries, raspberries, and surprisingly, even blueberries, pair with chocolate the best. Some crushed up cookies and peanuts also work, too. Pistachios, for example, create a pop of color while giving a bit of texture into the mousse.

Why is my chocolate banana mousse runny?
The whipped cream probably wasn't stiff enough which is a result of not chilling them beforehand. Another possible reason is that the fruits weren't drained well. To counter this, you will need a cornstarch. Add a tablespoon of cornstarch to a cup of water to make a roux mixture, heat it up, and add this into the mousse.

Why is my chocolate banana mousse grainy?
It's important to let the chocolate cool at room temperature before you mix them with the other ingredients. That is because it could cook the cream causing it to firm up into tiny grains without intending to.

Should chocolate banana mousse be refrigerated?
Yes! You should refrigerate it for at least 2 hours before serving. To keep it chilled for longer, you may even put the containers in the fridge along with the heavy cream and mixing bowl before you make the mousse. Chilling your dessert cups helps contain the cold for longer.

How long does mousse last?
This mousse recipe is a great dessert at any time of day. If you have kids at home, make a big batch so that they can just grab it in the fridge whenever they are hungry for dessert. Keep it cold in the fridge for up to 5 days. Either store it in a larger bowl so you can transfer a serving to cups later, or portion it out into glass cups or jars for an easy grab. Cover it with plastic wrap to keep the moisture out making it last longer.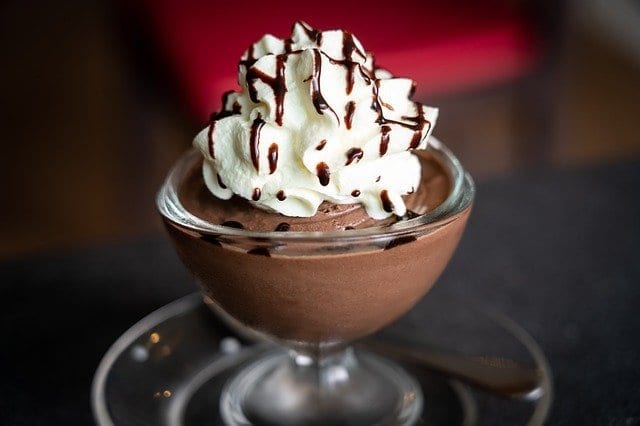 Conclusion
Who can resist a deliciously chocolatey creamy goodness especially when they are refreshingly chilled? They are perfect for the summer but we wouldn't mind having them any time of the year. This is a recipe that both kids and adults will surely find delightfully tasty. Let us know in the comments what other toppings you find match this chocolate mousse recipe best.