Making homemade ravioli might sound daunting but fear not because this spinach ricotta ravioli recipe is made simpler by using wonton wrappers. We're filling our ravioli with spinach, ricotta cheese, and mushrooms for a great combination of flavors. The creaminess of the ricotta balances out the robust taste of spinach. In addition, the mushrooms further enhance the flavor profile by adding an earthy and umami taste. Surely, every bite of this decadent pasta dish is a delight to the palate. Add a side of garlic bread to complete your meal.
Tips on Making Spinach Ricotta Ravioli with Mushrooms
You will definitely love this spinach and ricotta ravioli even more when you know what else you can do to make this dish desirable to your palate. Here are some helpful tips to perfect this easy spinach and mushroom ravioli recipe:
Use your extra spinach-ricotta filling in other dishes.

There's no need to discard your lefto

ver

ravioli filling

b

ecause you can also use it as a filling for

calzone

, rolls, or even dumplings. This mixture is also great as an additional layer to your favorite

vegetable lasagna

. Lastly, you can dilute your spinach-ricotta mixture in water, milk, or cream and make a creamy

sauce

for your pasta. 
You can substitute spinach with other leafy vegetables.

You can replace it with kale or Swiss chard for your

ravioli fillings

. Kale has a stronger and more bitter flavor than spinach while Swiss chard has a milder taste. Feel free to use whatever suits your taste.
Make this dish vegan and dairy-free by using vegan cheese which can be bought in grocery stores.

For the egg wash, use water instead to close the wonton wrappers
Add a savory meaty flavor to your filling

by mixing in at least 2 tablespoons of chopped cooked prosciutto or pancetta.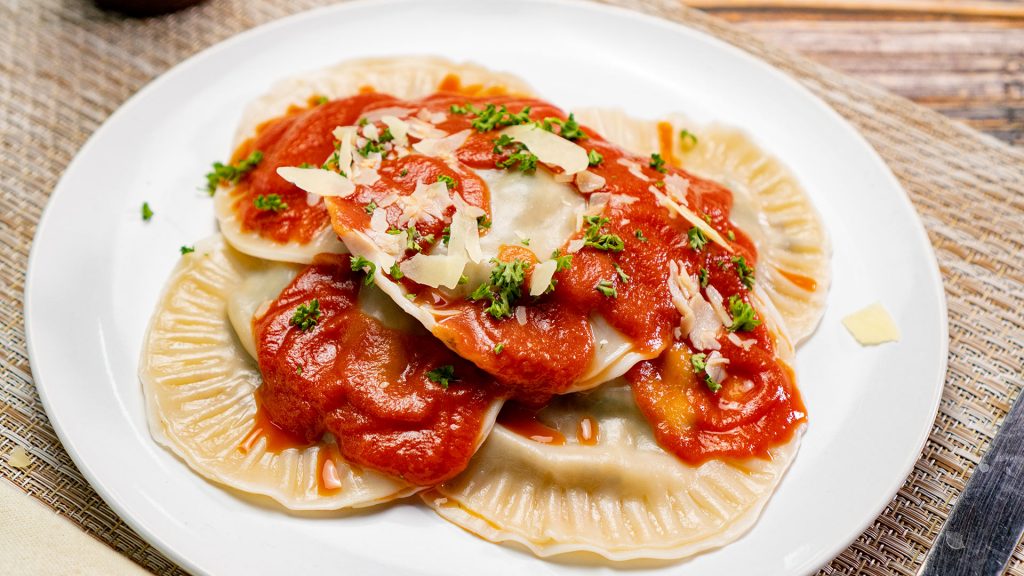 Spinach Ricotta Ravioli with Mushrooms Recipe
How To Make Spinach Ricotta Ravioli with Mushrooms
This spinach ricotta ravioli recipe uses wonton wrappers instead of dough which makes this dish easier to make. Our ravioli filling combines spinach, ricotta, and mushrooms to make a great savory flavor profile that's creamy, robust, and earthy.
Ingredients
24

pcs

wonton wrappers

1½

cups

parmesan cheese,

grated

1

tbsp

olive oil

12

oz

ricotta cheese

3

tbsp

water

1½

cups

mushrooms,

finely chopped

4

cups

spinach

2

large

eggs
Instructions
In a small mixing bowl, mix together parmesan cheese, one whole egg, and ricotta. Set this aside.

In a large skillet, heat oil over medium high heat. Add in the mushrooms, cook until tender for about 10 minutes. Add spinach, and cook until wilted for about 45 seconds.

Remove from the skillet and roughly chop. Stir the mushrooms and spinach into the ricotta mixture and then set aside.

Make an egg wash in a small mixing bowl by whisking together water and egg. Set aside.

Place a pot of water on the stove to boil. Place one of the wonton wrappers on a clean work surface and place one teaspoon of the filling into the middle.

Take a pastry brush and brush the sides of the wonton wrapper with the egg wash.

Place another wonton wrapper on top and press the edges down with a fork to seal the ravioli. Evenly work out any air bubbles if there are.

Repeat with the remaining filling and wonton wrappers.

Place four of the raviolis into the pot of boiling water and cook for 4 minutes. Repeat until all of the raviolis are cooked.

Remove and serve.
Nutrition
Sugar:

1g

:

Calcium:

334mg

Calories:

197kcal

Carbohydrates:

5g

Cholesterol:

81mg

Fat:

13g

Fiber:

1g

Iron:

1mg

Monounsaturated Fat:

5g

Polyunsaturated Fat:

1g

Potassium:

223mg

Protein:

14g

Saturated Fat:

7g

Sodium:

384mg

Trans Fat:

1g

Vitamin A:

1810IU

Vitamin C:

5mg
Nutrition Disclaimer
Frequently Asked Questions
How to make ravioli dough from scratch?
Homemade pasta would work well with this recipe. So if you have the time, make your own ravioli by first mixing 3 cups of flour, 4 eggs, 2 tablespoons of olive oil and a teaspoon of salt to make your dough. Use an electric mixer to combine all the ingredients until they are incorporated thoroughly. Dust your work area with flour and knead the dough until smooth. Cover it in plastic wrap and let it rest for around 30 minutes. Once rested, you can now cut it into pieces and roll it flat. Cut the dough into small squares and voila! Fresh pasta ravioli made from scratch!

Can you freeze spinach and ricotta ravioli?
Yes! What you need to do is place them on a plate and freeze it for about 3 hours. When the raviolis have hardened, you can already store them in a ziplock bag or any airtight container. Put them back in the freezer and take them out when you're ready to use them. The best thing is there's no need to thaw the raviolis! Simply drop them directly into the boiling water and wait for them to cook.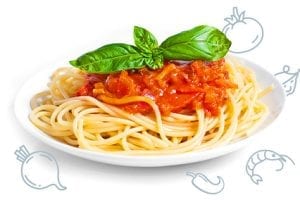 Conclusion
Enjoy this easy ricotta and spinach ravioli with mushrooms and serve it during Sunday lunch, special occasions, or even intimate dinners. The savory and creamy flavor of every bite will surely linger in your taste buds.