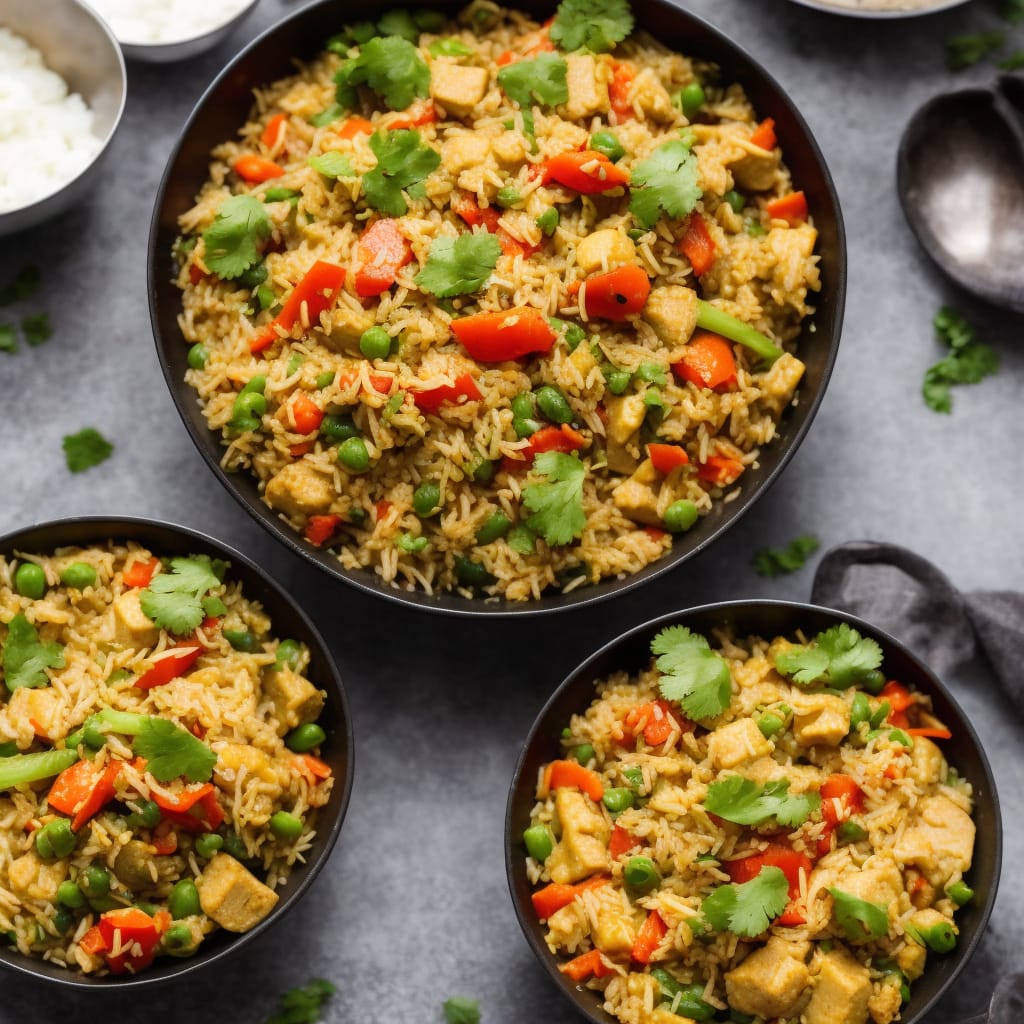 Vegetarian Thai Curry Fried Rice Recipe
How To Make Vegetarian Thai Curry Fried Rice
From a beautiful Asian country comes our authentic and tasty Thai recipes. Be enraptured by the sweet, salty, sour, and spicy flavors that most Thai dishes combine in wild abandon. Your taste buds will surely thank you for these amazing Thai recipes.
Ingredients
2 cups cooked jasmine rice, cooled
2 tbsp vegetable oil
2 cloves garlic, minced
1 small onion, diced
1 bell pepper, diced
1 carrot, diced
1 cup frozen peas
1 cup diced tofu or protein substitute
2 tbsp vegetarian Thai red curry paste
2 tbsp soy sauce
1 tbsp lime juice
1/4 cup chopped fresh cilantro
Salt and pepper to taste
Instructions
Heat vegetable oil in a large skillet or wok over medium heat.

Add garlic, onion, bell pepper, and carrot. Stir-fry for 2-3 minutes until vegetables are tender.

Push the vegetables to one side of the pan and add tofu or protein substitute on the other side. Cook for 3-4 minutes until lightly browned.

Add curry paste and stir-fry for 1 minute until fragrant.

Add the cooked rice and frozen peas. Stir-fry for another 2-3 minutes until the rice is heated through.

Drizzle soy sauce and lime juice over the rice. Stir to combine.

Season with salt and pepper to taste.

Remove from heat and sprinkle with fresh cilantro.

Serve hot as a main course or side dish.
Nutrition
Calories :

315kcal

Total Fat :

12g

Saturated Fat :

2g

Cholesterol :

0mg

Sodium :

1025mg

Total Carbohydrates :

45g

Dietary Fiber :

6g

Sugar :

7g

Protein :

10g