There's nothing better than to have a bite of a Cracker Barrel classic. Our copycat version is a simple biscuit recipe that only requires 4 ingredients and the best part is you're baking without eggs needed. This delightful snack can easily serve as breakfast biscuits, but doesn't mean you can't have them any time of the day!
If you're mindful of your eating habits, check out our Recipe Notes just after the instructions for tips in turning this into a vegan-biscuit recipe plus how to make Bisquick biscuits. You'll see how easy it is to adjust this biscuit recipe to your liking! By the end, you got a tasty batch of these sweet biscuits. This biscuit recipe is best paired with some tender and juicy chicken. Check out our Copycat Cracker Barrel's Fried Chicken Tenderloin Recipe or dedicate an entire feast with the rest of our Cracker Barrel Recipes.
What Are Cracker Barrel Biscuits?
A biscuit is a small, round type of bread that you might mistake for a scone. But unlike biscuits, scones are richer in flavor and crumblier in texture. Biscuits are flaky on the outside with an airy interior. Ingredients-wise, biscuit contains buttermilk and makes no use of eggs. If you wish to have a hand in making a scone, try our Cherry Orange Scones Recipe that bakes a flavorful dessert. 
Cracker Barrel is known for having endless supplies of biscuits a day. Fortunately for frequent customers, they typically come out freshly baked too. Cracker Barrel biscuits are known to be light and fluffy. In fact, they would go perfectly with any of your favorite jams, spreads, or just a simple slather of butter! These biscuits also became part of their Cracker Barrel Thanksgiving Meal along with the classic turkey, sweet potato casserole, pumpkin pie, and more. The famous Cracker Barrel biscuits then became one of the most sought after Cracker Barrel recipes you can make at home.
Making Cracker Barrel Biscuits At Home
Our recipe makes homemade biscuits with self-rising flour, buttermilk, vegetable shortening, and butter. Worry not! The number of ingredients doesn't compare to the tasty and soft texture this biscuit recipe will produce. This recipe lets you serve soft sweet biscuits with a flaky exterior. It also has a round and fluffy form that's butter-brushed on top. Buttermilk also gives it a tangy taste and creamy richness and prevents the fluffy biscuit from overcooking. 
When you happen to have a ton of buttermilk leftovers, what better way to use them but with buttermilk pancakes or even a heavenly slice of Strawberry Buttermilk Cakes. You can serve this buttermilk biscuit for breakfast by filling them with ham, bacon, and cheese in between. Or, if you want them as a side, pair them with thick and juicy cuts of Eye of Round Steak. 
Feel free to switch up this homemade biscuit mix with our suggested vegan-friendly and Bisquick options, mentioned in our Recipe Notes just after the instructions, and serve it on other days. Our Cracker Barrel biscuit recipe results in a fluffy and delicious treat to have at home. You'll love every bite into its crisp, outer layer and the soft, velvety inside melts in your mouth!
How To Make Copycat Cracker Barrel Biscuits
Start your morning with this scrumptious Cracker Barrel biscuit recipe. A fluffy treat that melts in your mouth only takes 4 ingredients to make!
Ingredients
2

cups

self-rising flour,

preferably White Lily

⅓

cup

vegetable shortening

⅔

cups

buttermilk

melted butter
Instructions
Preheat the oven to 450 degrees F.

In a bowl, combine the flour and shortening together.

Add in the buttermilk and mix for 1 minute until it forms into a dough.

Roll out the dough on a floured surface, kneading it at least 20 times.

Flatten it to an inch thick and use a biscuit cutter to cut it evenly.

After dividing the dough, line them onto a baking sheet and bake them for 8 minutes or until tops are light brown.

Afterwards, take out the finished cracker barrel biscuits and brush melted butter on top.

Serve warm and enjoy a light, scrumptious biscuit snack!
Recipe Notes
You can turn this treat into a vegan biscuit recipe with just a few substitutions:
Replace vegetable shortening with coconut oil and melted butter with vegan butter. 

Add a tablespoon of lemon to plant-based milk for a

buttermilk

alternative. 

Use whole wheat flour for the self-rising flour.
You can also get the same consistency and flavor with that of the cracker barrel biscuits with this Bisquick biscuits version. Make it by replacing the flour with ¼ cup of Bisquick mix to the batter. Stir in the same amount of buttermilk plus a tablespoon of melted butter and a teaspoon of sugar, knead and proceed with the rest of the recipe.
Nutrition
Calcium:

37mg

Calories:

268kcal

Carbohydrates:

32g

Cholesterol:

3mg

Fat:

13g

Fiber:

1g

Iron:

1mg

Potassium:

78mg

Protein:

6g

Saturated Fat:

3g

Sodium:

29mg

Sugar:

1g

Vitamin A:

44IU
Nutrition Disclaimer
Commonly Asked Questions
Why is my biscuit dough crumbly?
If the dough appears to be breaking into pieces, you might have added more flour than what the recipe calls for. There's also the possibility of using not enough vegetable shortening or buttermilk which prevents the ingredients from sticking together. You can fix it by gradually adding more fat or liquid to slowly build a sturdy dough. Best to check the expiration date of the self-rising flour as well. Pre-heating the oven is an important step as a cold oven will prevent the dough from rising. Lastly, remember not to over-knead the dough and knead it as instructed or until it has formed into a ball.
How to make buttermilk at home?
We've previously mentioned how you can use a buttermilk alternative just by adding lemon juice to plant-based milk but you don't have to be limited to that. You can swap the lemon juice with common household ingredients like cream of tartar or vinegar. If you've been churning your own butter at home, the liquid leftovers on the bottom of the bowl are actually buttermilk.
How do I store these biscuits?
Store these sweet biscuits at room temperature and it will last for 2 days as long as they're covered in foil or cling film to prevent them from drying out. Use air-tight containers to store them in the fridge, which would last for about a week. You can easily reheat them in the oven, preheating it to 350 degrees F. Line them on a baking sheet and lightly brush some oil or butter on top. Bake for about 5 to 7 minutes and you have warm biscuit leftovers for breakfast!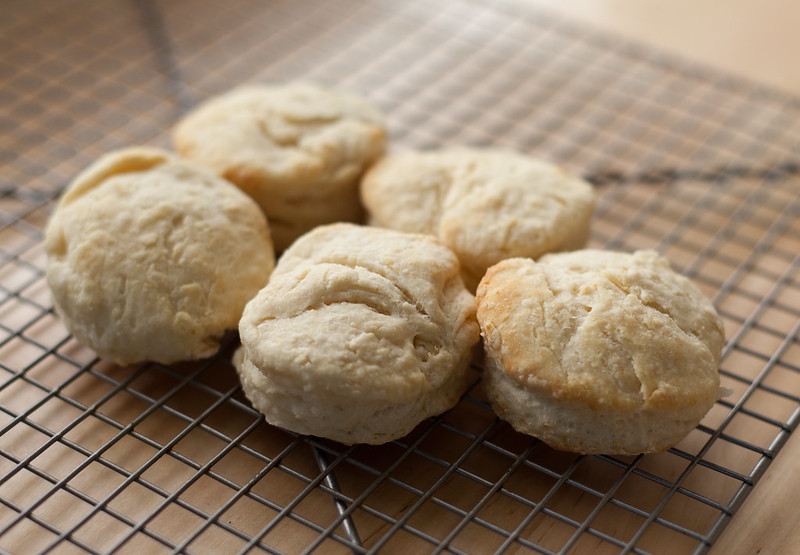 Conclusion
These buttermilk biscuits are a delicious batch perfect as a side or a snack. A Cracker Barrel staple made easy, this biscuit recipe is also accessible in your kitchen with just 4 ingredients too. Guaranteed to have a flaky exterior but each bite comes with a soft and fluffy inside. Drizzle them with some honey or gravy and serve warm for you and your family to enjoy!
Related Breads & Doughs Recipes