This stir fry for diabetics is a quick healthy meal that anyone can make at home. Tender chicken strips sauteed together with bell pepper and broccoli are glazed with a simple yet tasty chicken broth-based sauce. It is topped with cashews and cilantro for some added color and crunch. The result is a delicious, healthy, and colorful chicken stir fry that you can serve with steamed white rice or cauliflower rice to keep it low carb.
Tips on Making Chicken Stir Fry for Diabetics
Is chicken good for diabetics? It's high in protein and low in carbs, so definitely! And so is stir frying. Stir frying is a high heat cooking method that's great for quick preparations. Since the ingredients don't go through a lot of heat, they don't lose much of their natural nutrients. Here are the best tips about making this chicken stir fry recipe:
Slice the chicken breasts into strips with a uniform width.

Ideally, they should be about ⅛ to ¼ of an inch thick. We slice them thinly so that they cook fast, and uniformly so that everything will finish cooking at the same time.
Use a wok.

It's the best tool for high heat cooking such as stir fry and sauteing! It heats up quickly and is able to distribute heat evenly. But if you don't have it, you can of course use any saute pan or skillet that you have. Be sure to preheat it first before adding the ingredients.
You can use other types of protein

like beef tenderloin or

filet mignon

to make a

beef stir fry

, or tofu if you want to keep it vegetarian.
Add in other delicious ingredients into your stir fry

like snow peas, carrots, young corn, sweet potato,

fresh asparagus

, and mushrooms. Do note that any additional ingredients should be dry as we want to avoid collecting any broth or steam in the saute pan. 
Got some leftovers?

You can place them in an airtight container in the fridge and keep them for up to 1 week. You can also wrap them in tortillas, drizzle on some

tzatziki

, and you have yummy low fat wraps to snack on!
Feel free to browse through our wide range of diabetic recipes where you can find other lunch and dinner recipes and diabetic-friendly versions of our favorite desserts. Try making diabetic bbq chicken and tuna casserole next time!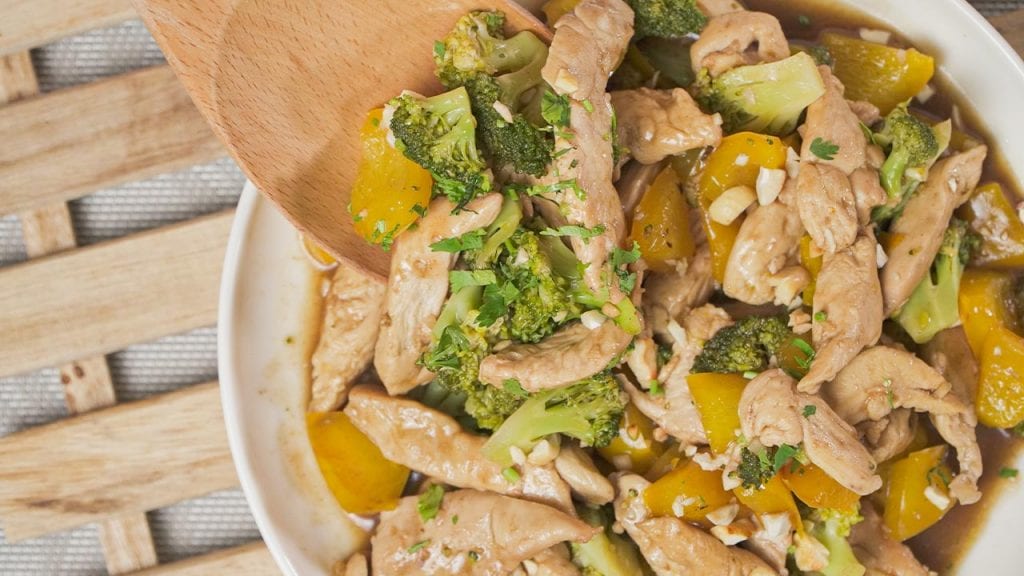 Diabetic-Friendly Broccoli Chicken Stir Fry Recipe
How To Make Diabetic-Friendly Broccoli Chicken Stir Fry
Make a delicious and healthy stir fry for diabetics with chicken, broccoli, and bell pepper flavored with a simple sauce made using chicken broth and Worcestershire.
Ingredients
12

oz

chicken strips,

from chicken breasts

2

tsp

olive oil,

sesame oil, or canola oil

3

cup

broccoli florets,

chopped

2

cloves

garlic,

minced

1

yellow bell pepper,

seeded and cored, or green or red bell pepper

½

tsp

ground ginger

½

cup

low-sodium chicken broth

2

tsp

cornstarch

3

tbsp

Worcestershire sauce,

or low-sodium soy sauce

water,

or vegetable stock, as needed
To serve:
dry-roasted cashews,

chopped

fresh cilantro,

torn sprigs

steamed rice
Instructions
In a small bowl, prepare a mixture of Worcestershire sauce, chicken broth, ginger, and cornstarch. This acts as the cornstarch mixture.

Preheat a wide skillet containing some canola oil on medium-high. Throw in some garlic and the chicken breasts and saute for 5 minutes.

Remove the chicken and lower the skillet's temperature. Then add bell pepper and broccoli florets to the skillet. Saute the vegetables briefly.

Add the cornstarch mixture and allow to thicken briefly, then add the cooked chicken in the same skillet.

Bring the mixture to a simmer and stir for about 6 to 7 minutes. You may need to add water or vegetable stock to avoid thickening the sauce too much.

Once finished, garnish your cooked chicken stir fry with cashews and cilantro. Serve it hot with rice and enjoy your meal.
Nutrition
Sugar:

3g

:

Calcium:

57mg

Calories:

167kcal

Carbohydrates:

11g

Cholesterol:

54mg

Fat:

5g

Fiber:

2g

Iron:

2mg

Monounsaturated Fat:

2g

Polyunsaturated Fat:

1g

Potassium:

730mg

Protein:

21g

Saturated Fat:

1g

Sodium:

256mg

Trans Fat:

1g

Vitamin A:

520IU

Vitamin C:

119mg
Nutrition Disclaimer
Frequently Asked Questions
Is soy sauce bad for diabetics?
Soy sauce contains just a very small amount of carbs. As long as it is consumed sparingly, just as in this stir fry vegetables recipe, it is safe for diabetics.

What foods help lower blood sugar quickly?
The ingredients used in this recipe are ideal for diabetics as they provide a balanced and healthy meal which helps maintain a healthy blood sugar level. Broccoli, for instance, is rich in sulforaphane which is a powerful antidiabetic chemical. It's the same for other cruciferous vegetables like arugula, bok choy, cabbage, and collard greens so feel free to add those to your stir fry or other dishes. Opt for healthier protein sources too like salmon, sardines, nuts, and eggs. Keep in mind not to overcook them, which creates much chemical change in food, so that you get the most nutritional benefits out of them.

How do you keep stir fry from getting soggy?
Make sure to preheat the pan. It has to be very hot before beginning to add the ingredients. This way, the liquids will quickly evaporate instead of collecting in the bottom of the pan and turning your stir fry watery. It'll also cook the chicken strips quickly without drying them out. Also, do not overcrowd the pan. As much as possible, the ingredients should have enough room to be in direct contact with the pan. Use the right size of pan for the amount of ingredients that you will use.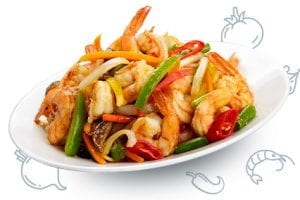 Conclusion
This stir fry for diabetics filled with lean chicken and crunchy fresh vegetables will surely be enjoyed even by non-diabetics. Make it a part of your weekly dinner menu.