Nothing says a delicious fall dish like a batch of soft pumpkin cookies! This is one of those sweet Thanksgiving cookies that your friends and family are sure to enjoy. They come with real pumpkin and a whole bunch of fall spices for a flavorful snack. Shape them into classic circle cookies or use a pumpkin cookie cutter for a fun-looking treat.
Our pumpkin cookies recipe is perfect for Halloween, Thanksgiving, or any time you're craving pumpkin. So stick around as we show you how to make pumpkin cookies in the comfort of your home.
One Of Many Delicious Pumpkin Recipes
Pumpkin is a versatile vegetable mixed into desserts and savory meals alike. When mixed with the right spices of cinnamon, cloves, and ginger, they make the best pies, soups, and more. Aside from the classic sweet pumpkin pie, pumpkin cookies are a constant favorite among kids. For more spice cookies like this, have a look at our Pumpkin Macadamia Nuts White Chocolate Chip Cookies Recipe!
Now if you're looking for something beyond the usual pumpkin pie, try out this big and bold Stuffed Thanksgiving Pumpkins Recipe. And with fall season coming up, there's only one drink everyone's craving at coffee shops. Skip the line and recreate your own flavorful Starbucks Pumpkin Spice Latte at home. Finally, for the cold snow season, we have this Terrific Pumpkin Bisque Recipe to keep you warm on winter nights.
But now that you know how flexible pumpkins can be – let's dive right into making some Halloween pumpkin cookies!
The Best Homemade Pumpkin Cookies
This is one of the many easy Halloween cookies you can make this fall. Our recipe includes using actual pumpkin mix, or in this case, canned or cooked pumpkins. We definitely recommend cooking your own pumpkin puree so you can adjust how soft or chunky you want them. But using canned pumpkin works just as good with our recipe for pumpkin cookies.
We also added some crunchy bite to these ginger cookies by tossing in some walnuts. We're sure the soft and crunchy combo would be a delightful surprise for anyone trying this for the first time!
Our pumpkin cookies recipe from scratch is incredibly easy to make. It has hints of cinnamon, nutmeg, and ginger to get that perfect pumpkin spice flavor. But we encourage you to add a few more seasonings and flavorings of your choice!
For seasonings, put cloves to add a bit of kick to your cookies. If you're feeling creative, try tossing in chocolate chip cookies for added flavor. And we don't know about you, but cream cheese just works so well with pumpkin. So feel free to make some cream cheese frosting to top your spice cookies for a creamy exterior.
Finally, to make your pumpkin cookies look amazing, use a pumpkin cookie cutter. Then, decorate the top with some black, orange, and green icing to trace the pumpkin shape. Whatever you choose to do, adding your own flare to pumpkin cookies will make it feel personal and homemade.
Serve these cookies as Thanksgiving treats or Halloween delights at your next gathering. They'll definitely be asking for your recipe after tasting them. For another Halloween cookies recipe like this, check out these spooky Halloween Sugar Cookies!
How To Make Pumpkin Cookies
Our soft yet crunchy pumpkin cookies are perfectly spiced for the best fall treat! Impress your guests with this delightful dessert today.
Ingredients
1

cup

walnuts,

chopped

1

tbsp

baking powder

1

tsp

cinnamon

1 ½

cup

flour

1 ½

cup

pumpkin puree,

canned or cooked

1 ¼

cup

brown sugar

½

cup

butter,

softened

½

tsp

nutmeg

½

tsp

salt

¼

tsp

ginger

2

eggs,

beaten
Instructions
Preheat the oven to 400 degrees F.

In a large bowl, cream the butter and brown sugar.

Add in the eggs and the pumpkin puree, then stir to combine.

Using a sifter, sift the flour, baking powder, cinnamon, nutmeg, salt, and ginger into the pumpkin mixture.

Stir, then add in the walnuts.

Drop a spoonful of the formed batter onto a baking sheet.

Bake for 15 minutes, or until lightly browned.

Transfer to a cooling rack, allow to cool for a few minutes, then serve.
Recipe Notes
To get a more "authentic pumpkin look" to it, use a pumpkin cookie cutter, mold, or plunger!
Nutrition
Calcium:

53mg

Calories:

149kcal

Carbohydrates:

19g

Cholesterol:

14mg

Fat:

7g

Fiber:

1g

Iron:

1mg

Potassium:

84mg

Protein:

2g

Saturated Fat:

1g

Sodium:

155mg

Sugar:

12g

Vitamin A:

2572IU

Vitamin C:

1mg
Nutrition Disclaimer
Commonly Asked Questions
How do I store my pumpkin cookies?
You can store these in the refrigerator and they will last for 2 to 3 days. To do this, simply place them on a plate, cover them with foil, and store it on the fridge.

How do I freeze raw pumpkin cookie dough?
Place your pumpkin flavored cookie dough on a large sheet pan. Make sure to give them an inch or two of space from each other to prevent them from sticking together. Freeze until solid. Once solid, transfer the frozen dough into an airtight container or freezer bag. You can also cover each cookie with parchment paper to keep them from sticking to each other. These will last in the freezer for up to 3 months. To bake them, you can do so straight out of the freezer – and add 1 to 3 minutes into the cooking time.
What kind of canned pumpkin should I use for this recipe?
We recommend selecting pureed pumpkin. This type of canned pumpkin doesn't come with any flavor or seasonings. Therefore, they make the perfect pumpkin to use for our recipe that has its own seasonings. If you don't have any pumpkin puree, you can also try pureed sweet potatoes or pureed acorn squash, using a 1:1 ratio in place of pumpkin.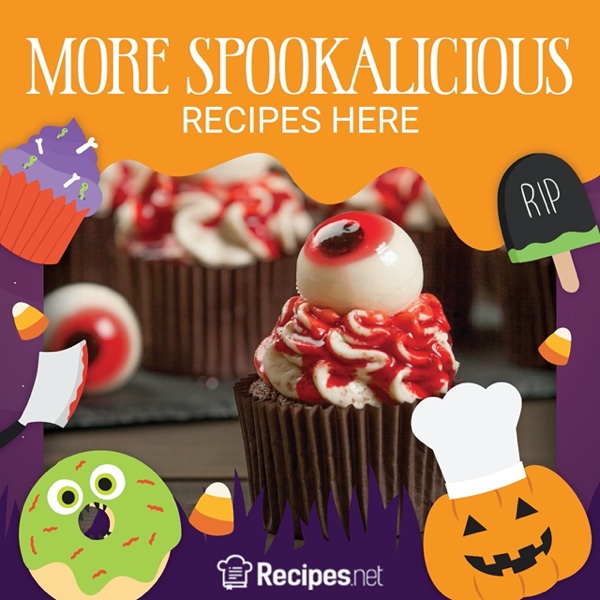 Conclusion
These pumpkin cookies are better than the store bought ones! They are soft yet crunchy, and packed full of pumpkin flavor to get you into the fall mood. Serve them up with some warm milk for a more tasteful afternoon snack.
Topics:
Sammicat

It super funny and easy to make. Thanks~ After the cookies are baked, I melt the white chocolate and use a toothpick to draw the face on the cookie , looks really funny XD

Reply