This home-style lemon chicken recipe will be an instant favorite in your family lunches and dinners. It's refreshingly tasty and extremely easy to prepare. This quick and easy recipe will give you a filling meal that you can serve at any time of the week! A few ingredients will give you an amazingly flavorful packed meal that's also incredibly healthy.
The highlight of this dish is our lemon sauce that's zesty, rich, and buttery. It perfectly complements the saltiness and silky texture of our butter that completes our rich and flavorful sauce. Once you try this lemon chicken recipe, you'd be surprised by how easy it is to whip up an aromatic flavored-chicken meal. This superb dish already gives you the protein and carbs you need but you can definitely add in more greens for a healthier meal!
Lemon is the perfect tenderizer and seasoning to our homemade meals! Check out our CAQ section to know more about the benefits of using lemon in cooking. In our Homestyle Lemon Chicken and Rice Recipe, lemon blends well with our garlic, butter, and spices giving the chicken a savory citrus flavor.  To balance out the strong flavors of our meal, you can side it with Asparagus with Sherry and Bacon Vinaigrette, Texas Roadhouse Copycat Green Beans, or Cheesy Zucchini Boats!
Homestyle Lemon Chicken and Rice Recipe
Ingredients
1

lb

boneless skinless chicken breasts

cut into big strips

2

tbsp

olive oil

divided

1

tsp

salt

½

tsp

pepper

1

large red pepper

chopped

4

tbsp

butter

divided

2

garlic cloves

minced

⅓

cup

flour

1

tbsp

cornstarch

1

can low-sodium chicken broth

3

tbsp

lemon juice

¼

cup

fresh parsley

chopped

½

cup

instant rice

uncooked

1

cup

corn

frozen

8

lemon slices

optional
Instructions
Season the chicken breasts with salt and pepper. Lightly coat the chicken pieces in flour and shake off the excess.

Melt the butter with olive oil in a large skillet over medium heat.

Once done, add in the chicken strips, chopped red pepper, and chopped onion.

Cook for 7 minutes or until chicken is tender and meat is white.

Add in the garlic and cook for 1 more minute. In a mixing bowl, combine the lemon juice, cornstarch, and chicken broth.

Slowly add the mixture into the skillet and bring to a boil.

Stir occasionally for 2 minutes or until the sauce begins to thicken.

Stir in the instant rice and frozen corn.

Remove from heat and cover the skillet.

Let the mixture stand for 5 to 10 minutes while covered until the rice absorbs the liquid.

Garnish with freshly sliced lemon if desired. Your buttery lemon chicken is ready to be served.
Commonly Asked Questions
What does using lemon juice do for my chicken marinade?
Lemon gives a refreshing flavor to the chicken while also tenderizing it. It's perfect for marinating thin chicken breasts for roasting or for a quickly prepped meal. Black pepper and rosemary also go well with lemon when making a chicken marinade. Besides giving flavor to your chicken, it also kills bacteria on the chicken and clears off any lingering smell after being stored.
What other ingredients can I add to the chicken for flavor?
You can rub it with salt, brown sugar, and your favorite seasonings such as black pepper, paprika, and chili powder. You can also add in some lemon zest for an added zesty flavor.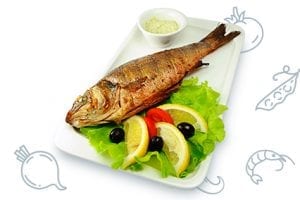 Conclusion
This quick and easy lemon chicken recipe is a classic and it's worth trying. It's unbelievably tasty and you'd be surprised at the depth of flavors of this dish! This home style dish is the perfect meal that the whole family will surely love and since it's so easy to make, you can prepare it on busy days. Lemon chicken will be your go-to dish to serve on casual lunches and dinners and elegantly garnish on special occasions. It's the easiest and tastiest lemon chicken recipe that will leave you craving for more!