When you think of Texas Roadhouse, the first thing that comes to mind is steaks. It is not surprising, though, since the restaurant specializes in grilled dishes. Meanwhile, there is one dish that makes people come back for more: the green beans. For today's dish, we are going to show you how you can make these green beans recipe a la Texas Roadhouse.
Enjoy this smoky and flavorful green beans recipe in the comfort of your own home. By using the fresh beans and bacon, we guarantee that this is going to be your new favorite! No bacon? No problem. You can use other types of cold cuts such as ham and even some lap cheong (Chinese sausage).

Tip: Try to use butter instead of oil when you sautee the onions and bacon for an added flavor.
This green beans recipe is a great appetizer. Serve this with your main course — it can either be fish or meat. We recommend pairing it with grilled white fish, which makes for a light, refreshing meal.
Texas Roadhouse Copycat Green Beans Recipe
Ingredients
16

oz

canned green beans

2

tsp

sugar

2

tsp

pepper

4

oz

bacon

diced

2

cups

water
Instructions
In a saucepan, cook the diced bacon and onions.

Add the green beans and cook until beans soften.

Add two cups of water into a bowl, then add sugar and pepper. Mix well.

Pour mixture in the saucepan and let the overall mixture simmer for 45 minutes.

Once you're done, serve and enjoy.
Commonly Asked Questions
Can I substitute canned beans with fresh ones?
Absolutely. Fresh produce will always be better than the canned ones. However, green beans are not always in the season that is why using canned green beans can be handy. Alternatively, you can always use frozen green beans instead.
How long do I have to wait before I can harvest green beans?
If you are doing some gardening and included green beans in your vegetable bed, you need not wait for too long to be able to enjoy it. The green beans can be harvested with 50 to 60 days so be ready as it produces an average of 10 strings per plant.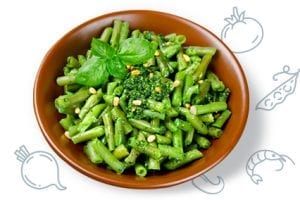 Conclusion
The holidays often mean meaty feasts that everyone can't get enough of. That is why it is important that you find a way to keep a balanced diet. This Texas Roadhouse copycat recipe makes it easy (and tasty) to add a side dish of greens to the mix.