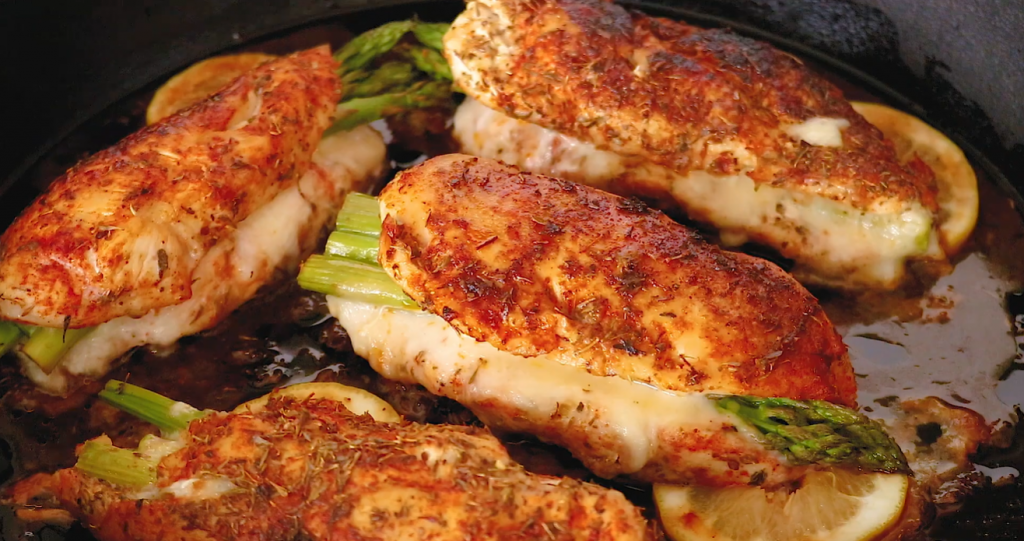 Cheesy Asparagus Stuffed Chicken Breast Recipe
Chicken breasts, albeit a dinner staple, can sometimes be a little monotonous. But let me tell you this: slicing chicken breasts and stuffing them with cheese and asparagus make them anything but ordinary. I mean, asparagus stuffed chicken breast with mozzarella cheese slices — what's not to love?! It's one of the stuffed chicken breast recipes I make now and again for dinner here in our house. And the best part? It's totally low carb and perfect for when you're on a keto diet! Talk about a healthy and mouth-watering chicken dish!
You'll love this cheese and asparagus stuffed chicken breast with lemon butter sauce for many reasons. But perhaps mainly because it's so easy to make. You only need less than an hour to get this tasty chicken dinner on the table. Here are the ingredients I used to make baked stuffed chicken breast:
Chicken breasts

– Be sure to buy boneless and skinless chicken breasts.

Seasoning

– I used a blend of dried oregano, dried basil, garlic powder, onion salt, and paprika.

Asparagus spears

– Don't forget to remove the woody ends of the asparagus. For extra flavor, toss asparagus with olive oil, minced garlic, and red pepper flakes.

Mozzarella cheese

– Or any cheese of your choice, like cheddar,

parmesan

,

and provolone

cheese. You can also make your

chicken stuffed with asparagus

extra creamy by adding

cream cheese

!

Lemon butter sauce

– I simply combined freshly squeezed lemon juice, butter, and a dash of minced garlic.
The boneless chicken breasts are rubbed with seasoning mixture and sliced on either side. They're then stuffed with asparagus and mozzarella cheese. Then, I seared the stuffed chicken breasts until the exterior turned golden brown. Finally, I baked it in the oven with lemon butter sauce, covered, for 12 to 15 minutes. I then uncovered it and baked it for another 5 minutes.
This chicken stuffed with asparagus and cheese, being one of the best chicken and asparagus recipes out there, is already filling on its own. But I personally love pairing it with a bowl of mashed potatoes. Feel free to serve with your fave sides, and enjoy!
How To Make Cheesy Asparagus Stuffed Chicken Breast
Sneak in something healthy into your meals with this asparagus stuffed chicken breast! It's a succulent and cheesy meal whipped up in under one hour.
Ingredients
For Chicken:
2 lb chicken breasts, (about 4 filets), boneless, skinless

¾ tsp dried oregano

½ tsp garlic powder

¾ tsp dried basil

½ tsp onion salt

salt and cracked black pepper, to taste

½ tsp paprika

2 tbsp olive oil, divided
For Stuffing:
15 asparagus spears, woody ends removed

1 tsp garlic, minced

⅛ tsp red pepper flakes, (or chili flakes), optional

8 fresh mozzarella cheese slices, or provolone
For Lemon Butter Sauce:
3 tbsp lemon juice, freshly squeezed

2 tbsp butter

1 tsp garlic, minced
Instructions
Preheat the oven to 400 degrees F.

In a medium bowl, combine the dried herbs, garlic powder, onion salt, paprika, a good pinch of salt, and cracked black pepper. Set aside.

Place each chicken breast on a flat surface. With a hand supporting each piece, cut a slit or pocket about ¾ quarter of the way through, being careful not to cut all the way through.

Pat the chicken breast dry with a paper towel. Season the chicken all over and inside the pockets with the seasoning mix. Rub with 2 teaspoons of olive oil to evenly coat.

In the same bowl the seasoning was in, toss the asparagus with 2 teaspoons of olive oil, minced garlic, and red pepper flakes.

Stuff each chicken breast with 3 to 4 asparagus spears and 2 slices of mozzarella cheese. Seal the chicken breasts with two or three toothpicks near the opening to seal.

Heat the remaining tablespoon of oil in an oven-proof skillet or non-stick pan over medium-high heat. Sear the chicken for about 3 to 4 minutes on each side until golden.

For the sauce, add the lemon juice, butter, and minced garlic to the pan around the chicken.

Cover and bake for 12 to 15 minutes.

Uncover and bake for an additional 5 minutes until chicken is cooked through.

Serve warm, and enjoy!
Nutrition
Calories: 

703.03kcal

Fat: 

47.63g

Saturated Fat: 

19.48g

Trans Fat: 

0.47g

Monounsaturated Fat: 

19.08g

Polyunsaturated Fat: 

5.89g

Carbohydrates: 

6.34g

Fiber: 

1.88g

Sugar: 

2.07g

Protein: 

61.29g

Cholesterol: 

210.79mg

Sodium: 

865.58mg

Calcium: 

381.84mg

Potassium: 

714.10mg

Iron: 

3.53mg

Vitamin A: 

245.21µg

Vitamin C: 

8.24mg