This stuffed eggplant recipe called Imam Bayildi will give you a healthy and flavorful dish that will fill you up. Imam Bayildi is a Mediterranean recipe that serves pan-fried eggplant casserole. It's a great side that's usually added to mutton, a popular ingredient in Armenian cooking. Imam Bayildi has many versions but this easy stuffed eggplant recipe stands out. It serves smoky and silky pan-fried eggplant slices topped with tomato sauce, caramelized onions, and spices, baked to perfection.
This dish is totally meat-free with flavors from vegetables, herbs, and spices that come together for the topping. Imam Bayildi is originally oily. So if you enjoy food that's cooked in a generous amount of olive oil then this recipe is perfect for you. But if you're after healthier versions of this dish worry not because you can always easily reduce your use of olive oil. See our CAQ section below to find out how to do it!
Like lasagna it's best served with crusty bread as well as pita bread and cucumber salad. In fact, we think our Corn, Black Bean and Cucumber Salad Recipe will be perfect for this dish! This dish will be a family favorite and an authentic recipe that you can make for casual lunches and dinners.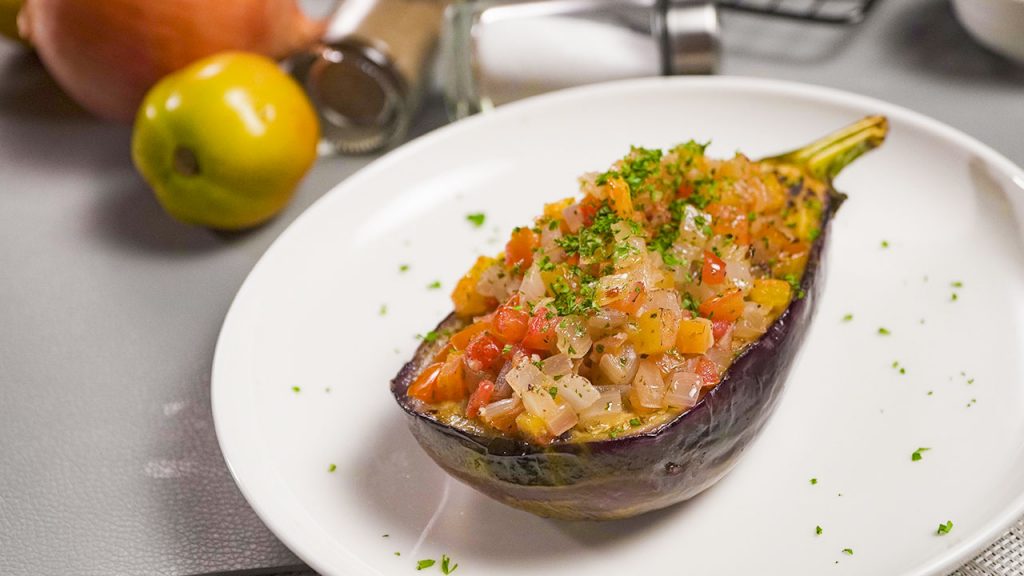 Armenian Stuffed Eggplant (Imam Bayildi) Recipe
How To Make Armenian Stuffed Eggplant (Imam Bayildi)
A satisfyingly healthy and tasty stuffed eggplant casserole with flavorful tomato sauce, oil and spices, baked to perfection.
Ingredients
2

eggplants,

(roughly 2 lb total), medium, sliced in half

8

oz

yellow onions,

small dice

2

cloves

garlic,

minced

¼

tsp

red chili flakes

¼

tsp

ground cinnamon

12

oz

tomatoes,

de-seeded and cut into small dice

1

tsp

granulated sugar

2

tbsp

parsley,

fresh, finely chopped, and divided

2

tbsp

lemon juice,

fresh

¼

tsp

salt,

plus extra for the eggplant

½

cup

olive oil
To serve:
Instructions
Using a knife, make slits down the middle of the eggplants. Make sure not to slice too deeply till you slice through them.

Lightly salt the eggplant slices and leave it for 20 minutes. Pat them dry then set them aside.

Heat olive oil in a large saucepan over medium-high heat and add the eggplants, cut side down. Add more oil as needed.

Fry gently until cut sides turn golden brown. Flip over and fry the skin until it starts to shrivel. Remove eggplants from the pan and let them drain on paper towels for 15 minutes. Save the remaining olive oil for later.

Preheat the oven to 350 degrees F.

Saute the onions over medium heat for 5 minutes then add in the garlic, red chili flakes, salt, and cinnamon. Cook for 1 minute then pour in the tomatoes and let it simmer for 5 minutes to let it thicken. Remove from the heat and stir in 1 tablespoon of parsley.

Spoon the onion and tomato mixture in between the slits of each eggplant.

Brush the stuffed eggplants with lemon juice. Sprinkle your eggplants with sugar.

Cover it with foil and bake your dish in the oven for roughly 45 minutes, or until the eggplant is already tender and the sauce has caramelized.

Once your dish is done baking, let it sit for 10 minutes before cutting your eggplant slices.

Garnish it with parsley and enjoy your flavorful meat-free dish. You also have the option to serve this whole as a main course.
Nutrition
Sugar:

14g

:

Calcium:

51mg

Calories:

343kcal

Carbohydrates:

24g

Fat:

28g

Fiber:

9g

Iron:

1mg

Monounsaturated Fat:

20g

Polyunsaturated Fat:

3g

Potassium:

842mg

Protein:

4g

Saturated Fat:

4g

Sodium:

161mg

Vitamin A:

1053IU

Vitamin C:

28mg
Nutrition Disclaimer
Frequently Asked Questions
Is eggplant good for your health?
Eggplant is high in antioxidants like vitamins A and C. These antioxidants help the cells against aging and damage. Eggplant can also help in processing sugar which is beneficial especially if you have high blood sugar.
Can I use less oil in frying the eggplant?
You can reduce your use of olive oil in frying the eggplant slices by using a brush in applying the oil. Apply oil to one side before frying it and do it on both sides. It should give you fried eggplants that are crispy on the outside and soft on the inside. Pre-salting also helps in getting this texture. It also gives greater flavor to the eggplant that works well with its smokiness.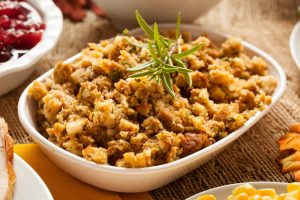 Conclusion
If you love Mediterranean food try out this tasty side that's all spice and veggies! The silky yet crispy texture of the eggplant and the strong aroma of our sauce and spices will not disappoint. After making this recipe, this Turkish dish will be constantly hitting your lunch and dinner tables in no time.