Whether you are eating light or observing Salad Sundays, this Asparagus with Sherry and Bacon Vinaigrette recipe is guaranteed to satisfy your taste buds. This sauteed asparagus salad features tender asparagus combined with crispy bacon and sweet onions in a light sherry vinaigrette. Although this recipe uses asparagus, you can always experiment with other vegetable varieties. 
On beautiful Summer days when you would rather be outside enjoying the weather instead of cooking in the kitchen, this Asparagus with Sherry and Bacon vinaigrette is the perfect solution; it is simple to toss together and totally delicious!
The options are endless and Summer is the ideal season for salads. The hot weather makes us crave meals that don't involve much cooking. This Asparagus with Sherry Wine and Bacon vinaigrette go beyond the typical Summer salad recipes like the Caesar Salad or the Cobb salad. Using a mix of simple and sometimes unusual ingredients, this salad will satisfy your cravings for bacon. We recommend cooking a couple of lbs. of bacon and storing the cooked slices in the fridge. When you need a few slices, just pull 'em out, microwave for 15 seconds and add them to your salad.
How to Make Asparagus With Sherry and Bacon Vinaigrette
Learn how to make our quick and easy healthy meal. This asparagus with sherry and bacon vinaigrette is so tasty, you'd want to have it at any time of the day.
Ingredients
3

Bacon

1

tbsp

sherry vinegar

¼

teaspoon

salt

¼

teaspoon

black pepper

freshly ground

1

tbsp

garlic

minced

½

red onion

sliced crosswire

1

pound

asparagus
Instructions
Bring out the bacon from your refrigerator and set aside until room temperature.

In a hot skillet, fry the bacon until crisp and golden brown for 8-10 minutes. (Tip: fry at medium heat)

Now, remove your crisp bacon strips from the skillet and drain the bacon on paper towels. Reserve the bacon fat in the pan for the next step.

Add 1 tbsp of minced garlic into the heated skillet (the last thing you want is to bite into burnt garlic).

Next, add into your skillet 1 tablespoon of sherry vinegar. Most sherry vinegar is made from gourmet wines, and sherry vinegar contains less than 3 percent of alcohol.

Add ¼ teaspoon of freshly ground black pepper to your minced garlic. Next, include ¼ teaspoon of salt to taste.

Allow mixture to cook for 10 seconds. Remove skillet and pour your mixture into a metal bowl.

Add the thinly sliced red onion to your mixture and stir until fully coated with vinaigrette.

Now in the same skillet, add your onion mixture and heat thoroughly for another 10 seconds. Remove from the stove and you can begin prepping your asparagus next.

Remove and discard the tough bottom parts of the asparagus spear by holding each end and bending it until the tender part of the asparagus snaps. Tip: you can always cut 1 inch off the bottom ends of your asparagus.

For thicker spears, use a peeler and peel off the outer layer from the bottom half the asparagus.

You should have 1 pound of snapped and peeled asparagus spears all ready for the skillet.

Sear asparagus on medium heat or until tender. Arrange on a flat serving dish.

Top your asparagus spears with your onion vinaigrette. Tip: Make sure vinaigrette is at room temperature.

Finely chop the drained bacon and sprinkle over your dish.

There you go! Try this seasonal asparagus dish as a simple salad or side at home today!
Recipe Notes
No time to sear your asparagus? You can always prepare your oven at 350F and bake for 6-8 minutes.
Tip
: Make sure to have a watchful eye on the asparagus.
Thin spears of asparagus tend to be younger and fresher in flavour, whilst thicker spears will have been left to grow for longer and have a more pronounced flavour.
Try and use your asparagus as soon as possible, but if you don't use it straight away, a good tip is to store it standing up in a jug of water in the fridge.
Nutrition Facts
Calories:
404
kcal
|
Carbohydrates:
27
g
|
Protein:
19
g
|
Fat:
27
g
|
Saturated Fat:
9
g
|
Cholesterol:
44
mg
|
Sodium:
1032
mg
|
Potassium:
1127
mg
|
Fiber:
10
g
|
Sugar:
11
g
|
Vitamin A:
3429
IU
|
Vitamin C:
32
mg
|
Calcium:
136
mg
|
Iron:
10
mg
Commonly Asked Questions
How can I make this dish kid-friendly?
Substitute sherry vinegar with apple cider vinegar. Apple cider vinegar has a bountiful amount of healing properties and is perfect to add to your healthy lifestyle. Plus, it gives you the same delicious, tangy flavor that you're looking for.
Can I use other vegetables instead of asparagus?
Of course! Instead of asparagus you could always replace with any other seasonal vegetable that would be perfect for searing. Think broccoli, carrots or even, sugar snap peas. A great way to expose kids to more vegetables!
How can I make this dish vegetarian?
Vegetarians or vegans can always replace the bacon with salted almonds or peanuts. If you have any peanut allergies, you can always switch nuts for any type of legumes.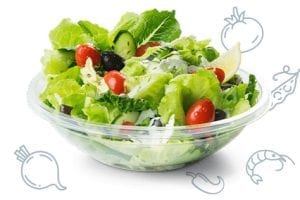 Conclusion
This meal is so simple to recreate, it would be a crime not to try it out today! Perfect for serving as a side salad or main dish. And since it also happens to be vegan and gluten-free, this simple salad is also perfect for serving to a crowd!