Wondering if there is any unique asparagus recipe to switch up the traditional grilling of this veggie? Worry not! We have proven and tested that you can turn asparagus into a unique dish to add to your meals. You can actually bake them in a casserole, wrap them in bacon or even turn them into a creamy soup! Asparagus is such a versatile vegetable that can be added as a side or made as a main course. Today, we're providing you a mouthwatering asparagus side-dish.
This asparagus recipe is our stunning gourmet, restaurant-worthy spin! It is also included in our 20 Easy Culinary Recipes To Master. It comes with a bright vinaigrette packed with rich flavors. The mixture of sherry vinegar with minced garlic and sliced onions is what levels up the taste. We've seared those stalks to get a little bit of that charred look from grills to give it more bite. But what is so special about a vegetable with vinaigrette? We sprinkle it with delightfully crunchy bacon, of course! It's what we call a guilty pleasure; just to add a more savory edge to the asparagus.
Now doesn't that sound tempting? Finish it off by topping some sliced almonds or shredded slices of parmesan for added creaminess. This vegetable is versatile enough that you can never go wrong with your favored sauce or toppings to go with it.
Try this as the perfect side-dish to our Apple-Baked Pork Chops with Sherry recipe for dinner. Or, if this asparagus recipe has piqued your interest in other ways to cook asparagus, we have others you can check out. Next time, you can try our unique recipe for Asparagus with Melon and Prosciutto with Shaved Parmesan and Fresh Basil. Go and try out this recipe for your dinner for two tonight!
How to Make Asparagus With Sherry and Bacon Vinaigrette
A savory side that matches perfectly with any meal! Asparagus smothered with a tangy vinaigrette, garlic, and sliced onions mix. Top with some bacon for added protein.
Advertisement
Continue Reading Below
Ingredients
3

strips

Bacon

1

tbsp

sherry vinegar

¼

tsp

salt

¼

tsp

black pepper,

freshly ground

1

tbsp

garlic,

minced

½

small red onion,

thinly sliced crosswise

1

pound

asparagus,

snapped and peeled

1

tsp

parsley,

finely chopped
Instructions
Bring out the bacon from your refrigerator and set aside until room temperature.

In a hot skillet, fry the bacon at medium until crisp and golden brown for 8 to 10 minutes.

Remove your crisp bacon strips from the skillet and drain the bacon on paper towels. Reserve the bacon fat in the pan for the next step.

Add minced garlic into the heated skillet.

Next, add the sherry vinegar into your skillet.

Add the black pepper and salt onto the garlic and sherry vinegar mixture.

Allow mixture to cook for 10 seconds. Remove the mixture from the skillet and pour them into a metal bowl.

Add the thinly sliced red onion to your mixture and stir until fully coated with vinaigrette.

Now, in the same skillet, add your onion and vinaigrette mixture and heat thoroughly for another 10 seconds. Remove from the stove to let cool to room temperature.

Sear asparagus on medium heat or until tender. Arrange on a flat serving dish.

Top your asparagus spears with your onion vinaigrette.

Finely chop the drained bacon and sprinkle over your dish. Add in a dash of the parsley to top as well, and enjoy!
Recipe Notes
To prepare the asparagus, cut 1 inch off the bottom ends of your asparagus.  For thicker asparagus spears, use a peeler and peel off the outer layer from the bottom half.

No time to sear your asparagus? You can always prepare your oven at 350 degrees F and bake for 6 to 8 minutes. Tip: Make sure to have a watchful eye on the asparagus.
Advertisement
Continue Reading Below
Advertisement
Continue Reading Below
Frequently Asked Questions
How can I make this dish kid-friendly?
Substitute sherry vinegar with apple cider vinegar. Apple cider vinegar will carry the same amount of acidity needed for this dish. It will also give you the same delicious, tangy flavor that you're looking for.
Can I use other vegetables instead of asparagus?
Of course! Instead of asparagus, you could always replace it with any other seasonal vegetable that would be perfect for searing. Some vegetables that come to mind are broccoli, carrots or even, sugar snap peas. This would be a great way to expose kids to more vegetables!
How can I make this dish vegetarian?
Vegetarians or vegans can always replace the bacon with salted almonds or peanuts. If you have any peanut allergies, you can always switch nuts for any type of legumes.
What makes asparagus a healthy vegetable?
Like many vegetables, asparagus comes with nutrients, particularly being a great source of Vitamin A, C, and K. They're also known for other benefits like improved digestion and helping to lower blood pressure. It's an incredibly inexpensive vegetable, so it's a deliciously healthy ingredient to add or make in any dish!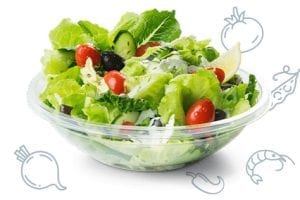 Conclusion
This delightful asparagus recipe is so simple to make, it would be a crime not to try it out today! Enjoy it as a side dish for your main courses, as an appetizer, or just something to snack on. They're luscious and great to serve to friends and family!
Advertisement
Continue Reading Below
Topics:
Advertisement
Continue Reading Below
Advertisement
Continue Reading Below