This easy chicken Kiev recipe is probably one of the best chicken breast recipes we have for you. Also known as "chicken supreme", it is usually served with potato dishes such as potato colcannon or gremolata potatoes. 
What Is Chicken Kiev?

You probably see this in Western menus but have you wondered what chicken Kiev is and what it's stuffed with? It's a juicy baked or fried chicken breast that has been covered with eggs and breadcrumbs and stuffed with butter, chopped parsley, some crushed garlic, and a bountiful sprinkle of lemon juice. This dish originates from Russia hence the word "kiev". 
Tips on How To Make Chicken Kiev
Of all the stuffed chicken dishes that exist, chicken Kiev surely stands out among the rest. It's juicy, flavorful, and stuffed with a rich garlic butter. This Russian dish is simply amazing. When you cut through its crunchy, golden brown crust and into the tender chicken breast, buttery goodness will flow out – leaving your mouth watering. Read our tips below so you can taste this rich goodness as soon as possible.
Try not to slice the chicken breast all the way through

when you're making the pocket. If you do, you can

slice a thin layer near the hole you made and fold it over to cover.
Be sure to not overfill the chicken.

It will leak during the baking process, or cause the breast to open up a bit.

Freeze the chicken breasts and wait till they become firm.

To get the best results,

cook them frozen

. This is so the butter and garlic stay sealed inside, and so the center of each breast has time to cook while its crust forms without burning.

Don't skip seasoning with salt and pepper and squeezing a lemon wedge

over the sautéed chicken kiev when you're done cooking

.

It gives a flavorful last touch to the recipe and makes every layer savory.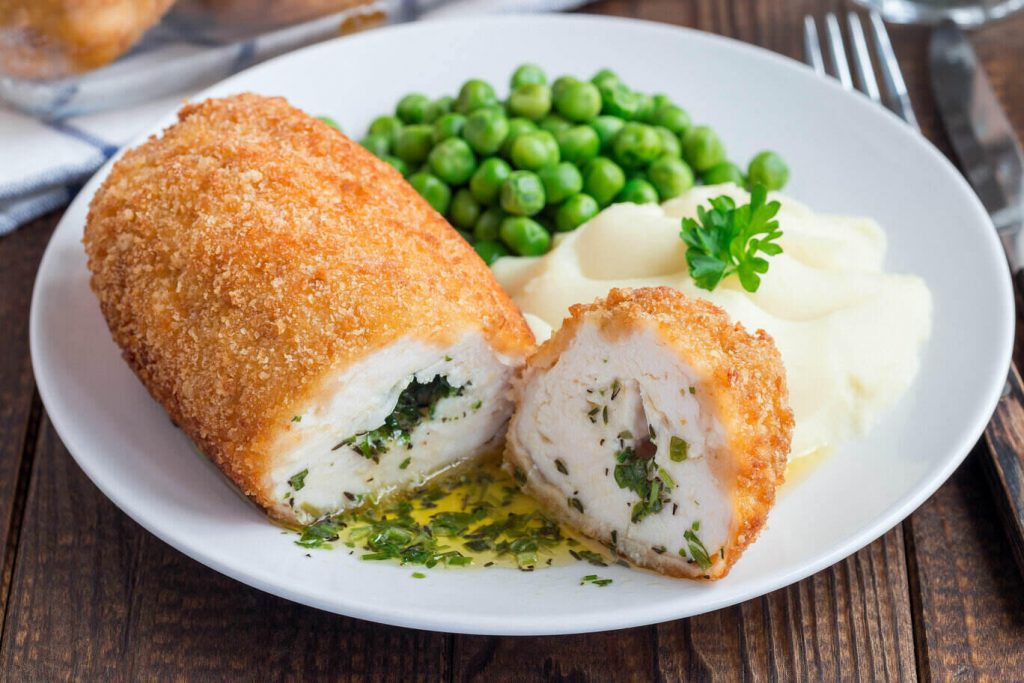 Chicken Kiev Recipe
This dish is full of rich and juicy flavors on the inside and has a beautiful golden crust on the outside. Our homemade chicken Kiev looks plain and simple, but once you cut into it, all the melted garlic butter will spill out. It's plate-licking good.
Ingredients
Chicken
4

large

chicken breasts

2

eggs

½

cup

milk

2

cup

bread crumbs

1

tsp

black pepper

1

tsp

salt

⅓

cup

Canola oil
Stuffing
4

tbsp

butter

4

cloves

garlic,

fresh, crushed

4

tsp

lemon juice

3

tbsp

parsley,

dried
Instructions
On a flat surface, pound the chicken with a meat mallet while covering the chicken with plastic foil.

In a small bowl, mix together butter, the garlic, lemon juice. This will serve as the stuffing of your chicken. Center it on the chicken breast.

Roll the chicken up tight and seal it with toothpicks.

Preheat skillet over medium heat. Add in oil.

In a bowl, mix eggs and milk in a bowl until smooth. In another bowl, mix the bread crumbs, salt, pepper, and garlic together.

Dip the chicken in the milk/egg mixture, and roll it in the bread crumbs. Let the excess drip off.

Fry the chicken for 4 minutes on each side or until golden brown.

Make sure to slice the chicken before serving it hot.
Nutrition
Sugar:

5g

:

Calcium:

170mg

Calories:

796kcal

Carbohydrates:

42g

Cholesterol:

260mg

Fat:

42g

Fiber:

3g

Iron:

4mg

Potassium:

1040mg

Protein:

59g

Saturated Fat:

12g

Sodium:

1387mg

Vitamin A:

831IU

Vitamin C:

9mg
Nutrition Disclaimer
Commonly Asked Questions
What is the difference between chicken Kiev and chicken cordon bleu?
They look identical on the outside but inside, a chicken cordon bleu has ham and cheese. Chicken Kiev has a delicious garlicky herb butter instead.
How do you stop chicken Kiev from leaking?
Bread them again. If they are already frozen, microwave them for two minutes before breading them again.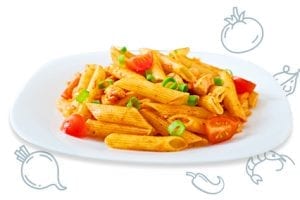 Conclusion
Stuffed dishes are always full of wonderful surprises. There's always a wonderful excitement when you cut into something that is golden and fried on the outside to reveal something incredibly tasty inside. Cut into this juicy chicken Kiev and find out for yourself just how flavorful it really is. Put it together today using this recipe!