Add a twist to the regular chicken breast by adding some spinach and cheese. It may seem like an abstract concept for now, but we guarantee that this is going to be a dish you will never forget.
In this recipe, we'll show you how you can make this easy spinach-stuffed chicken breast dish in your kitchen. It's simple and easy, just follow these steps and you'll be having a scrumptious dish in no time.
This spinach-stuffed chicken breast is perfect for Sunday lunch and potluck parties. Serve it with gravy or dip that you prefer to make it perfect.
Crockpot Spinach-Stuffed Chicken Breast Recipe
Ingredients
3

chicken breast

flattened

2

cups

wilted spinach

3

tbsp.

parmesan cheese

1

tsp.

Salt

to taste

1

tsp.

pepper

to taste
Instructions
Once you have flattened the chicken breasts place the a couple handfuls of wilted spinach on one half of the chicken.

Then sprinkle 1 tbsp of cheese on each chicken breast of the spinach.

Roll the chicken up and put a toothpick through to keep it rolled up.

Place each chicken breast in the crockpot.

Cook on high for about 3-4 hours or until the chicken is cooked all the way through and is golden brown.
Commonly Asked Questions
What Is Woody Breast in Chickens?
The "woody breast" is abnormality among commercially raised chickens. It is not yet known what causes this phenomenon to happen but experts emphasize that there is nothing to be scared about the woody breast. It is safe to eat, however, you'll know when it has woody breast if it is kind of gummy when chewed.
How Long Does It Take to Harvest Spinach?
First of all, congratulations on making your own vegetable garden! Nothing says self-sufficient more than a healthy food source. Now, if you are planning on planting spinach, know that they are among the fast-growing vegetables. Usually, it can take 45 days to grow spinach.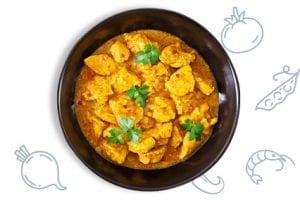 Conclusion
Chicken and spinach is quite a healthy combination. It is also good when you are trying to lose some weight. Serve this for lunch or dinner and we guarantee that you will have a filling meal.