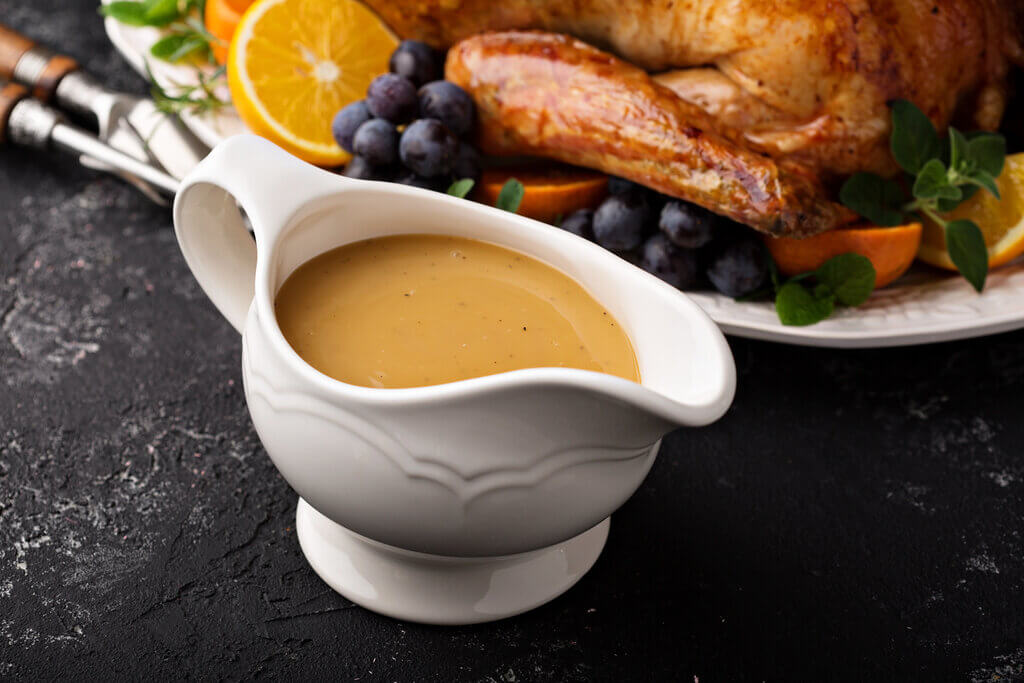 Chicken Gravy Recipe
Chicken gravy ALWAYS makes everything on the plate taste better with its savory goodness. But let's be honest: the homemade sauces taste better than the store-bought version. It's just as creamy and flavorful MINUS those additives present in the packaged gravy. Ever since I learned how to make this brown sauce at home, it has become a staple in our house. The sight of roasted chicken AND gravy smothered on top makes everyone at our dinner table drool!
Chicken gravy is usually made with drippings or whatever is left in the roasting pan after cooking the chicken (or turkey). But guess what? You don't necessarily need those delicious pan drippings to whip up the best gravy! Here are the ingredients (which you probably have on hand already) I used to make my homemade chicken gravy recipe:
Chicken broth or stock

– For a yummier gravy, I suggest making your own chicken broth!

Chicken bouillon

– To add a savory and umami flavor.

Butter + All-purpose flour

– Used to thicken and make your homemade chicken gravy richer.

Herbs

– I used thyme and sage to provide a hint of an earthy, minty taste.

Seasonings

– Just add a dash of salt and pepper to taste!
Wanna know how to make chicken gravy without drippings? In a snap, you can easily make homemade gravy in a saucepan. To get that savory taste, I heated the chicken broth with chicken bouillon cubes using my microwave. I also made a roux by cooking butter with all-purpose flour for that rich and thick consistency. To add a depth of flavor, I tossed a dash of thyme and sage into the saucepan. Teamed up, these ingredients make the best chicken sauce I have ever tried — NO PAN DRIPPINGS REQUIRED! No one would know you made this gravy from stock (or broth), roux, and a few seasonings and herbs.
Make your own creamy chicken gravy from scratch with my easy gravy recipe for the perfect topping for roasts, meatballs, and more!
How To Make Chicken Gravy
Make your meals more decadent by adding a drizzle of this homemade chicken gravy. It's creamy, savory, and made with just a few simple ingredients!
Ingredients
2 cups chicken broth, (or chicken stock)

¼ cup all-purpose flour

2 cubes chicken bouillon

¼ tsp thyme

4 tbsp unsalted butter

¼ tsp sage

salt and pepper, to taste
Instructions
Add the chicken broth and bouillon cubes to a microwave-safe bowl or measuring cup.

Heat for 1 minute and stir. Repeat heating until the bouillon is dissolved.

In a saucepan over medium-high heat, melt the butter.

Add the flour, thyme, and sage and cook for 1 minute.

Slowly whisk in the hot broth mixture until smooth.

Bring to a boil, then reduce to a simmer. Cook for 1 minute while whisking, until smooth and thick.

Remove from heat, then season with salt and pepper.

Serve immediately over chicken or turkey. Enjoy!
Nutrition
Calories: 

71.95kcal

Fat: 

5.27g

Saturated Fat: 

3.10g

Trans Fat: 

0.19g

Monounsaturated Fat: 

1.50g

Polyunsaturated Fat: 

0.31g

Carbohydrates: 

4.46g

Fiber: 

0.16g

Sugar: 

0.77g

Protein: 

1.75g

Cholesterol: 

13.78mg

Sodium: 

299.77mg

Calcium: 

7.05mg

Potassium: 

61.84mg

Iron: 

0.30mg

Vitamin A: 

39.62µg

Vitamin C: 

0.16mg