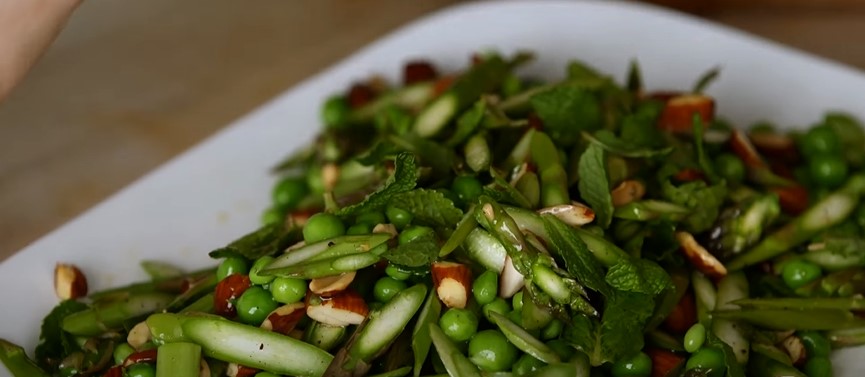 English Peas, Favas, and Asparagus with Mint Recipe
How To Make English Peas, Favas, and Asparagus with Mint
Whip up a quick lunch with a bowl of these English peas, tossed with refreshing mint and crunchy veggies, that's ready in under 30 minutes.
Ingredients
1½

lb

fava beans

1

lb

English peas

¾

lb

yellow wax beans

1

lb

asparagus

4

tbsp

extra-virgin olive oil

1

medium

onion

2

cloves

garlic

¼

cup

dry white wine,

or water

salt and freshly ground black pepper,

as needed

½

cup

mint,

chiffonade
Instructions
While shelling fava beans, bring a small pot of water to a boil.

Add shelled favas and cook for 2 minutes. Drain, then plunge into ice water to stop cooking and set the color. Drain again, then slip the skin off each bean using the fingers. Place beans in a small bowl. Set aside.

Shell peas and add to favas. Meanwhile, in a saucepan, bring a few inches of water to a boil. Add wax beans and cook for 2 minutes. Drain, then plunge into ice water. Drain again. Set aside.

Prepare asparagus by breaking tough ends off where they give, and then peel each stalk. Cut trimmed asparagus diagonally into 2-inch lengths. Set aside.

Warm 2 tablespoons olive oil in a large skillet over medium-high heat. Add onion and cook for about 2 minutes until fragrant, stirring frequently. Add garlic and cook another minute or so, stirring frequently.

Add remaining olive oil and asparagus, turn heat to medium-low, and cook for 5 to 7 minutes until asparagus is just tender when pierced with a fork, depending upon their thickness and freshness. Shake pan to prevent asparagus from sticking.

Add wax beans and stir to incorporate. Add wine or water and gently fold in favas and peas. Season with ¼ teaspoon salt and ¼ teaspoon pepper and cook for about 1 minute just until favas and peas are warm.

Adjust seasoning, if necessary, before turning onto a warm serving platter. Scatter with mint chiffonade and drizzle with high-quality extra-virgin olive oil, if desired.

Serve and enjoy!
Recipe Notes
To make a mint chiffonade, stack 2 large mint leaves so that their spines are aligned. Gently roll them into a scroll-like tube. Hold one end of the tube with fingertips curled under, and with a sharp chef's knife in the other hand, slice mint crosswise, as thinly as possible. Fluff strips and use them as a garnish or in salads.
Nutrition
Calories: 

296.25kcal

Fat: 

10.40g

Saturated Fat: 

1.51g

Monounsaturated Fat: 

6.73g

Polyunsaturated Fat: 

1.59g

Carbohydrates: 

41.53g

Fiber: 

17.00g

Sugar: 

17.04g

Protein: 

16.41g

Sodium: 

856.08mg

Calcium: 

127.48mg

Potassium: 

919.59mg

Iron: 

6.22mg

Vitamin A: 

95.29µg

Vitamin C: 

50.59mg