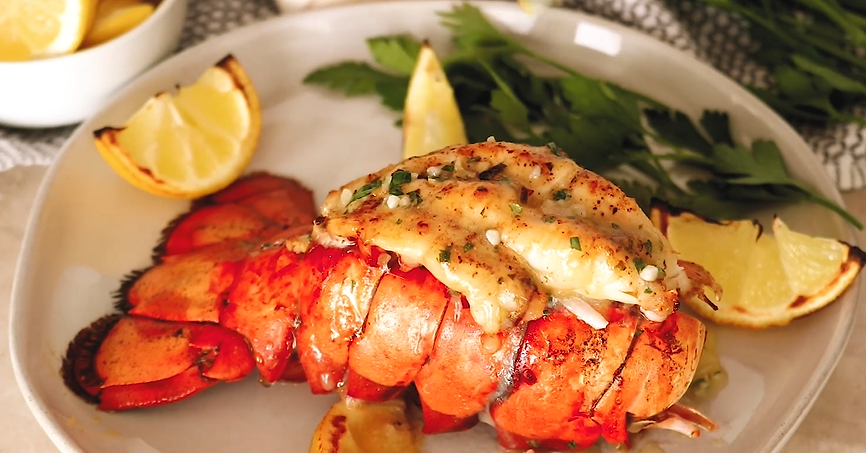 Broiled Lobster Tail with Brown Butter Sauce Recipe
How To Make Broiled Lobster Tail with Brown Butter Sauce
Surprise the folks with these delectable and flavorful broiled lobster tail that's simmered with a tasty brown butter sauce and toasted hazelnuts.
Ingredients
¼

cup

raw hazelnuts,

unsalted

8

tbsp

butter,

unsalted

2

tbsp

shallots,

minced

1

tsp

fresh parsley,

chopped

¼

tsp

lemon zest,

grated

pinch

salt

2

fresh lobster tails,

(6 to 8 oz each) or frozen
Instructions
Toast the hazelnuts in a small skillet on medium to medium-high heat.

When fragrant and lightly browned, remove the hazelnuts from the pan and place in the center a dry, clean dish towel.

Rub the hazelnuts together inside of the dishtowel to remove as much of the papery dark skins.

Coarsely chop the hazelnuts and set aside.

In a small stainless steel saucepan, melt the butter on medium heat. (Use stainless so it will be easy to tell when the butter is browning.)

After the butter melts, it will foam up, and recede. The milk solids will fall to the bottom of the pan.

Continue to heat, and the milk solids will start to brown giving the melted butter a wonderful nutty aroma.

Let most of the milk solids brown and then remove from heat and strain through a fine-mesh strainer into a bowl, to remove the browned milk solids.

Remove 2 tablespoons of the melted brown butter and set aside (it will be brushed onto the lobster tails before broiling.

To the remaining brown butter, add the chopped hazelnuts, parsley, shallots, lemon zest, and salt. Set aside.

Place a rack in medium position in oven. Preheat the broiler.

Place a layer of foil over a broiling pan or roasting pan.

Using kitchen shears or strong scissors, cut the top side of the lobster tail shells lengthwise, from the open-end to the base of the tail.

To help make the shell easier to deal with, put the tail upside-down in the palm of the hand and squeeze to break the translucent bottom shell.

Grip the sides of the shell and pull open by about 1- to 2-inches.

Using the finger, carefully wiggle between the lobster meat and the shell and separate the meat from the shell.

Then gently pull the meat up through the crack created, keeping the meat attached to the tail, and let the lobster meat sit on top of the shell.

Place the tails on the foil-lined broiling pan.

Pull back the lobster meat to expose as much of it as possible. 

Brush the exposed lobster meat with the unadorned browned butter you set aside earlier.

Broil for 7 to 10 minutes until the meat is cooked through (less time for smaller lobster tails), and the shells are bright red.

Use a meat thermometer, which should read 145 degrees F when the lobster is done.

When the lobster tails are done, remove them from the oven and place them on serving plates.

Spoon the browned butter hazelnut sauce over the lobster meat of the lobster tails to serve.
Recipe Notes
If starting with frozen lobster tails, while the lobster tails are defrosting, prepare the hazelnut brown butter sauce to save time. To defrost the frozen lobsters, prepare a bowl with 2 quarts of cold water and 1 tablespoon of salt. Stir to dissolve the salt. Place the lobster tails in the water. Add a few ice cubes. Let sit for 30 minutes to 1 hour until defrosted. This recipe calls for lobster tails that are 6 to 8 ounces each. If cooking smaller or larger lobster tails, adjust the broiling time down or up. For example, a 3-ounce lobster tail should take 3 to 4 minutes to broil. The trickiest part of working with lobster tails is opening the shell and loosening the meat enough to pull it through the cut made in the shell. Depending on at what point of the lobster's molting cycle the lobster was caught, the shell can be either really thick and strong, or thin and easy to manipulate. Take care if working with an especially hard shell to avoid injuries, and use a strong hand
Nutrition
Calories: 

636.27kcal

Fat: 

57.46g

Saturated Fat: 

30.20g

Trans Fat: 

1.88g

Monounsaturated Fat: 

19.98g

Polyunsaturated Fat: 

3.51g

Carbohydrates: 

4.61g

Fiber: 

2.00g

Sugar: 

1.57g

Protein: 

28.06g

Cholesterol: 

312.62mg

Sodium: 

642.31mg

Calcium: 

163.77mg

Potassium: 

465.64mg

Iron: 

1.36mg

Vitamin A: 

392.82µg

Vitamin C: 

3.02mg