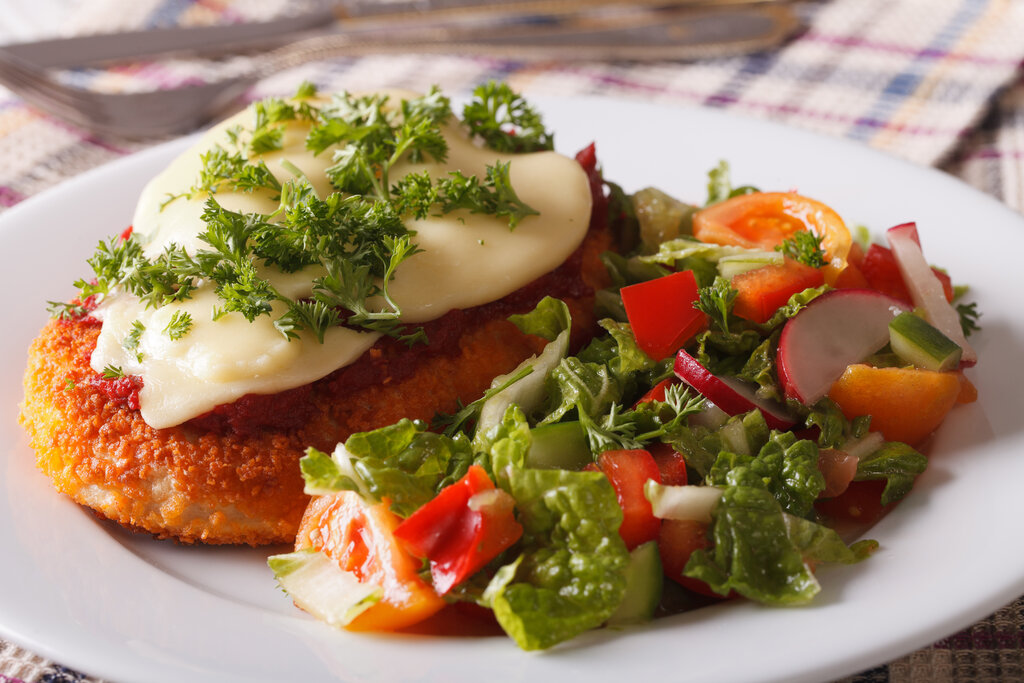 Chicken Parmigiana Olive Garden Recipe (Copycat)
I love recreating any Olive Garden recipes, especially if it's an iconic Olive Garden chicken recipe from their menu. It's always a delight to make a homemade version for myself. Every time I make a big batch, I make sure to share it with my friends and relatives. Most of them are huge fans of Italian style dishes so they really like whatever I make for them. This time I made a chicken parmigiana Olive Garden copycat, which is also called chicken parmesan.
If you've been to Olive Garden, then you've seen this appetizing dish on their menu. It's basically a breaded chicken drenched in a tasty with melted mozzarella cheese on top. The sauce and the cheese are definitely the highlight of the dish. It gives the crunchy chicken an additional bright, sweet and tangy flavor combination that's just so delicious. That's why I decided to recreate the taste of this iconic Olive Garden chicken parmigiana dish.
Making a homemade version was really simple. I didn't have a hard time setting up the breading station for the chicken. Make sure you have the basic coating ingredients like the flour, egg, milk, and breadcrumbs. I mixed a bit of grated parmesan cheese with the breadcrumbs for extra flavor. I evenly coated each piece of tender chicken breasts and then pan fried them on a skillet. Cook for a few minutes until they're golden brown in color, and have a crispy coating.
Transfer the chicken tenders on a plate, then add the red pasta sauce and mozzarella cheese. I added a bit more of the cheese so that it's extra cheesy. I broiled them in the oven so that the cheese melts properly. After a few minutes, the chicken was done! I garnished it with some chopped parsley and sprinkled some more parmesan on top so it's appetizing. I also added a generous amount of red pepper flakes on some of the chicken parmigiana since one of my friends loves a bit of spice.
My chicken parmigiana Olive Garden copycat dish turned out really good. I even made homemade to enjoy on the side. You can also serve this chicken with some pasta or leafy salad. I personally love garlic bread so I went with that side dish option, and I had a delightful time eating this crispy chicken parmigiana. This chicken parmesan recipe is simply one of those Italian recipes that you have to try at least once!
How To Make How To Make Chicken Parmigiana (Olive Garden Copycat)
Enjoy a belly-filling dinner meal of crispy chicken, cheese, and marinara sauce, by whipping up this chicken parmigiana Olive Garden copycat recipe!
Ingredients
4

chicken breasts,

(9 oz each), boneless, skinless

2

cups

flour

2

cups

milk

4

eggs

3

cups

Italian breadcrumbs

½

cup

marinara sauce

¼

cup

parmesan cheese,

grated, or asiago cheese

1

cup

mozzarella cheese

½

cup

vegetable oil

parsley,

chopped, for garnish
To Serve:
pasta, any kind like spaghetti, bowtie pasta, or pappardelle pasta

garlic bread

salad
Instructions
Line up 3 bowls. In the first medium bowl, place flour. Then, mix milk and eggs in a second bowl.

Combine bread crumbs and grated parmesan cheese in a third bowl. Set aside.

Pound the chicken breasts between sheets of plastic wrap until about ¼-inch thickness. Season chicken with salt and pepper.

Coat the chicken lightly in flour, covering all sides completely. Dip into egg and milk mixture, covering completely. Coat with breadcrumbs, covering evenly, removing any lumps.

Place breaded chicken in a single layer on a lined sheet tray.

Preheat oven to broil.

Heat oil in a cast iron pan to medium heat. Fry chicken for about 5 minutes per side, or until cooked through and golden brown.

Place chicken on paper towel to remove excess oil. Top fried chicken with marinara sauce and mozzarella cheese.

Broil in the oven to melt the cheese.

Garnish with fresh parsley. Serve with spaghetti or desired side dish. Enjoy!
Nutrition
Calories: 

1491.59kcal

Protein: 

80.80g

Cholesterol: 

348.32mg