Try this authentic delicious corned beef and cabbage recipe for St. Patrick's Day!
How To Make Corned Beef and Cabbage Dinner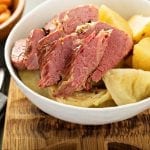 Make your St. Patrick's Day extra special with the recipe.
12 lbs lean corned beef
5 lbs white cabbage (cut into quarters)
5 lbs red potatoes (all the same size)
3 cloves garlic
2 bay leaves (crushed)
1 large onion
1 tsp peppercorns
1 tsp cloves
Peel onion and stick cloves into the onion.

Take a coffee filter and fill it with bay leaves, garlic, and peppercorns.

Tie the filter with a string.

Fill a large heavy pot with cold water, put in the corned beef, onion, and the bag of spice.

Cover with water until one inch above the meat.

Bring to a full broil, turn down to low and cover.
Cook for 3 1/2 hours and then remove the onion and bag of spice.
Remove the meat and let it cool down for 20 minutes.
Now add the potatoes and cabbage.
Cook for 30 minutes on medium flame.
Check tenderness by piercing with a fork and seeing if it goes in easy.
When everything is done, slice the meat against the grain and serve with potatoes and cabbage.
How To Make No Sugar Jalapeno Apricot Preserves
Ingredients
1/2

cup

jalapeno peppers,

seeded and finely minced

1 1/2

cup

dried apricots,

finely chopped

2

cup

apple cider vinegar

1

large sweet red pepper,

seeded and finely minced

2

tbsp.

lemon juice

6

cup

Splenda

3

oz.

liquid pectin

4

drops red food coloring
Instructions
Put jalapenos, sweet red pepper, lemon juice and vinegar into a blender.

Puree until coarsely ground.

Combine apricots, Splenda and jalapeno mixture in a large stockpot.

Bring to a boil and rapidly cook for 5 minutes.

Remove from heat and skim off any foam.

Mix in liquid pectin and food coloring and boil for one minute.

Ladle into sterilized jars.

Wipe rims. Cap and seal.

Process in a water bath canner for 10 minutes.

Yields 3 pints or 6 half-pints.
Topics: