Who said succulent steaks have to be expensive? With this copycat recipe, you can treat yourself and your loved ones to a fancy dinner without leaving the house! This scrumptious recipe of ours lets you recreate the famous Outlaw Ribeye steak from popular American restaurant Longhorn Steakhouse. Serve this rich steak with your favorite side dish and you're all set!

Tip:
Pairing steaks with the perfect side dish will greatly enhance your eating experience! We recommend you go for
mashed potatoes
or
Broccoli and Tortellini Salad
, as they will pair excellently with the savory flavor of this steak.
What Is An Outlaw Ribeye Steak?
Longhorn has all kinds of different steaks in their menu, from the Renegade Sirloin to the Fire-Grilled T-bone. However, the Longhorn Steakhouse menu features one of the most prized and sought-after cuts with its Outlaw Ribeye.
For those who don't know, from its name, the Outlaw is a ribeye steak. These kinds of steak are cut from the cattle's rib, between its shoulder and loin (or rump). Ribeyes are generally regarded as being the best-tasting steaks because of its marbling, or fat content. This fat helps provide the steaks incredible, rich flavors and a succulent, juicy texture. So if you're after a must-try steak dish, this Longhorn Outlaw ribeye copycat recipe is perfect for you!
Longhorn Steakhouse Outlaw Ribeye
Many consider ribeyes as the most delicious and filling steak cuts. However, Longhorn takes it a step further with their Outlaw Ribeye! This delicious steak has practically achieved legendary status among Longhorn customers and steak-lovers alike. Its meat is thick and tender, exploding with rich, smoky flavors thanks to its natural marbling and Longhorn's bold seasoning. Many consider it as the juiciest and most flavorful of all of Longhorn's steak dishes.
The Outlaw isn't the only ribeye steak in the Longhorn steakhouse menu. There's also the Longhorn Ribeye, however, this steak is significantly smaller than the Outlaw. The Outlaw is a cut of tender steak weighing at 20 ounces. Meanwhile, the smaller Longhorn is only at 12 ounces. However, if Longhorn Steakhouse is famous for anything, it's that they serve high-quality steaks at a much lower price compared to other restaurants like Outback Steakhouse.
But thanks to our brilliant copycat recipe, you can make your own delectable, pan-seared steak at the comfort of your own kitchen!
How To Prepare A Longhorn Outlaw Ribeye At Home
If you want to make your own homemade copycat Longhorn Steakhouse Outlaw Ribeye, all you have to do is follow our simple recipe instructions. Plus, you'll only need a handful of ingredients you can easily buy from a nearby store. Most are spices like paprika, cayenne pepper, turmeric, and coriander. The main ingredient is, of course, the steaks which you can also easily get at many supermarkets and grocery stores.
Even better, buying ribeye cuts and cooking them yourself will cost way less than eating out! You can even experiment with the seasoning if you're confident enough in preparing this pan-seared steak. It won't take too long to cook either! You can whip up a lavish dinner in just under 20 minutes with our amazing Longhorn Steakhouse Outlaw Ribeye Copycat Recipe! Check out our CAQ section down below, to learn more about this recipe as well as how to cook your steak in the oven.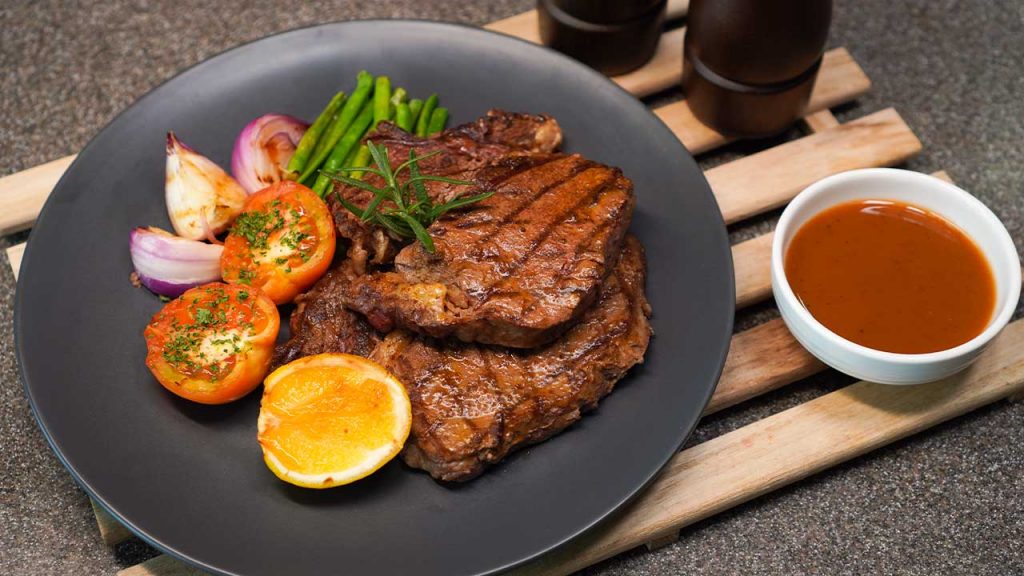 Outlaw Ribeye Steak Recipe (Longhorn Steakhouse Copycat)
How To Make Outlaw Ribeye (Longhorn Steakhouse Copycat)
This thick, tender ribeye steak is pan-seared to perfection. Bursting with rich flavors and succulent juices, our Longhorn Steakhouse Outlaw Ribeye Copycat Recipe is perfect for fancy dinners with friends and family!
Ingredients
25

oz

ribeye fillets,

boneless

1

tsp

lemon juice

2 ½

tsp

unsalted butter ,

or margarine, melted

½

tbsp

salt

¾

tsp

paprika,

smoked

½

tsp

black pepper,

ground

½

tsp

onion powder

½

tsp

garlic powder

¼

tsp

cayenne pepper,

ground

¼

tsp

turmeric

¼

tsp

coriander,

ground
Instructions
Set the grill to medium heat.

In a small bowl, mix the lemon juice with the melted butter or margarine until properly combined.

In a medium-sized bowl, mix the salt, pepper, paprika, onion powder, garlic powder, cayenne pepper, turmeric and ground coriander until well combined.

Generously season both sides of the steak fillets with the dry mixture.

Brush the lemon-butter mixture over both sides of the steaks as well before grilling.

Sear both sides of the seasoned steak for 5 minutes each. Cook until medium rare.

Let the steaks cool, then serve!
Recipe Notes
Using a

pellet grill

can make grilling steaks and other types of meat a lot easier. 

However, if you're using a regular grill, remember to always keep an eye on your steaks! It's better to put them back on the grill if you see that it's undercooked than it is to end up with ones that are firm and overdone.
Nutrition
Sugar:

1g

:

Calcium:

10mg

Calories:

316kcal

Carbohydrates:

1g

Cholesterol:

92mg

Fat:

22g

Fiber:

1g

Iron:

2mg

Potassium:

380mg

Protein:

29g

Saturated Fat:

10g

Sodium:

772mg

Vitamin A:

144IU

Vitamin C:

2mg
Nutrition Disclaimer
Frequently Asked Questions
What cut is the Outlaw Ribeye?
Longhorn's Outlaw Ribeye is a ribeye steak cut, one of the most tender and flavorful beef cuts thanks to its marbling. And because this cut is well-marbled, they're usually cooked fast and in high heat. Ribeye cuts can be served either with the bone in or without. Bone-in ones usually take longer to cook, which may be great for those who grill their steaks to medium doneness. That's because the section of the meat close to the bone tends to be juicier and more tender when done so. Although we recommend a boneless steak in this recipe, you're welcome to try and experiment with a bone-in cut. For more ribeye recipes, you can check out our Easy Tender Rosemary Ribeye And Fresh Veggies dish.
What's the ideal thickness for a ribeye steak cut?
Premium steak cuts like ribeyes are best served with a thickness of 1.5 inches. This is the most optimal level of thickness when you're cooking ribeye at home. That's because a 1.5-inch thick steak's center is more insulated compared to thinner ones, making it easier to achieve your desired level of doneness. They're also easier to cook compared to thicker steak cuts that range from 1.75 inches to 3 inches thick. These thicker cuts may need special techniques in order to be cooked evenly, so leave those cuts to the expert chefs.
How to cook steak in the oven?
If you don't have a grill to cook your steak in, an oven can also do. First, make sure your steak is at room temperature. While waiting, preheat your oven, along with a skillet, to 450 degrees F. This is the ideal temperature for thick cuts like ribeye and fillet mignon. Season the steaks, and sear for 30 seconds on each side using your hot skillet. Once this is done, turn the steak on its unseared side and broil it in the oven for 3 minutes, flip, broil for another 2 to 3 minutes or until your steak reaches 130 degrees F. Finally, let it rest before serving.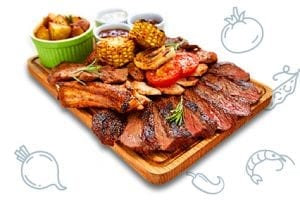 Conclusion
Our copycat Longhorn Steakhouse Outlaw Ribeye Recipe is quick and easy to make! You won't have to go to the nearest Longhorn to have a succulent and flavorful steak for dinner anymore once you master this wonderful recipe.