Date night? Nothing can go wrong with a grilled steak. No ideas on the marinade? No problem. Read on and discover how to easily recreate the signature Outlaw Ribeye from Longhorn Steakhouse.
If you are not familiar with Longhorn Steakhouse, it was formerly an antique house in Atlanta, Georgia, and was turned into a restaurant by 1981. The restaurant is mostly known for its steaks but also offers ribs, chicken, salmon, etc.
Enjoy this easy recipe for the signature dish. We're sure to make your date night filling and memorable. Add a new favorite to your grill with this classic Longhorn Steakhouse Outlaw Ribeye recipe. Capture the flavor of the steak in just a few easy steps! Simple but savory, this steak is sure to be an instant hit at barbecues and casual get-togethers with friends and family.
How To Make Longhorn Steakhouse Outlaw Ribeye Copycat
Learn how to make the popular Longhorn Steakhouse Outlaw Ribeye steak with this simple but delectable recipe!
Ingredients
45

oz.

boneless Ribeye fillets

Lemon juice

5

tsp.

margarine

melted

1

tbsp.

salt

1 ¼

tsp.

paprika

1 1/5

tsp.

pepper

½

tsp.

onion powder

1/2

tsp.

garlic powder

1/4

tsp.

cayenne pepper

ground

¼

tsp.

turmeric

¼

tsp.

ground coriander
Instructions
Set your grill to medium heat.

In a small bowl, combine the salt, pepper, paprika, onion powder, garlic powder, cayenne pepper, turmeric and ground coriander until well mixed.

Generously season your fillets with your dry mixture.

In another bowl, mix the lemon juice with the melted margarine until well combined. Brush this mixture over the steaks before grilling.

Sear seasoned steaks for 5 minutes on both sides to cook until medium rare.
Nutrition Facts
Calories:
954
kcal
|
Carbohydrates:
2
g
|
Protein:
86
g
|
Fat:
67
g
|
Saturated Fat:
28
g
|
Cholesterol:
259
mg
|
Sodium:
2627
mg
|
Potassium:
1162
mg
|
Fiber:
1
g
|
Sugar:
1
g
|
Vitamin A:
896
IU
|
Calcium:
33
mg
|
Iron:
8
mg
Commonly Asked Questions
Can I use a different steak cut?
Of course! Although this recipe primarily uses a rib eye cut to replicate Longhorn Steakhouse's Outlaw Ribeye, you're free to adjust this according to your preferences. Just remember that some cuts can be leaner than others, so be sure to take that into account when deciding on an alternative to a rib eye.
How to tell steak doneness?
The best way to determine when your steak is ready without the need for a thermometer is to check its tenderness with the "finger test." With a relaxed hand, press the tip of your index finger to the tip of your thumb. Feel out the fleshy area below your thumb. This is what your steak feels like if it's rare. Your steak is medium rare if it feels like the fleshy area below your thumb when you press the tip of your middle finger to the tip of your thumb. To check if your steak is cooked to medium doneness, press the tip of your ring finger to your thumb. Finally, you'll know your steak is well done when it feels as firm as the area below your thumb when you press the tip of your pinky finger to your thumb.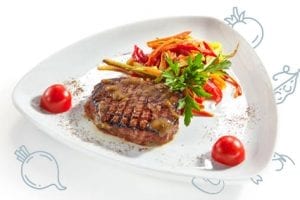 Conclusion
There are many ways to enjoy steak, but nothing beats a good ol' ribeye enjoyed the Longhorn Steakhouse way. This is a great dish to serve on your weekend barbecues with friends and family, so be sure to have your grill ready!