Panera Bread may have started as a local bakery and a cafe in Sunset Hills, Missouri, but it quickly grew to hundreds of branches nationwide. The restaurant is known for its pastries, pasta, sandwiches, and soups. As a matter of fact, Panera Bread's soups are a perfect complement to their Paninis and sandwiches that sometimes people come back more for their soup. For today, we'll show you how to recreate Panera Bread's signature chicken noodle soup recipe.
We need a number of ingredients for this recipe. Make sure to get them fresh to have that healthy and flavorful soup. We recommend adding chili powder if you want that heat in your soup or just kick it up a notch.
This chicken noodle soup recipe is perfect during the cold season or can be served when one is feeling under the weather. It's easy, inexpensive, and delicious that even beginners can do this perfectly. If you want to go ahead and try more soup recipes, you might want to get your hands on this Sweet Potato Soup recipe.
Copycat Panera Chicken Noodle Soup Recipe
Ingredients
5

cups

low-fat chicken broth

½

cup

celery stalks

sliced

½

cup

carrot

peeled and sliced

8

oz

frozen peas

thawed and drained

3

garlic cloves

minced

1

tbsp

onion powder

1

tsp

dried parsley flakes

½

tsp

dried thyme

4

chicken breasts

boneless and skinless, cut into bite-sized pieces

3

oz

wide egg noodles

cooked and drained
Instructions
In a large stockpot over medium-high heat, stir together the chicken broth, celery, carrot, peas, garlic, onion powder, parsley flakes, and thyme.

Bring to a boil, then reduce heat to low. Let the soup simmer for 5 minutes.

Add chicken and continue cooking for about 10 minutes until chicken is cooked through and tender.

While chicken is cooking, stir in egg noodles. Cook noodles until al dente.

Scoop the noodles and soup into a bowl and serve hot.
Commonly Asked Questions
How to tell if my noodles are cooked?
The noodles should have a soft, chewy bite to them. If they taste too doughy, they are probably still raw and undercooked so cook them a little longer.
I don't like/can't eat egg noodles, can I use other noodles instead?
Of course, you can! This noodle soup tastes great with Elbow Macaroni or even instant Ramen noodles if you are in a pinch.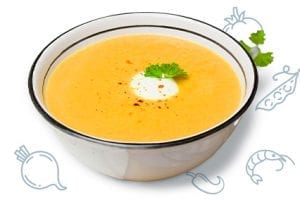 Conclusion
This bowl of noodle soup is the perfect comfort soup for those cold days or when you are feeling under the weather. It is warm, rich in flavor, and super healthy for you as well.