If you're looking to bake a sweet afternoon snack, try your hand at our blueberry muffins recipe! Our recipe for blueberry muffins uses fresh blueberries for the most fruity flavor. It's topped with a delightful streusel crumble for extra bite and richness.
Best of all, it tastes just like Panera's blueberry muffins! These muffins are super tasty, also making them perfect as bake sale goodies.
What's In Panera Bread's Blueberry Muffins?
The Panera Bread menu is never short of perfectly baked muffins. And we definitely agree with that! Their blueberry muffins with fresh blueberries are one of their customers' absolute favorites.
How could it not? Panera muffins are always freshly baked, serving customers with quality pastries. They also use fresh blueberries to get the most authentic fruit taste to their muffin recipe.
A key ingredient that sets their blueberry muffins apart is their topping. Panera uses turbinado sugar to top their blueberry muffin for a crunchier bite. Since turbinado sugar is less processed, it gives a more natural molasses taste.
Now doesn't that sound delicious? Our stomachs are rumbling just thinking about. If you're dying to recreate those exquisitely scrumptious muffins, now's your chance! Keep going as we show you more about our buttermilk blueberry muffins recipe.
How to Make Blueberry Muffins Just Like Panera's
Our bakery style blueberry muffins recipe tastes just like Panera's, but with a few twists of our own. We won't be using turbinado sugar for the topping as they do. Instead, we will be topping it off with a streusel recipe that's even more flavorful.
You can also turn them into lemon blueberry muffins by making a lemon-flavored glaze topping, so make sure to check out our Recipe Notes just after the instructions to try it out!
It's a quick combination of flour, sugar, and butter, that when baked, adds a crunchy addition to the muffins. We've also added a touch of cinnamon to the crumble for an added bit of spice. Now that's what we call a perfect batch of blueberry muffins with a crumb topping!
Another good ingredient we've added to these blueberry streusel muffins is buttermilk. Not only will buttermilk add a slight bit of acidity, but it helps to make these easy blueberry muffins moist and tender. And that's all you could possibly want from a warm batch of muffins, right?
Using whole milk works great as well. But if you're aiming for a light and fluffy bite; spending a few more dollars on buttermilk wouldn't be so bad. Especially if it's for an easy muffin recipe like ours!
We'd love to see you try out our mouthwatering buttermilk blueberry muffins soon! This is the best muffin recipe you could ever find for such a robust fruit. Make them for your next bake sale or simply for your next afternoon snack today.
To try blueberries out with other treats, check out our other blueberry recipes like these healthy Granola Bars. And if you're looking for the best meal to pair it with, this savory French Onion Soup works brilliantly. For another easy blueberry muffins recipe like this, try making our Low-Fat Blueberry Bran Muffin Recipe.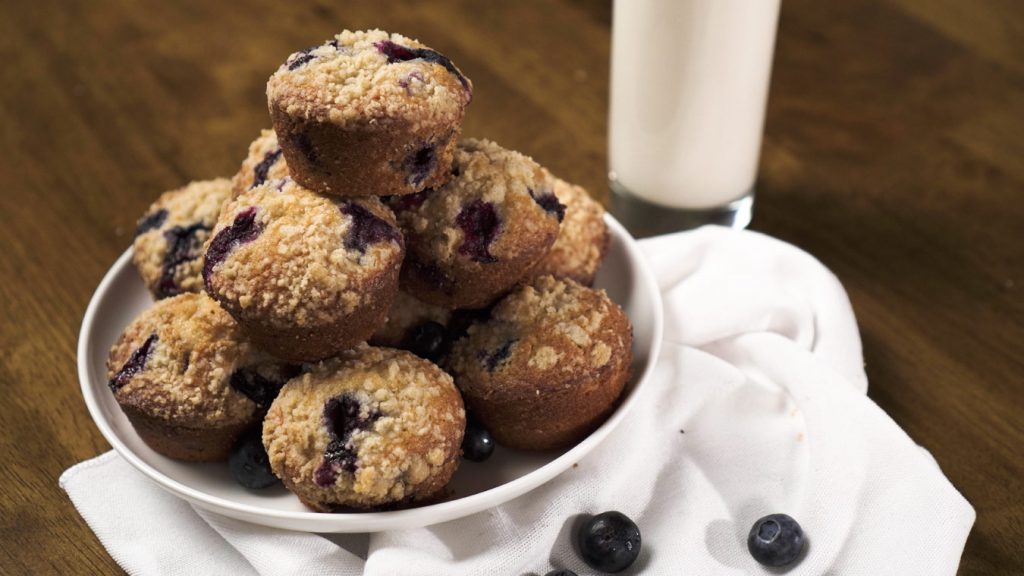 Copycat Panera Blueberry Muffins Recipe
How To Make Copycat Panera Blueberry Muffins
A fluffy and moist batch of blueberry muffins makes the little dessert! Try these muffins with fresh blueberries with some tea or coffee for the best snack.
Ingredients
3 ⅓

cups

all-purpose flour,

divided

2

cups

granulated sugar,

divided

non-stick cooking spray
For Batter:
1 ¼

tbsp

baking powder

1

tsp

sea salt

⅔

cup

vegetable oil

2

large eggs

⅔

cup

buttermilk

1

tbsp

vanilla extract

2

cups

fresh blueberries
For Streusel Topping:
½

tsp

ground cinnamon

¼

cup

unsalted butter,

chilled and cubed
Instructions
Batter:
Preheat your oven to 400 degrees F.

While your oven warms up, grease a 12-cup muffin pan with non-stick cooking spray.

In a large mixing bowl, sift together 3 cups of the flour, 1 ½ cups of sugar, baking powder, and salt.

In a medium mixing bowl, whisk together the oil, eggs, buttermilk, and vanilla extract until they are well-combined.

Fold the wet mixture into the sifted flour mixture until evenly incorporated.

Next, gently fold in the blueberries into the batter.

Pour the batter evenly into the greased muffin cups.
Streusel Topping:
In a small bowl, combine the remaining flour and sugar then add cinnamon.

Then add in the butter into the dry mix, stirring until coarse crumbs form.

Sprinkle even amounts of the streusel topping over each muffin.

Bake the muffins in the oven for about 30 minutes or until a toothpick inserted in the center of a muffin comes out clean.

Lower down the temperature to 375 degrees F after 20 minutes.

Once baked, serve muffins warm, and enjoy!
Recipe Notes
Try making a sweet and tangy glaze to make lemon blueberry muffins! Simply combine ¾ cup of sifted powdered sugar, 1 to 2 tablespoons of lemon juice, and a pinch of lemon zest. Whisk them together until smooth. Adjust the powdered sugar and lemon juice as necessary depending on your desired consistency. Drizzle the icing over your cooled muffins, then dig in!
Nutrition
Sugar:

37g

:

Calcium:

102mg

Calories:

431kcal

Carbohydrates:

65g

Cholesterol:

39mg

Fat:

18g

Fiber:

2g

Iron:

2mg

Potassium:

84mg

Protein:

5g

Saturated Fat:

13g

Sodium:

353mg

Vitamin A:

193IU

Vitamin C:

2mg
Nutrition Disclaimer
Commonly Asked Questions
Can I use frozen blueberries for this recipe?
You definitely can! Toss your unthawed frozen blueberries in a flour mix to coat to prevent them from sticking to the bottom of the pan. Just remember to add additional 5 minutes to your baking time to get perfectly baked muffins.
How do I store my blueberry muffins?
Store your muffins in an air-tight container lined with parchment or a ziplock bag with a paper towel at room temperature. Align them in a single layer for better storage. These should last for up to 3 to 4 days. We do not recommend refrigerating as it may alter the texture of the muffins.
Can I freeze my muffins?
You can! Muffins in the freezer will last you for up to 3 months. Simply store them in a ziplock bag with a paper towel in a single layer to prevent them from sticking. To thaw your muffins, reheat them in the microwave for 30 seconds on some paper towel. You may also leave them out to defrost for an hour at room temperature before serving.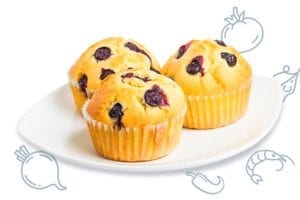 Conclusion
This recipe for blueberry muffins that's just Panera's is so easy to make! Try them out for an afternoon snack, sell them at bake sales, or serve them at big parties. The delicious whole blueberries in these fluffy muffins will make them extra special in a way that will never compare to store-bought muffins.