Creamy and rich potatoes au gratin with gruyere cheese are the perfect comfort food. In this recipe, slices of potatoes are smothered in a cream sauce made of crème fraîche, heavy cream, and nutmeg. This show-stopping side dish takes the center stage during the holidays. It also adds decadence to ordinary weeknight dinners, especially when served next to this Golden Corral-inspired meatloaf recipe.
The term "au gratin" simply refers to any meal that's baked until crisp and golden brown and has yummy cheese or breadcrumb toppings. One of the most delicious potato dishes out there, potato au gratin is a dish consisting of thinly-sliced potatoes prepared that way. Then, a dusting of grated cheese, fresh parsley, or fresh chopped chives on top makes it next-level. Once you learn how to make au gratin potatoes, dinners will never be bland again! 
Tips for Making Potatoes Au Gratin With Gruyere Cheese
Wondering what to make with potatoes? We're telling you, cheesy au gratin potatoes are certainly one of the best potato recipes of all time. Even better is you can make it in advance! Just refer to our FAQs below to learn how to prepare this dish ahead of time.
Meanwhile, here are some tips and tricks to help you make the best au gratin potatoes:
Use the right kind of potatoes.

Meals with potatoes always start by picking the right kind of potatoes. For this recipe,

use high-starch baking potatoes, such as russet potatoes and Yukon Gold potatoes. Their insides turn out tender and fluffy when baked, making for a yummy potato casserole that everyone will rave about. 

Slice the potatoes thinly and evenly

. When preparing your

homemade au gratin potatoes

, make sure that you cut the spuds into uniform-sized thin slices so they cook evenly. The cream sauce will also seep in easily between the thinly-sliced spuds, resulting in creamier potatoes au gratin with gruyere.  Luckily, the slicing process will be much easier and quicker with the help of a high-quality mandoline.

Use cheese with sharp, bold flavors

. Gruyere cheese is the

best cheese for au gratin potatoes

. It lends a rich and nutty taste, balancing out the creaminess of the dish. Although, if you don't have gruyere on hand, you can also explore some of the

best cheeses

to replace it, such as gouda, parmesan,

and cheddar

cheese. You can even use a combination of gruyere

and parmesan

for a more decadent result!

Shred the cheese on your own

. Instead of buying pre-shredded cheese, you should shred your own cheese from a block. Not only is it economical, but freshly shredded cheese also tastes better and melts more smoothly.

Season the cream sauce.

This

recipe for potatoes au gratin

uses nutmeg, salt, and freshly ground black pepper to add wonderful flavors.  Feel free to incorporate paprika, garlic, and fresh

thyme

into the dish as well. Green

onions

, chives, and rosemary are also welcome additions!

Top your potato au gratin with breadcrumbs.

Adding some breadcrumbs is optional. But if a crunchy topping delights you, then sprinkle the breadcrumbs on top after pouring the creamy sauce. Apart from providing fantastic texture, the breadcrumb topping can also absorb some of the fat

and oil during baking

.

Cover the potatoes au gratin with foil. If you notice that the top of your dish is browning too quickly, take it out of the oven and try covering it with  a sheet of aluminum foil. You can also do this before popping the casserole into the oven. Just uncover the dish once the potatoes have finished baking, and bake the potatoes again until the top crisps up and turns deliciously brown.
Frequently Asked Questions
What's the difference between scalloped potatoes and au gratin?
Both scalloped potatoes and au gratin are baked in a baking or casserole dish and have creamy elements. Despite those similarities, they have a few differences that set them apart. Traditionally, a scalloped potatoes recipe does not include cheese, whereas au gratin potatoes have grated cheese in between layers. Another difference between these two potato casseroles lies in how the potatoes are cut. For instance, the potato slices in this au gratin are a bit thinner than in a regular dish of cheesy scalloped potatoes and ham.
Can you prepare potatoes au gratin with gruyere cheese ahead of time?
Yes, you can prepare potatoes au gratin ahead of time, specifically 24 hours in advance. After layering the potatoes and cream sauce, cover the dish with a plastic wrap or aluminum foil and store it in the fridge. Keep in mind that you have to take it out of the refrigerator at least 30 minutes before placing it in the oven.
What to serve with au gratin potatoes?
Au gratin potatoes are best served with this oven-grilled sirloin steak recipe. A crockpot ham glazed with honey, brown sugar, and Dr. Pepper pairs perfectly with this creamy casserole, too. You can also serve au gratin potatoes with light and green vegetables for a delicious contrast of flavors.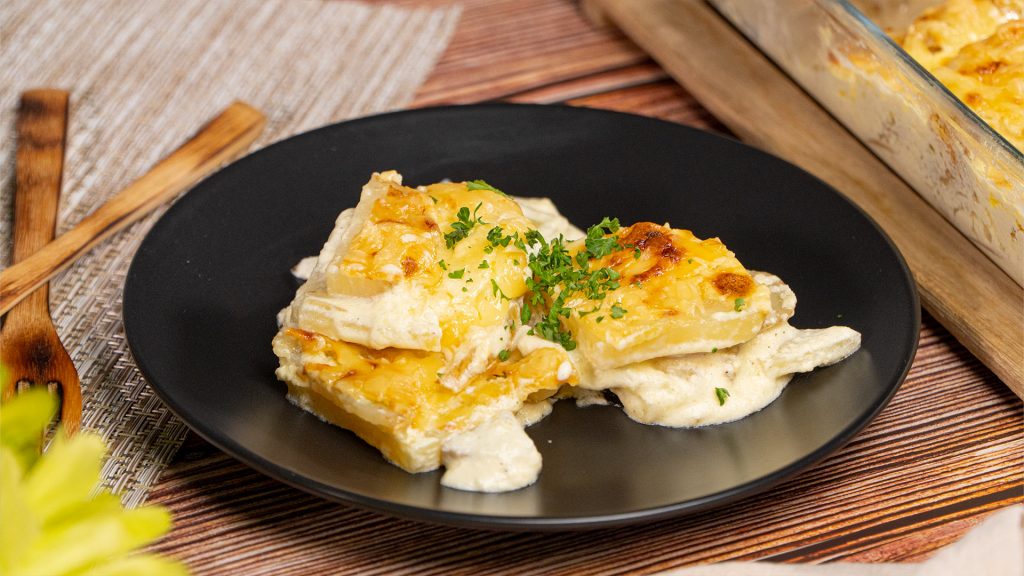 Potatoes Au Gratin With Gruyere Cheese Recipe
How To Make Potatoes Au Gratin With Gruyere Cheese
Thin slices of potatoes are coated with creamy sauce and topped with grated gruyere cheese in this potatoes au gratin dish. It's the ultimate comfort food, perfect  for holidays and weeknight dinners!
Ingredients
2

lb

potatoes,

sliced into ⅛ inches thick

1½

cups

crème fraîche

5

cups

whole milk

¼

tsp

white pepper,

freshly ground

1½

cups

heavy cream

1

tsp

salt

2

tbsp

unsalted butter,

softened

⅛

tsp

nutmeg,

grated

½

cup

gruyere cheese,

grated
Instructions
Preheat the oven to 375 degrees F.

Combine the milk and the potatoes in a saucepan, simmer them on medium heat and cook for 5 minutes.

Drain the milk from the pan, then add butter and nutmeg, salt, pepper, crème fraîche, and heavy cream to the tender potatoes. Stir to combine.

Transfer the potato mixture over the baking dish and cover it with gruyere cheese.

Bake for 15 minutes, until the top of the potatoes or cheese, is caramelized. Garnish with parsley and serve!
Recipe Notes
When simmering the potatoes in milk, move them from time to time using a wooden spoon to keep them from sticking to the pan. 

You can also add bacon crumbles and ham to the cream sauce to make savory and creamy

potatoes au gratin with gruyere cheese

. 

Make sure to pour the heavy cream evenly all over the potatoes to keep them from drying out.
Nutrition
Sugar:

15g

:

Calcium:

420mg

Calories:

616kcal

Carbohydrates:

40g

Cholesterol:

114mg

Fat:

44g

Fiber:

3g

Iron:

1mg

Monounsaturated Fat:

9g

Polyunsaturated Fat:

2g

Potassium:

1008mg

Protein:

16g

Saturated Fat:

28g

Sodium:

628mg

Trans Fat:

1g

Vitamin A:

1428IU

Vitamin C:

30mg
Nutrition Disclaimer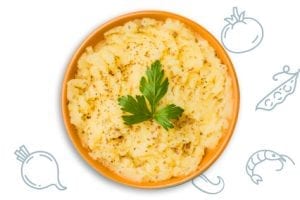 Conclusion
These potatoes au gratin with gruyere cheese features tender slices of potatoes coated in a creamy sauce. Looking at how appetizing this casserole dish is, it's hard to believe just how easy it is to whip up. Top with breadcrumbs and toss in some grated cheese for a more satisfying weeknight dinner!