Have you ever tried pairing fried tilapia fillet with bacon rashers? It's time to discover this unlikely yet enticing combination. Top a mildly flavored tilapia fish with a slab of salty bacon and discover a union of flavors. To complement and complete this mildly delicious dish, try making our butternut squash risotto for your starch. If you love tilapia dishes, make sure to try this grilled tilapia recipe with lemon butter sauce! 
Tips for Making Fried Tilapia with Bacon
Tilapia has such a mild taste that there are so many ways to amp up its flavor. Many combinations of ingredients and spices will work well with this fried fish. Take note of our five helpful tips to help get you started with this easy tilapia recipe:
Seasoning makes a huge difference.

Firstly, wipe the fish fillets with a

paper towel

so they won't get soggy when you cook them. Secondly, season the tilapia fillets with salt and pepper. Thirdly, dredge them in flour to ensure a golden, crispy crust.

Make sure the oil is hot enough before you cook the fish.

It should form tiny bubbles first. Once you see them and hear subtle pop sounds, you'll know the oil is ready. You can opt to use a cast-iron skillet as it takes longer to heat up and will help avoid burning what you're cooking.

Prepare your lemon or lime juice.

Squeeze lemon juice onto your fish fillets to lessen fishy smells and flavors. Doing this will give the dish a more neutral flavor. You can also slice lemon wedges after they are cooked. 

Add some garnish to your dish.

Sprinkle a handful of green herbs on your fried tilapia fillet to add a pop of color and fresh aroma.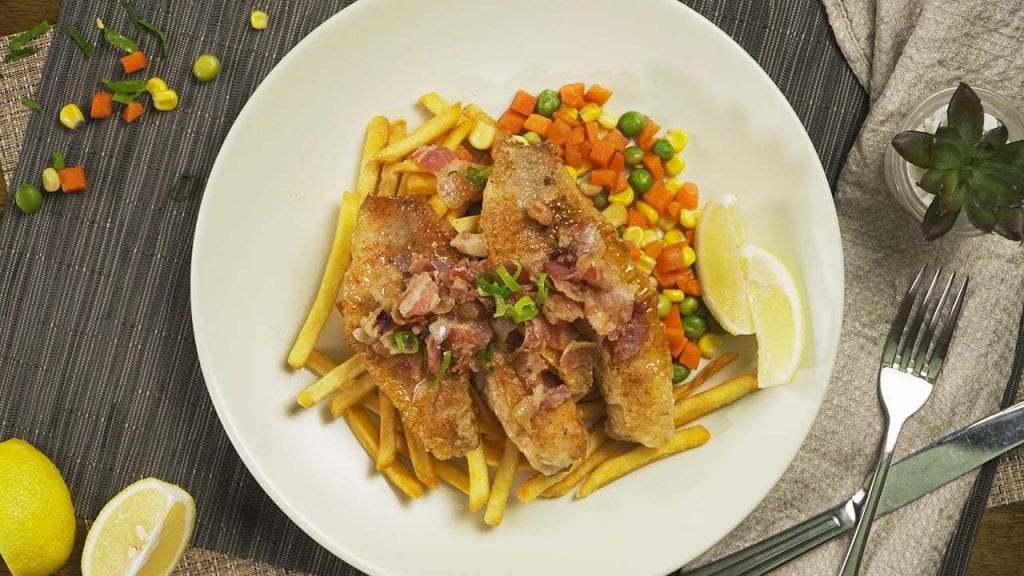 Pan Fried Tilapia with Bacon Recipe
How To Make Pan Fried Tilapia with Bacon
Combine a milky fried tilapia fillet with salty and savory bacon in one dish for a rendezvous of flavors you've never had before. This recipe will make you wonder why you haven't eaten this much tilapia since you've discovered them!
Ingredients
2

lb

tilapia fillets

1

lb

bacon strips,

diced

¼

cup

red onion,

chopped

3

tbsp

unsalted butter

3

tbsp

vegetable oil

½

cup

all-purpose flour

salt and ground black pepper,

to taste
To Serve:
1

cup

potato fries

½

cup

mixed vegetables,

sauteed

2

tsbp

green onions,

sliced

4

lemon wedges
Instructions
In a large skillet, saute the bacon over medium heat for roughly 5 to 8 minutes, until it turns brown but not too crispy.

Add the onion and continue sauteing for at least 10 minutes until caramelized, stirring constantly. Set aside and keep warm.

Season the flour with salt and pepper, then dredge the tilapia with this seasoned flour.

Heat up the butter and oil in a hot skillet. Shallow fry the tilapia for roughly 5 minutes per side, until fully cooked and golden brown on all sides.

When the fish is ready to serve, top it with the bacon mixture.

Garnish with green onions and lemon wedges. Serve and enjoy it with potato fries and sauteed vegetables.
Recipe Notes
In this recipe, we used potato fries and sauteed vegetables (consisting of corn, carrots, and green peas) for the sides. But feel free to serve potatoes and mixed vegetables that are done to your preference.
Nutrition
Sugar:

1g

:

Calcium:

52mg

Calories:

1091kcal

Carbohydrates:

37g

Cholesterol:

211mg

Fat:

77g

Fiber:

5g

Iron:

4mg

Monounsaturated Fat:

29g

Polyunsaturated Fat:

9g

Potassium:

1272mg

Protein:

64g

Saturated Fat:

33g

Sodium:

1171mg

Trans Fat:

1g

Vitamin A:

1469IU

Vitamin C:

16mg
Nutrition Disclaimer
Commonly Asked Questions
What is the best fish to pan-fry?
Some of the best fish to fry are tilapia, cod, catfish, halibut, trout, and striped bass. They can withstand high cooking temperatures and are great for breading. Avoid frying fish with a steak-like texture such as tuna, salmon, swordfish, and shark. They are best for grilling and baking. However, when fried, they tend to come out dry because of their thickness and the center of the fish ends up not being fully cooked. There are a lot of delicious fried tilapia recipes and ours is certainly one of them!
Is fried tilapia good for you?
Tilapia is an excellent source of the highly sought after omega-3 fatty acids and is very high in protein. It is also rich in vitamin B12, phosphorus, selenium, and potassium. Frying it, however, may lessen its nutritional value. But aside from this, it's also cheap and easy to find in most markets or in the frozen section of the grocery store. For a healthier alternative, give this easy baked tilapia recipe a try!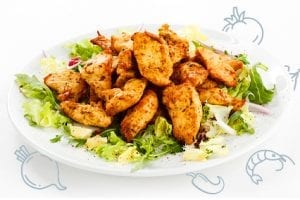 Conclusion
Fried tilapia and bacon may seem like an odd combination, but you'll realize how delicious they are together once you try this recipe. Think of it as your mini surf and turf menu but in one dish. Drizzle it with your favorite sauces, seasoning, and more as this recipe goes with almost anything!