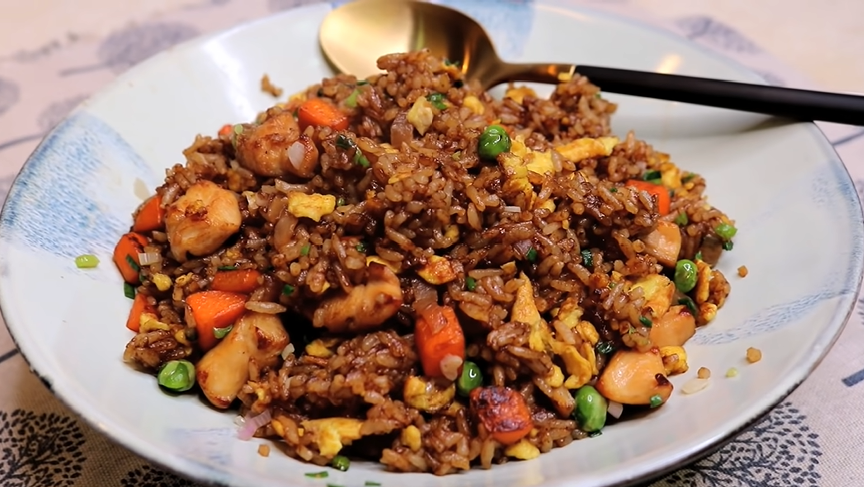 Benihana Fried Rice Recipe (Copycat)
How To Make Benihana Fried Rice (Copycat)
Try your hand at making this easy Benihana fried rice recipe at home! This dish comes loaded with chicken, peas, and carrots for a filling meal.
Ingredients
4

cup

rice,

cooked, cooled to room temperature

4

tbsp

sweet butter,

softened

2

garlic cloves,

finely minced

1

tsp

sesame oil

3

eggs,

beaten

8

oz

chicken breasts,

boneless, skinless, cubed

2

tbsp

sesame oil

½

cup

frozen peas,

thawed (may omit)

½

cup

frozen carrots,

thawed

1

cup

onion,

diced

¼

cup

green onion

½

tsp

salt,

(to taste)

½

tsp

black pepper,

(to taste)

2

tbsp

soy sauce,

low sodium

2

tbsp

sesame seeds,

toasted, (optional)
Instructions
Use 4 cups of water and 2 cups of uncooked rice, pinch of salt in a pot.* Once it's boiling, turn the heat down and cook for 20 minutes covered.

Spread the rice out after it is cooked in a shallow pan and cool it off in the fridge or freezer. Needs to be at room temperature or cooler.

Make the garlic and butter compound. Put softened butter in a bowl large enough to allow mixing the garlic into the butter. Needs to be well blended.

Peel the garlic by hitting each clove with the side of a knife and then finely mince. After the garlic is minced, use the side of the knife and run the side of the blade in each direction to mash the garlic.

Add the garlic to the butter and mix really well. Keep the bowl on the counter ready for use.

Wash and dry chicken breast and cube it into small bite size pieces.

Dice the onion. Thinly cut the greens on the green onion.

Scramble the eggs in a frying pan with 1 teaspoon of sesame oil. Then, cut the cooked eggs into small pieces and put aside.

In a large frying pan or a wok, add 2 tablespoons of sesame oil and cook the onion on medium heat for 5 minutes stirring often.

Add cubed chicken and stir often. Add some salt and pepper to taste. Cook the chicken for about 5 to 7 minutes on medium heat.

Add 1 tablespoon of the garlic butter compound. Add the peas, carrots, and green onions. Cook for 5 minutes or until just tender. Do not overcook. Stir often. Leave in pan.

Add 2 tablespoons of garlic butter compound and add the rice a handful at a time. Carefully stir everything together and keep adding rice until all the rice is added and well mixed together.

At this time add 1 more tablespoon of the garlic butter compound. Cook rice for 5 to 7 minutes stirring often. Add the cooked eggs, stir well carefully. Now add soy sauce. Mix well to distribute evenly. Add remaining salt and pepper to taste.

If desired, add the toasted sesame seeds and stir and serve.
Recipe Notes
*The rice could be pre-cooked the night before and stored in fridge or cook the rice using package directions.
Nutrition
Calories: 

724.89kcal

Fat: 

20.92g

Saturated Fat: 

7.74g

Trans Fat: 

0.36g

Monounsaturated Fat: 

7.13g

Polyunsaturated Fat: 

4.57g

Carbohydrates: 

109.91g

Fiber: 

1.89g

Sugar: 

2.42g

Protein: 

21.35g

Cholesterol: 

124.52mg

Sodium: 

565.03mg

Calcium: 

79.61mg

Potassium: 

363.99mg

Iron: 

2.59mg

Vitamin A: 

197.61µg

Vitamin C: 

5.35mg