If you're a fan of the big, chewy oatmeal raisin cookies that they serve at Subway restaurants, then you're in luck. This oatmeal raisin cookie recipe allows you to make very similar sweet treats in your own kitchen. Honestly, the ones at the shops are good, but sometimes, you can't catch the fresh batch. Give this recipe a try, and you'll soon find that you won't have to go far to get fresh-out-of-the-oven cookies.
We love a good batch of oatmeal raisin cookies, they're the perfect balance between a sweet treat and a nutritious one. The fiber from both the oatmeal and the raisins is something many of us lack in our diets. You can even choose to reduce the recommended amount of sugar in this recipe if you're someone who prefers a little less sweetness.
Additionally, this oatmeal raisin cookie recipe calls for shredded coconut that not only gives your cookie that added texture but a whole host of nutritional benefits that come from cooking with coconut. Our favorite part of this dish, however, has got to be the use of clove and cinnamon. They give your cookies a subtle Christmas-y taste!
Perfect Subway Copycat Oatmeal Raisin Cookies Recipe
Ingredients
2

cup

all purpose flour

½

cup

rolled oats

1

cup

white sugar

granulated

3/4

cup

brown sugar

packed

¾

cup

butter

unsalted

1/2

cup

raisins

1/3

cup

shredded coconut

1/4

cup

whole milk

2

eggs

1

tbsp.

ground cinnamon

1/2

tsp.

ground cloves

1

tbsp.

vanilla extract

½

tsp.

baking soda

1/2

tsp.

salt
Instructions
Heat the oven to 350 degrees Fahrenheit

In a large bowl, beat together the butter, milk, sugar, eggs and vanilla.

It is easiest to use an electric mixer for this; however, if you don't have one you may mix manually until the mixture is smooth.

In another bowl, sift together the flour, salt and baking soda.

Then mix in the salt, ground cinnamon and ground cloves.

Add the flour and spice mixture to the butter mixture and mix well.

Stir in the oats, raisins and shredded coconut.

Use a spoon to drop the cookies onto an ungreased cookie baking sheet.

Bake the cookies in batches for around ten to 12 minutes, until the outsides are golden brown.
Commonly Asked Questions
Why Are My Cookies Hard?
Cookies turning out hard can be the result of a variety of reasons. However, with this recipe if you find your cookies aren't turning out the way Subway makes them, try to ensure your dough isn't over-mixed. If you are using an electric mixer keep an eye on your dough to be sure you mix it just till ingredients are well combined. Over-mixing can stimulate too much gluten from your flour which often results in hard cookies. 
Can I Substitute The Butter?
Butter adds a wonderful richness to your cookies. Therefore, we do not recommend that you substitute the butter for a different fat. Additionally, using vegetable oil in place of butter can also result in hard cookies. Which are far from the chewy, soft cookies found in Subway.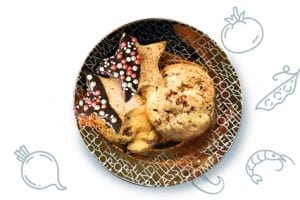 Conclusion
Now you will have a fresh batch of your favorite cookies whenever you feel like it. The satisfaction of tucking into one of these after a hearty sub can now be enjoyed at home after every meal. Be sure to bake some extras, we guarantee these won't be left sitting in the cookie jar for long.