If you're a fan of the big, chewy oatmeal raisin cookies they serve at Subway, then you're in luck. Our Perfect Subway Copycat Oatmeal Raisin Cookies Recipe will help you make the same cookies in your very own kitchen! Also, believe us. Making homemade oatmeal cookies is definitely better. After all, you get to try the first, fresh batch that comes right out of the oven. It's a luxury not a lot of people have experienced.
Subway's oatmeal raisin cookies are a crowd favorite. They're soft and chewy, with the oats and shredded coconut bringing a varied texture that suits the cookies well. There are also hints of spice in the taste, thanks to the use of cinnamon and clove. And the distinct, sweet taste of raisins really complements and adds to these flavors. This Subway copycat oatmeal raisin cookies are also the perfect balance between a sweet and nutritious treat. Both oatmeal and raisins are a good source of fiber, vitamins, minerals, as well as antioxidants.
Getting the cookies' soft and chewy texture may be challenging for first-timers. But don't fret! With our clear baking instructions, you'll be making batches and batches of these homemade cookies in no time. So if you want a delightful, sweet snack that's also healthy to eat, then try making these copycat Subway raisin cookies. Also, these cookies go really well with drinks like milk or hot chocolate. So go ahead and try our Almond Dream Milk Recipe or Crockpot Spiced Hot Chocolate Recipe! Your loved ones will certainly be delighted with your homemade treats.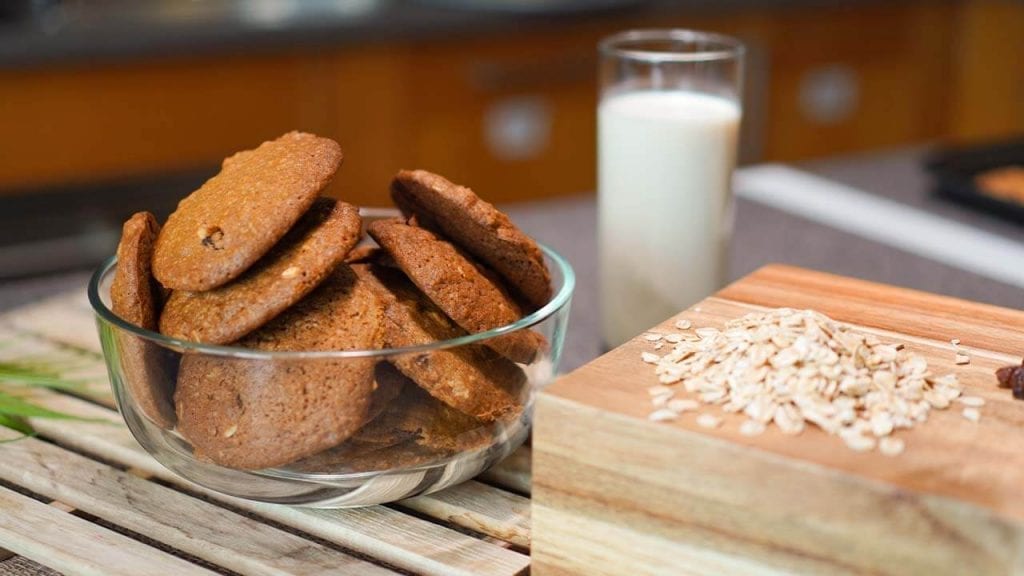 Perfect Subway Copycat Oatmeal Raisin Cookies Recipe
How To Make Perfect Subway Copycat Oatmeal Raisin Cookies
Enjoy our copycat version of the famous Subway oatmeal raisin cookies within the comfort of your own home.
Ingredients
2

cups

all-purpose flour

½

tsp

iodized salt

½

tsp

baking soda

1

tbsp

cinnamon,

ground

½

tsp

cloves,

ground

½

cup

raisins

½

cup

rolled oats

⅓

cup

coconut,

shredded

¾

cup

butter,

unsalted

1

cup

white sugar,

granulated

¾

cup

brown sugar

½

cup

whole milk

2

eggs,

whole

1

tbsp

vanilla extract
Instructions
Preheat oven to 350 degrees F.

In a bowl, sift together all-purpose flour, salt, and baking soda. Set aside.

Combine cinnamon and cloves. Mix well and set aside.

In a bowl, add raisins, rolled oats, and coconut. Mix well and set aside.

Using a mixer, mix the butter, white sugar, and brown sugar until combined.

While mixing, add the spice mixture, milk, eggs, and vanilla extract.

Remove wet mixture from mixer and gradually fold in flour mixture into the wet mixture.

Then, fold in the coconut mixture. Set aside.

Grease baking tray with non-stick cooking spray, then line with parchment paper. Grease the sheet with non-stick cooking spray.

Scoop cookie batter onto the sheet using an ice cream scoop.

Bake for 10 to 12 minutes until the cookies are golden brown.

Serve and enjoy these healthy cookies!
Nutrition
Sugar:

31g

:

Calcium:

44mg

Calories:

362kcal

Carbohydrates:

55g

Cholesterol:

28mg

Fat:

14g

Fiber:

2g

Iron:

2mg

Potassium:

145mg

Protein:

4g

Saturated Fat:

4g

Sodium:

305mg

Vitamin A:

564IU

Vitamin C:

1mg
Nutrition Disclaimer
Frequently Asked Questions
Why are my oatmeal cookies dry?
Making cookies can be challenging for first-timers who haven't tried baking before. There are many explanations for why your cookies ended up being dry or hard. One of the main culprits could be using too much flour. Make sure not to scoop the flour directly from the container using your measuring cup. Instead, use a spoon to add the flour from the container into your measuring cup. Also, be careful not to overmix the dough, since doing so develops the flour's gluten, leading to tough cookies.
Can I use quick oats instead of rolled oats for this recipe?
Yes, you can. When baking oatmeal cookies, recipes should remain largely unchanged when you use quick oats instead of rolled oats (and vice versa). However, do keep in mind that using quick oats instead of rolled oats will give your cookies a different texture.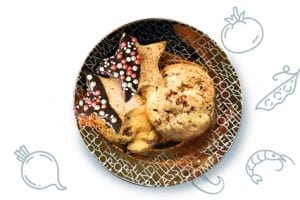 Conclusion
Thanks to our wonderful copycat recipe, you can have Subway's oatmeal raisin cookies anytime, anywhere! The satisfaction of devouring one of these healthy treats after a hearty sandwich meal can now be enjoyed at the comforts of your own home. So be sure to bake some extras! We're sure that these tasty treats won't be left sitting in the cookie jar for long.
Topics:
Comments
This recipe is a joke.

Comment is awaiting moderation.