It can be difficult to choose between a whole bunch of sub sandwiches. But if you're looking for a delicious classic, then you should try a club sub!
It's just like a club sandwich, but they're assembled on a big, warm sub or hoagie rolls. Our club sub recipe is incredibly easy to make. And best of all, it tastes just like Jersey Mike's Club Sub!
A sub sandwich like Jersey Mike's is hard to pass up. It's one of those mouth watering cold subs that you just can't seem to get enough of. For more cold cut subs like this, check out this belly-filling BMT Sandwich from Subway!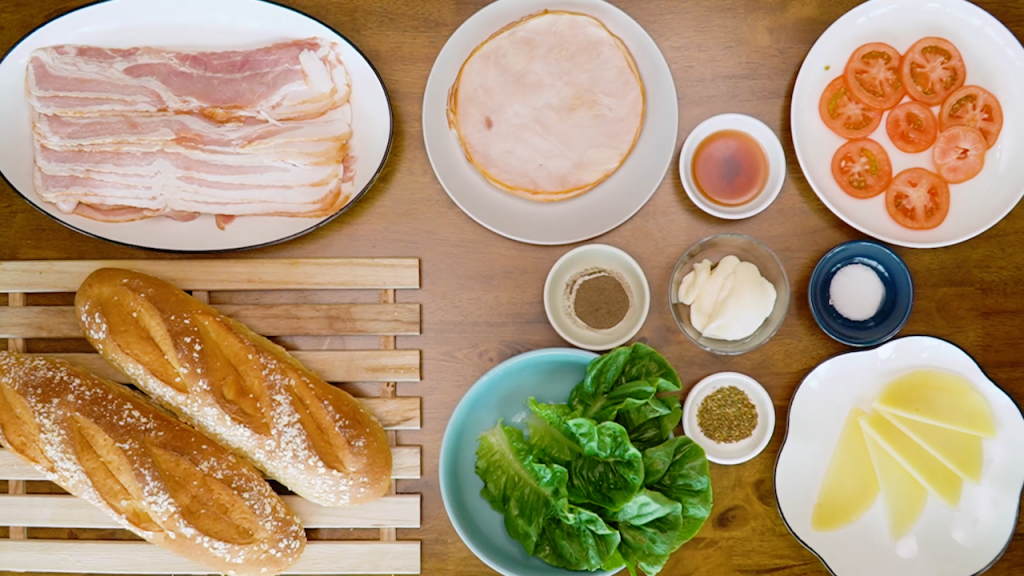 One Of Jersey Mike's Cold Subs
The Jersey Mike's Menu has a wide variety of flavorful, lip-smacking subs to choose from. Their #8 Club Sub is one of the classic favorites that customers love ordering. This club sub sandwich covers the classic ingredients of a club sandwich.
It contains turkey, applewood smoked bacon, raised without antibiotics turkey, provolone and mayo. Some of the recommended toppings on a classic Jersey Mike sub sandwich are lettuce, red wine vinegar, olive oil blend, and more. When you've got a turkey bacon sub like that, you'll never go hungry again! But what, pray tell, makes Jersey Mike's Subs any different from any other sub shop?
Well, for one, Jersey Mike's does not mess around when it comes to condiments. Their red wine vinegar and olive oil blend is one-of-a-kind. Jersey Mike's bread for their subs is also baked daily to get the freshest rolls for your sandwiches. With fresh and flavorful ingredients in their club sub like that, you're bound to get the best quality meal. So if you're curious to see how it's done, then keep on reading!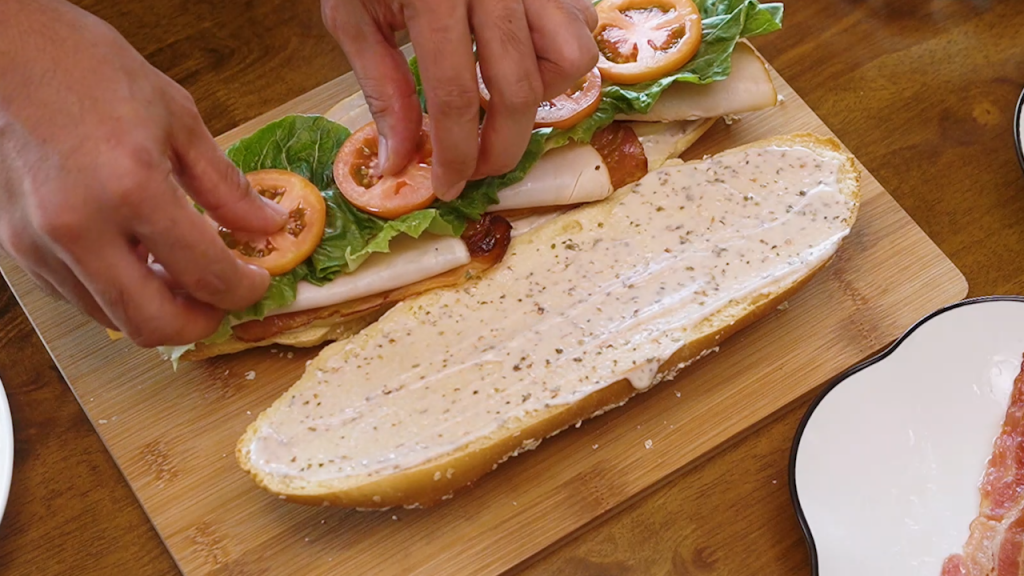 What Is On A Turkey Club Sub Sandwich?
Make a batch of delicious cold subs for your friends with our recipe! It contains several tasteful cold cuts for everyone's enjoyment. Our take on the club sub is a good in-between of Jersey Mike's and a classic club sandwich.
A club sandwich should contain poultry, like chicken or turkey, ham or fried bacon, lettuce, tomato, and mayo. Our turkey club sub, however, consists of turkey ham, bacon, lettuce, red wine vinegar, and a bunch of spices. But don't let these ingredients limit your imagination.
You can always customize your subs to your liking. A good example of doing so is switching your meats. There are several cold cut meat types that you can change into depending on your preference or diet.
You don't really like the taste of turkey? Switch it up with shredded, grilled chicken. Not a big fan of bacon? Throw in some peppery salami on there for a bit of kick instead. Don't be afraid to mix and match your cold meats for an amazing sub experience.
Don't skimp on the toppings, but don't overcrowd your sub rolls either! You can go for the classic bacon, turkey ham, lettuce, and mayo. Then try it out with some red wine vinegar, tomatoes, and provolone like our recipe. Or give other options a try, such as Jersey Mike approved toppings like dill pickles, cherry pepper relish, or banana peppers a shot. This is a very versatile sandwich, so add your favorite toppings to your heart's desire!
Pair our club sub up with some Sweet Potato Chips for the perfect meal. Make this ahead or assemble them as easily as we did for a quick, filling lunch! If you're looking for more cold sub sandwich recipes, give our Classic Black Forest Ham Sub a try. And for Subway Club Sub that's a little closer to this recipe, munch on our delicious Cold Cut Combo.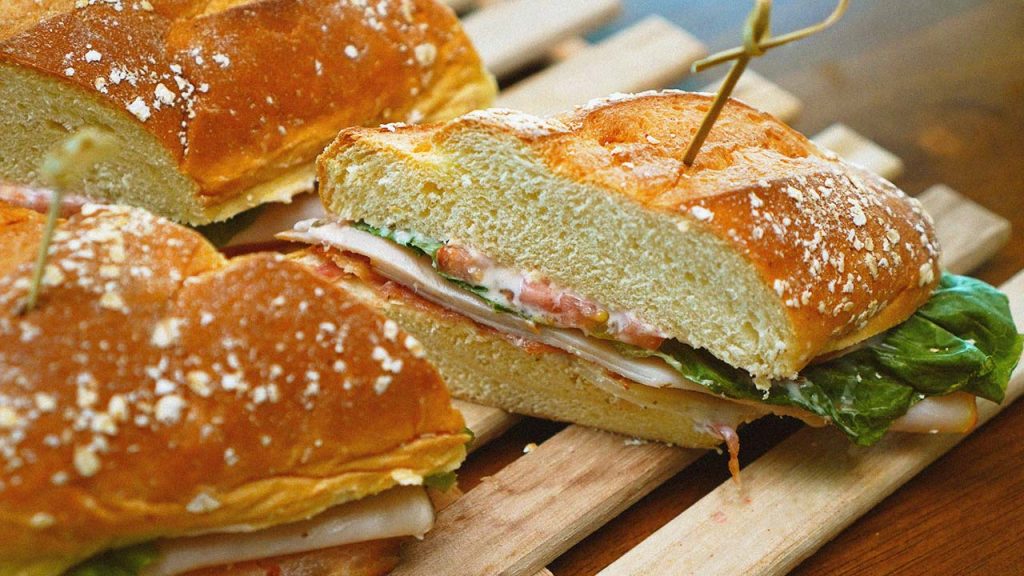 Copycat Version of Jersey Mike's Club Sub Recipe
How To Make Copycat Version of Jersey Mike's Club Sub
A perfectly seasoned club sandwich of meaty turkey ham, bacon, and fresh, crunchy vegetables is just what you need for lunch! Try it with a side of chips and your favorite cold drink for a more filling meal.
Ingredients
2

Hoagie Rolls,

or any similar length of breads, 12 inches each

10

rashers

bacon,

roughly 10 oz total

5

slices

turkey ham,

or your favorite sandwich ham slices, preferably halved thick slices

3

leaves

romaine lettuce,

1 (8 oz) romaine lettuce head, sliced

8

slices

local tomatoes,

2 (4 oz) tomatoes, thickly sliced

5

slices

provolone cheese,

can use fontina, or scamorza cheeses, thinly sliced
For Vinaigrette:
2

tbsp

red wine vinegar

1

tsp

dried oregano,

to taste

5

tbsp

mayonnaise

Salt & ground black pepper ,

to taste
Instructions
Arrange the slices of bacon on a roasting tray, then roast them at 360 degrees F until crispy. You can also fry your bacon using a dry skillet until crispy.

Save at least 1 tbsp of the bacon oil then discard any excess.

Slice the hoagie rolls lengthwise.
Vinaigrette:
Prepare a simple vinaigrette by combining the excess bacon oil, red wine vinegar, dried oregano, and mayonnaise. Whisk until emulsified.

Season the vinaigrette with salt and ground pepper to taste. Adjust accordingly.
To Arrange The Club Sub:
Start layering your sandwich by spreading about 2 tablespoons of the vinaigrette on each side of the hoagie roll.

Next, layer with provolone slices, bacon, ham, lettuce, and tomatoes.

Cover the layers with the other half of the bread, then cut into three to four pieces, depending on bread length.

Serve or present using cocktail picks to hold the portioned sandwiches in place, and enjoy!
Recipe Notes
Toast your bread up in the oven or a toaster for at least 5 minutes to get a crunchier bite to your sub!

To make the perfect club sub, place equal amounts of each ingredient on your rolls! A good portion would be using 3 pieces of the following: provolone slices, bacon strips, turkey ham, romaine lettuce leaves. Finally, top it off with four slices of fresh tomatoes.
Nutrition
Sugar:

3g

:

Calcium:

133mg

Calories:

264kcal

Carbohydrates:

13g

Cholesterol:

33mg

Fat:

18g

Fiber:

1g

Iron:

4mg

Potassium:

208mg

Protein:

12g

Saturated Fat:

6g

Sodium:

640mg

Vitamin A:

1659IU

Vitamin C:

5mg
Nutrition Disclaimer
Commonly Asked Questions
How do I make this club sub vegan-friendly?
Switch your bacon for tempeh, shiitake mushrooms, or seitan. Or you can even try making your own tasty Vegan Bacon at home! To replace your turkey ham, go for a healthy serving of tofu and any vegan ham products like Verisoy that you may find in the grocery. Lastly, to replace the mayo, feel free to change it up to some hummus, creamy guacamole, or tahini.
Can I freeze my sub sandwich?
You certainly can! To do this, we recommend a few tips to still get you the best club sub dish. Assemble your sandwich by placing a thin layer of any sort of fat like some leftover bacon oil. It will be the protective layer on your sandwich to keep it from being soggy. For the condiments, place them between the meats and the cheese. When reheated, the cheese will trap those delicious condiments in between to make it even flavorful. Once you follow this arrangement, store them in the freezer wrapped in foil or stored in a gallon zip-top bag. These will keep for up to 3 months.
How do I reheat my frozen sub sandwich?
Heat your oven to 350 degrees F. Take your subs off their foil or zip-top bag, then arrange them on a parchment-lined baking sheet. Bake the subs for 15 to 20 minutes or until the cheese is melted and the meat is heated through.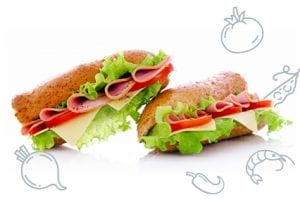 Conclusion
You no longer have to wait in line to have a filling and delicious sub sandwich. This recipe guarantees a scrumptious lunch inspired by Jersey Mike's Club Sub Sandwich. Serve these up at a quick lunch gathering, and impress your co-workers with your sub-making skills. Try these subs with a side of chips and a delicious cold drink to get a satisfying meal.