Jersey Mike is famous for its sub sandwiches and people travel miles to the restaurant to have a bite of their favorite subs. What if we tell you that you can now have a Jersey Mike-inspired sub sandwich without actually going out to Jersey Mike?
Read on and discover how to recreate this delicious club sub sandwich inspired by Jersey Mike. All you need to do is whip out your favorite ingredients and follow this recipe.
This copycat Jersey Mike club sub sandwich is perfect for picnics and snacks. It's easy-to-make and definitely filling.
I guarantee this will be your favorite sandwich after your first bite! Everything's better with bacon.
Copycat Version of Jersey Mike's Club Sub Recipe
Ingredients
1

long of bread

10

pieces

of bacon

5

pieces

of turkey

1

leaf of romaine lettuce

8

tomato slices

2

tbsp.

of mayonnaise

5

slices

of thinly sliced provolone

1

tsp.

red wine vinegar

Oregano

to taste

1

tbsp

Olive oil

to taste

1

tsp

Salt

1

tsp

Pepper
Instructions
Start out by frying your bacon until its crispy.

Place on plate with paper towel to get rid of remaining grease.

Slice the bread lengthwise.

Slice your lettuce and tomatoes.

Start layering your sandwich with provolone slices, bacon, turkey, lettuce, and tomatoes.

Spread mayonnaise on top half.

Dust red wine vinegar, olive oil, oregano, salt, and pepper on the top half. Cut into four pieces.
Commonly Asked Questions
What's the Difference Between a Hoagie and a Sub?
Since hoagies are reminiscent of the Italian-American immigration, the usual filling of the sandwich is also reminiscent of Italian flavors: cold cuts and herbs. Hoagies are also known to measure up to 12 inches only. On the other hand, submarine sandwiches are kind of vague, by definition. But all sandwiches that are encompassed in a long bread.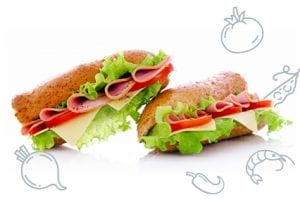 Conclusion
You no longer have to wait in line to have a filling and delicious sub sandwich. This recipe guarantees a scrumptious lunch inspired by Jersey Mike's Club Sub Sandwich.