A great savory snack pairing for the all-time favorite pizza is cheesy breadsticks. Toppers Pizza's Original Topperstix tops the list of the best cheese breadsticks that come in different flavors. With its classic cheesy, butter, and garlicky flavor, we certainly understand why.
Have a full-on Toppers meal by serving these breadsticks with tater tot pizza, similar to their famous Loaded Tot-zza. This cheesy combination will surely satisfy your late-night cravings!
What's in Our Cheesy Breadsticks?
If you're wondering what else to make with pizza dough, then this recipe is perfect for you. You can easily find pre-made pizza dough in supermarkets and it will save you time and energy from making the dough from scratch. But if you've got the time, you can make a no-knead pizza dough to make these cheesy breadsticks.
Toppers Pizza's Original Topperstix has simple toppings, including their pizza sauce, garlic, and different kinds of cheeses. Since cheese is at the heart of this mouthwatering appetizer, we went all out by using three types of cheese for the toppings – mozzarella, cheddar, and Monterey Jack. Of course, you can always customize it by adding your own favorite cheeses. Find out what other types you can try by checking out our CAQ section down below!

Tip:
Freshly grated cheeses work best with this recipe because they easily blend together.
Lastly, feel free to experiment and have fun with the toppings of your homemade breadsticks. Throw in some pepperoni to make cheesy pepperoni pizza sticks or some fresh basil for a Margherita flavor.
What to Pair With Cheesy Breadsticks
Breadsticks are an amazing appetizer to serve especially with soup, pasta, salads, and pizza. For delicious pairing suggestions, we recommend making this taco spaghetti recipe or this chicken salad recipe inspired by Cracker Barrel's.
Although cheesy breadsticks are already addictive on their own, they're even more delicious when dipped in savory or creamy sauces. Try dipping it in velvety marinara sauce or cheesy bacon ranch dip with real bacon bits for mouthwatering combinations.
How to Make Cheesy Breadsticks (Toppers Pizza Copycat)
Oozing with cheesy, buttery, and garlicky flavors, this recipe allows you to make your favorite cheesy breadsticks by Toppers Pizza at home.  It uses only a few ingredients and will be ready in less than an hour.
Advertisement
Continue Reading Below
Ingredients
1

pizza crust,

pre-made

1

garlic,

minced

4

tbsp

butter,

softened

½

cup

pizza sauce

2

cups

mozzarella cheese,

grated

1

cup

Monterey jack cheese,

grated

1

cup

cheddar cheese,

grated
Instructions
Preheat oven to 475 degrees F.

Spread pizza crust onto baking sheet pan, forming a large rectangle.

Add garlic and butter to a bowl.

Spread over the pizza dough.

Pour pizza sauce on top of garlic butter mixture.

Top with cheeses.

Bake for 15 minutes until crust is golden and the cheese is melted and bubbly.

Cut pizza into sticks and serve warm with dipping sauce.
Advertisement
Continue Reading Below
Advertisement
Continue Reading Below
Commonly Asked Questions
What kind of cheeses should I use to make cheesy breadsticks?
This cheese pizza recipe uses three types of cheese, mozzarella, cheddar, and Monterey Jack, with flavors that work wonderfully. But feel free to go with your preferred cheeses for the toppings. For some suggestions, parmesan goes well on pizza, while string cheese can be an alternative to mozzarella.
Are breadsticks a healthy snack?
Breadsticks are the perfect finger food with fewer calories compared to other snacks, though it does also depend on the kinds of toppings you choose. Another great thing is that they don't easily go stale and you can enjoy them with different flavored dips. It's a great side, appetizer, and a healthy snack in between meals especially when you're working at home.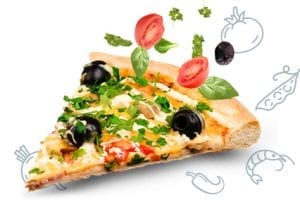 Conclusion
The Original Topperstix or Toppers' cheesy breadsticks are delicious and perfect for sharing with friends and family. They are also super easy to recreate at home with ingredients you probably already have. Impress your kids or guests at your next pizza party with these cheesy pizza sticks.
Advertisement
Continue Reading Below
Topics:
Advertisement
Continue Reading Below
Advertisement
Continue Reading Below