We all know that Domino's is not only proud of their pizza menu, but they also top other chains when it comes to their stuffed cheesy bread. It literally screams cheesy goodness. You'll be stretching on that gooey melted stuffing for as long as you want. If you're looking for that non-stop cheese pulling, this copycat recipe is a must-try for you.
Enjoy a cheesy and creamy plate of Domino's Pasta Primavera with their cheesy garlic bread by recreating this easy and delicious recipe!
Making Cheesy Bread Just Like Domino's
Aside from being cheesy, we also want this bread to taste garlicky and fresh while remaining airy and flaky in texture.
The key to Domino's smooth texture cheese bread dough can be replicated by taking the time to stretch and shape it. . The dough is then cut and put into pans lined with parchment. Then filled with a heaping amount of cheese before sealing off the dough. They cut into 2-inch thick rectangle sizes as breadsticks. Covered it again with another set of cheese before baking it into the oven. After baking, it is then generously drizzled with garlic sauce.
Domino's stuffed cheesy bread is always served hot in a box with marinara sauce on the side. Some customers also love mayo or ketchup for an extra dip.
What's In Our Homemade Garlic Bread?
This homemade garlic bread recipe is so simple and surely easy to make. You'll be served with this freshly baked bread in just an hour while only using these main ingredients.
French bread dough – We suggest refrigerating the dough overnight before using it in the morning for baking. This recipe also went for softer crumbs and a flaky exterior so we opt for French bread. 

Cheese – This recipe combines cheddar and mozzarella. But you can definitely use another cheese of your choice to make it cheesier and loaded. 

Garlic powder – Fresh garlic cloves won't actually help in rising your dough because it would be killing the yeast. So, aside from the flavors, it gives to the recipe, garlic powder is also good for your bread to rise. 

Butter – Butter is not only sweet, but it also makes the bread look fresh and bright with its color. 
Addicting Domino's Cheesy Bread Copycat Recipe Video
How To Make Addicting Domino's Cheesy Bread Copycat
Toss this aromatic, flaky and cheesy garlic bread the Domino's way. It's so easy to make, much easier to snack on, or even pair to your lunch and dinner meals.
Ingredients
11

oz

French bread dough,

refrigerated

¼

cup

melted butter

1

tbsp

cornmeal

1

cup

mozzarella cheese,

shredded

1

cup

cheddar cheese,

shredded

¼

tbsp

cheddar cheese,

shredded

½

tsp

garlic powder
Instructions
Preheat the oven to 350 degrees F.

Line a baking sheet with parchment paper.

Shape dough into a large rectangle on the lined baking sheet.

Brush the top of the loaf with three tablespoons of butter and sprinkle the cornmeal.

Turn dough over and distribute mozzarella cheese and 1½ cups of cheddar cheese (this will be the top of the loaf).

Fold the dough lengthwise and seal the edges tightly.

Brush 1 tablespoon of the butter over the top and sprinkle with cheddar cheese and garlic powder.

Make even slices across the top of the dough (not completely through) to create even pieces after baking.

Bake for about 25 minutes or until bread is golden and cheese is melted.

Wait for 5 minutes to cool before enjoying.
Recipe Notes
You may need another parchment paper on top to turn over the dough.

Folding the dough lengthwise and sealing the edges helps

prevent any cheese from oozing out.
Nutrition
Calcium:

474mg

Calories:

419kcal

Carbohydrates:

4g

Cholesterol:

111mg

Fat:

37g

Fiber:

1g

Iron:

1mg

Potassium:

88mg

Protein:

19g

Saturated Fat:

23g

Sodium:

611mg

Sugar:

1g

Trans Fat:

1g

Vitamin A:

1115IU

Vitamin C:

1mg
Nutrition Disclaimer
Commonly Asked Questions
How to store cheesy bread?
You can store your cheesy bread in the freezer wrapped in aluminum foil for 3 months. If you're ready to eat it, simply thaw it overnight in the fridge and reheat afterward.

How to reheat cheesy bread?
Warm your cheesy bread in the oven for 10 minutes at 425 degrees F. You can also brush some butter before reheating for extra moisture.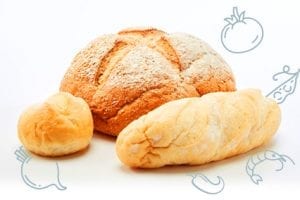 Conclusion
If you haven't tried Domino's famous cheesy bread, you should definitely give this copycat recipe a try. No need for take outs or dial-in delivery, you can easily bake this cheesy and garlicky bread in just minutes. Nothing else is better to pair your pasta and rice dishes with than this bread. Have a marinara or mayo sauce on the side for extra flavoring.
Related Breads & Doughs Recipes