Teriyaki Tofu Triangles is a vegan dish that even meat-lovers will surely enjoy. It's sweet, it's salty, and is a great mid-afternoon snack. Often served with rice or noodles, it also tastes fantastic on a bed of stir-fried vegetables. 
It's definitely a great dish to start with if you're experimenting with either Asian or vegan meals. In this recipe we will show you how to utilize some commonly used ingredients of Asian cuisine. Once you're familiar with these ingredients, you will be able to incorporate them in other dishes as well.
Additionally, attempting a vegan meal once in a while can be good for you and the family. You might even be surprised by how much you enjoy it! This is an easy way to get some extra protein into your kids' diets. Try this at home and see how simple and easy they are to make, that even the young ones can lend a hand.
Pair it with this delicious Pan Fried Noodles Recipe for a more filling meal.
What Are The Different Kinds Of Tofu
Tofu is a common ingredient in Asian cuisines. It is made with soybean curd and contains nigari. Nigari is the liquid that you often find tofu with which is basically leftover water when salt is extracted from sea water. It is rich in minerals and is essential in making tofu to maintain its shape and texture.
What is great about tofu is that it is low in calories and it does not contain cholesterol. It is also gluten free and contains vitamins and amino acids our body needs. In addition, eating tofu aids in maintaining a healthy heart and kidney function and reduces the risk of diabetes and osteoporosis. It is rich in protein, iron and calcium making it extremely nutritious. 
There are many varieties of tofu such as silken, soft, regular, firm, extra firm and super firm but we recommend that you use firm tofu for this recipe for its absorbent quality. Let's look how all of these differ.
Silken

– Has the highest water content making it the softest and almost custard like. It easily breaks apart and is creamy in texture.

Soft

– Almost the same as silken tofu but is less smooth.

Firm

– Great for sauces, stews and broths since it easily absorbs flavor. It also crumbles well making it a good substitute for ricotta cheese.

Extra firm

– Unlike the regular tofu, this one does not crumble and holds when sliced. However, since it has a lower water content, it's more dense making it harder for marinades to be absorbed.

Super firm

– Is the most dense of all making its texture almost similar to meat. It will not fall apart but might dry out quickly when cooked on high heat.
After trying this teriyaki tofu triangles, check out this Tofu Walnut Burgers with Irish Stout Recipe.
How To Press Tofu?
In our recipe, pressing the tofu is needed. This is to ensure that the marinade gets soaked up by the tofu since excess water will make it harder for the marinade to get absorbed. In addition, pressing will make it more compact and avoid a mushy mess when cooked. 
To press tofu, all you need are paper towels and a heavy object to put on top.
Place the tofu on top of stacked paper towels and cover the top with more paper towels.

Place the heavy object on top and let the water squeeze out from the tofu and get absorbed by the paper towels for at least 30 minutes. 

Pat excess dripping once you're done.
Take note that not all kinds of tofu are pressed. Follow the instructions in the recipe that you have to avoid ruining your dish. It is also good to take note that the less water content, the more dense it is making it higher in protein and fat. On the other hand, the higher the water content, the longer time for it to cook. 
Vegan Teriyaki Tofu Triangles
Vegan Teriyaki Tofu Triangles are an ideal dish to make for your kids. Especially when it's such a struggle to make them eat vegetables and highly nutritious dishes. With this easy vegan teriyaki tofu recipe, not only will you be serving the kids with an appetizing dish that has sweet and salty flavors that they will surely enjoy, they will unknowingly devour a scrumptious yet  highly nutritious snack, too!
Since tofu is naturally bland in taste, it is marinated in a teriyaki mixture made from soy sauce, maple syrup, sesame oil and other spices for a flavorful bite. If you use super firm tofu, the kids might even mistake it for an actual slice of meat. This is also suitable for individuals who want to take a break or avoid eating animal based products but still would like to indulge in savory flavors brought by meat dishes.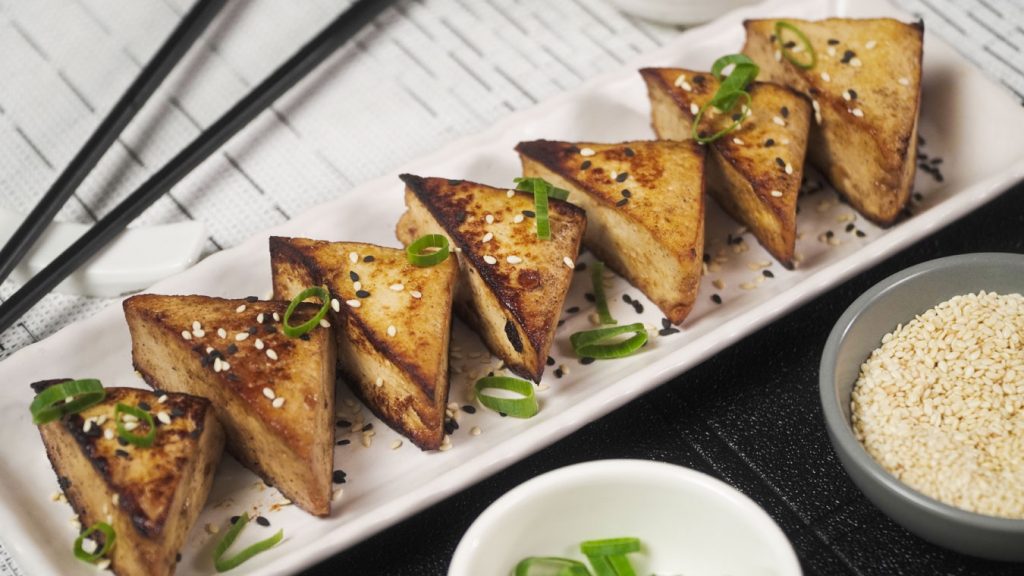 Vegan Teriyaki Tofu Triangles Recipe
How to Make Teriyaki Tofu Triangles
Teriyaki Tofu Triangles is a vegan dish that can satisfy meat-lovers' taste buds. It's sweet, it's salty, and they are great as a mid-afternoon snack. Often served with rice or noodles, they can be enjoyed with stir-fried vegetables, too.
Ingredients
20

oz

tofu,

firm, pressed

2

tbsp

soy sauce,

reduced-sodium

1

tbsp

olive oil

1

tsp

sesame oil

1

tbsp

honey,

can be agave syrup or maple syrup

1

tsp

rice vinegar

½

tsp

ginger,

ground

½

tsp

hoisin sauce

salt and ground black pepper,

to taste
Optional Garnish
¼

tsp

mixed sesame seeds,

toasted

¼

tsp

green onions,

thinly sliced
Instructions
Combine sesame oil, honey, rice vinegar, ground ginger, soy sauce, and hoisin sauce. Mix until evenly incorporated.

Season to taste with salt and pepper. Set aside.

Cut the tofu into half-thick pieces. Cut both pieces in half again, so they are ¼ -inch thick, forming the shape of squares. Slice each piece diagonally to form 2 triangles.

Transfer to a shallow pan and coat with sauce. Marinate for 10 to 15 minutes.

In a wide skillet with olive oil over medium-high heat, sear the marinated tofu, turning the side frequently until they are nicely brown.

Garnish the tofu with minced onions and sesame seeds. You can also serve the remaining sauce as well.
Nutrition
Sugar:

3g

:

Calcium:

120mg

Calories:

121kcal

Carbohydrates:

6g

Cholesterol:

1mg

Fat:

7g

Fiber:

1g

Iron:

1mg

Monounsaturated Fat:

3g

Polyunsaturated Fat:

3g

Potassium:

16mg

Protein:

9g

Saturated Fat:

1g

Sodium:

345mg

Vitamin A:

1IU

Vitamin C:

1mg
Nutrition Disclaimer
Frequently Asked Questions
Transfer on a serving platter, and top with some optional scallions.
Besides frying in a skillet, you can opt for an airfryer for less oil. You can also serve tofu baked, grilled, sauted or scrambled. In fact, you can even serve it uncooked just drain the liquid and it's ready to be eaten. It's completely safe as long as you bought it from a reputable store and was stored properly. Raw tofu tastes bland and the texture depends on the kind you have.

How long can I store my tofu?
Once opened, you can store your uncooked tofu in the freezer for 3 months. We suggest slicing it first so you can just grab how much you would need instead of working with a huge frozen block. However, as much as possible, we don't recommend freezing your tofu in a very long period of time as this will change the texture and taste of the tofu negatively. What you can do is to store tofu in the refrigerator instead. It doesn't matter if it is sliced or not since it will not become hard unlike when placed in the freezer. It can only last for 3 to 5 days but the quality will stay the same. Just remember that when storing tofu, it is important that it is properly sealed in a container. This prevents bacteria build-up and spoilage.
Should I freeze my tofu before using it?
Yes! Defrosted tofu is more absorbent. The water inside will freeze and cause holes in the tofu that once defrosted will act like a sponge and soak up all the marinade. Although it's not really necessary, there's nothing wrong with trying it out. Freeze your tofu overnight and defrost it the next day.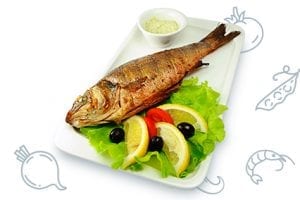 Conclusion
Trying out vegan dishes should not mean eating boring and bland food. You can always experiment with your ingredients just like with these delicious vegan teriyaki tofu triangles. Savor the familiar sweet and salty flavors of teriyaki minus the meat. Try it today!