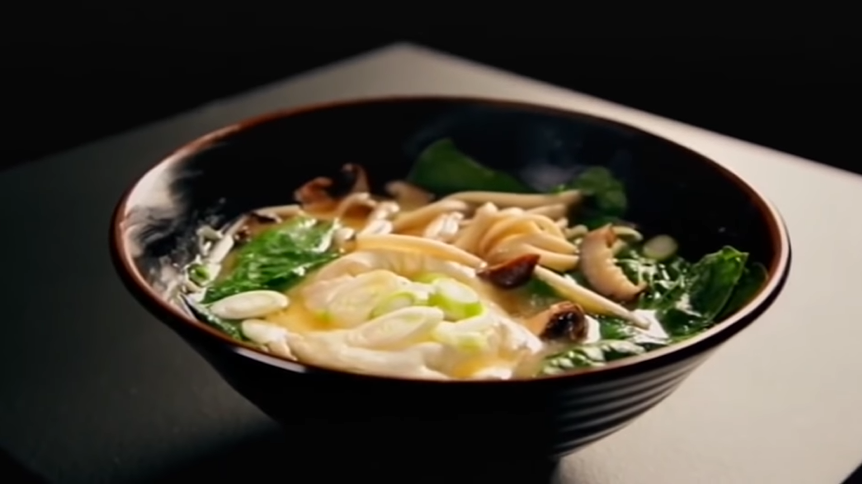 Soba Noodle Bowls with Spinach and Poached Eggs Recipe
How To Make Soba Noodle Bowls with Spinach and Poached Eggs
Apart from the soba or buckwheat noodles in these noodle bowls, there's also a handful of spinach, some scallions, and perfectly poached eggs.
Ingredients
2

tbsp

white vinegar

6

cups

chicken stock,

or vegetable stock

1

tbsp

fresh ginger,

finely chopped

3

cloves garlic,

finely chopped

1

tsp

sesame oil,

toasted, plus more for garnish

salt,

to taste

4

large

eggs

8

oz

soba noodles,

(buckwheat noodles)

2

cups

fresh baby spinach leaves,

(3 oz), packed

6

scallions,

thinly sliced, for garnish

4

tsp

sesame seeds,

for garnish
Instructions
Fill a wide a wide saucepan with 2 inches of generously salted water and bring to a boil. Add the vinegar, and adjust the heat to a gentle simmer.

Meanwhile, in a large saucepan over medium heat, bring the stock to a boil. Add the ginger, garlic, sesame oil and salt to taste.

Adjust the heat to a gentle simmer, cover, and let it cook while you poach the eggs. This gives the flavors time to mingle.

Line a tray or plate with a paper towel. Adjust the heat under the poaching water so that it's at a very gentle simmer. Crack 1 egg into a small bowl or measuring cup. Hold the rim of the bowl or cup as close to the surface of the water as possible, and gently tip the egg into the water. Rapidly repeat with the remaining eggs.

Set a timer for 2 minutes to time the poaching. Stir the pot gently by dragging a wooden spoon around the edge of the pot, stirring the water just enough to cause the eggs to release from the bottom of the pot. They should bob a little in the water.

After 2 minutes, lift 1 egg from the water with a slotted spoon and test for doneness by pressing on the egg. The white should feel firm and the yolk should still be soft. Return to the water if necessary to complete the cooking.

With a slotted spoon, transfer the eggs to the paper towel lined plate. Place a lid on the pot to keep the water warm. (At this point, the eggs can be refrigerated, submerged in a container of water, for up to 5 days.)

Bring the seasoned stock back to a boil and add the noodles.  Cook for 6 to 8 minutes, until the noodles are tender (or according to package directions.)

Stir in the spinach. Stir gently until the spinach has wilted.

Divide the noodles, broth, and spinach between 4 bowls.

Top each bowl of noodles with a poached egg. Garnish with chopped scallions and sesame seeds, and drizzle with a little sesame oil.
Nutrition
Calories: 

432.99kcal

Fat: 

12.18g

Saturated Fat: 

3.18g

Trans Fat: 

0.02g

Monounsaturated Fat: 

5.05g

Polyunsaturated Fat: 

3.00g

Carbohydrates: 

58.93g

Fiber: 

1.13g

Sugar: 

6.48g

Protein: 

24.76g

Cholesterol: 

196.80mg

Sodium: 

1184.89mg

Calcium: 

113.89mg

Potassium: 

709.35mg

Iron: 

4.12mg

Vitamin A: 

118.30µg

Vitamin C: 

7.13mg