Say goodbye to take out with this copycat Noodles & Co. Japanese Noodles recipe. Firstly, it's so simple to make, it's perfect as a weeknight meal for the family. In fact, it's packed with plump shrimp and vibrant crisp vegetables, married with sweet and salty flavors. What else could you ask for? Moreover, it only takes 30 minutes to make and is sure to be your go-to recipe for weekday meals.
One of the reasons this dish is so wonderful is that it is a well-balanced meal. With a good portion of carbohydrates, protein, and vegetables. Additionally, there are a variety of fresh ingredients that can be used in this recipe. For instance, think broccoli, carrots, and red bell peppers. Bright, fresh, and colorful, this dish looks just the way it tastes. Meanwhile, if you are watching your waistline then go ahead and try out our 3-Ingredient Zucchini Noodles recipe just ideal if you're trying to cut down on carbs!
Copycat recipes are amazing! For instance, they allow you to take your all-time favorites and make them healthier. Also, making them at home allow you to customize these familiar flavors however you wish. Likewise, go ahead and add diced chilies for a little bit of kick to your noodles. Similarly, go ahead and substitute chicken or beef instead of shrimp. The possibilities are practically endless with this Copycat Noodles & Co. Japanese Pan Noodles recipe.
Copycat Noodles & Co. Japanese Pan Noodles Recipe
Ingredients
1

cup

broccoli florets

1

tbsp

sesame oil

1

cup

carrots

thinly sliced

1

lb

soba noodles

¼

cup

mirin

1

cup

red bell pepper

thinly sliced

1

tbsp

ginger

peeled and chopped

1

cup

sweet soy sauce

½

cup

scallions

sliced on the bias

2

tbsp

canola oil

½

cup

fresh shiitake mushrooms

de-stemmed

16

shrimps

peeled and deveined
Instructions
In a large stockpot, bring water to a simmer. Add soba noodles and allow to cook till al dente.

Drain the noodles in a colander and place in iced water to stop overcooking. After draining, add noodles to a mixing bowl.

Pour in sesame oil. Using a tong, toss noodles to coat thoroughly and set aside while you prepare the rest of the dish.

Boil water in a stockpot and season with salt. Blanch broccoli florets and sliced carrot for about a minute.

Drain in a colander and allow to cool in an ice bath. Set aside for later.

In a heated skillet, drizzle canola oil. Add shiitake mushrooms and saute. The mushrooms should start to shrink down and caramelize around the edges.

Add the shrimp to your mushrooms and cook until shrimp turn a bright salmon color.

Add the blanched vegetables and saute for 1 to 2 minutes.

Throw in the red bell peppers. Add sliced scallions to the skillet along with the finely chopped ginger.

Pour in mirin sauce and sweet soy sauce. Saute the ingredients for 1 to 2 minutes.

Add the noodles to the skillet and stir to coat noodles with vegetables and sauce.

Serve noodles in a bowl. Garnish with some thinly sliced scallions and a sprinkle of sesame seeds. Dig in and enjoy!
Commonly Asked Questions
What can I substitute mirin with?
Mirin is a slightly sweet Japanese rice wine used for cooking. You can use alcoholic substitutes like dry sherry or sweet Masala wine. If you prefer non-alcoholic substitutes, try balsamic vinegar or distilled white vinegar. However, depending on the substitutes you choose, you may need to add some sugar to balance out the flavor to achieve a taste closer to that of mirin. If you choose dry sherry or white vinegar, for every tablespoon used of either, add half a tablespoon of sugar. If you are using sweet Masala wine or balsamic vinegar instead, as they are both inherently sweet, you don't have to add any sugar. 
What can I substitute sesame oil with?
Sesame oil is a fragrant and healthy oil popular in Asian cuisines. If you can't get your hands on sesame oil, you can always opt for peanut oil or walnut oil for the same nutty flavors.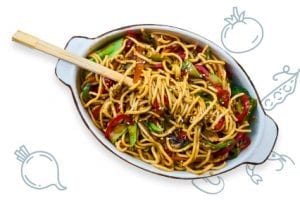 Conclusion
It can be difficult to find takeout meals that give you a well-balanced meal with a good portion of carbohydrates, protein, and vegetables. Takeout meals too often aren't good for the body. This is due to the fact that most restaurants use additives. Making your favorites at home allow you to enjoy the same great flavors healthily! Go ahead and try out this copycat Noodles and Co. Japanese Pan Noodles at home today. You'll definitely want seconds!