Say goodbye to take out with our copycat Noodles & Co. Japanese Noodles recipe. It's so simple to make, which works brilliantly for a weeknight meal with the family. These pan noodles are the freshest you could possibly ask for. They come with a bright selection of vegetables and plump shrimp. Even more, this dish comes with a sauce with the perfect combo of sweet and salty. What else could you ask for? It takes only 30 minutes to recreate, making it the perfect go-to for weekday meals. Above all, the secret to our perfect Japanese pan noodles is the soba noodles.
What are Soba noodles?
Soba noodles are Japanese versions of buckwheat noodles. They are sometimes even combinations of buckwheat and wheat flours. These are constantly used in a lot of Japanese recipes, either in the form of cold soba or cooked hot yakisoba noodles. They are also gluten-free, which are safe to munch on by our diabetic friends. But what makes them the perfect noodles for this recipe? Soba noodles are pretty thin and cook rather quickly. Moreover, with its thinness, it can absorb the flavor of those scrumptious vegetables and tasty sauce that we're mixing with it! That's a win for us. For another tasty yakisoba recipe, try our Soy Citrus Scallops with Soba Noodles dish!
What's in our Copycat Noodles and Company Japanese Pan Noodles?
Apart from having such a tasty base, our Japanese pan noodles come as a filling dish. In addition, it has a good portion of carbohydrates, protein, and vegetables. But don't let our list of vegetables stop you from thinking outside the box. You can certainly shake things up by adding your own selection of fresh ingredients. Similarly, you can try adding bell peppers, bean sprouts, and cabbage to make them just as colorful. Meanwhile, you can leave off the shrimp for some tasty tempeh or tofu for a vegan-friendly meal. The sky's the limit with these pan noodles.
You never have to line up or wait for take-out delivery ever again with this Japanese noodles recipe! It's a meld of buckwheat soba noodles, vegetables, shrimp, and a flavorful sauce. So what more can you ask for? Meanwhile, if you're after a fuller dinner, you can pair this dish with our Copycat Cheesecake Factory Chicken Pot Stickers. For another noodle recipe, you can try out our healthy low-carb 3-Ingredient Zucchini Noodles. Give these pan noodles a try for dinner with friends and family tonight!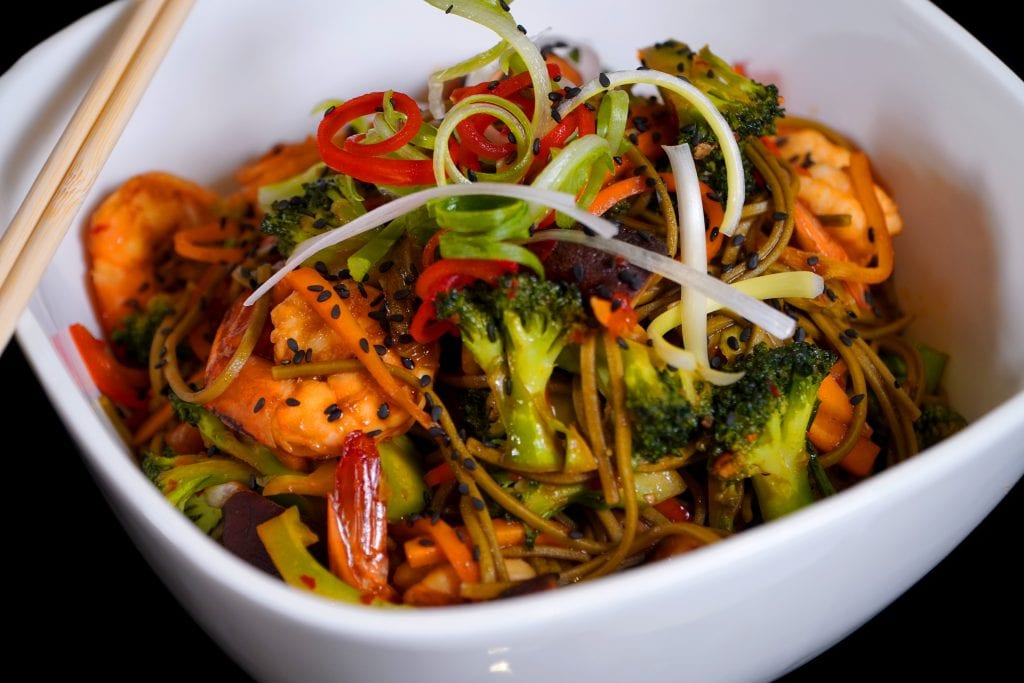 Copycat Noodles & Co. Japanese Pan Noodles Recipe
How To Make Copycat Noodles & Co. Japanese Pan Noodles
These thin soba noodles are caramelized in a sweet-salty sauce. They're tossed with vibrant flavors of broccoli, carrot strips, shiitake mushrooms, and shrimp.
Ingredients
For Soba Noodles:
1

lb

soba noodles,

preferably cha soba or green tea

1

tbsp

sesame oil
For Mushroom, Shrimp and Vegetable Mix:
1

cup

broccoli florets

1

cup

carrots,

thinly sliced

¼

cup

mirin

1

cup

red bell pepper,

thinly sliced

1

tbsp

ginger,

peeled and chopped

2

tbsp

chili garlic sauce

1

cup

sweet soy sauce

½

cup

scallions,

sliced on the bias

2

tbsp

canola oil

½

cup

fresh shiitake mushrooms,

de-stemmed

16

pieces

shrimps,

peeled and deveined

1

tsp

black sesame seeds,

for garnish
Instructions
Soba Noodles:
In a large stockpot, bring water to a simmer. Add the soba noodles and allow them to cook until al dente.

Drain the noodles in a colander and cool in ice cold water to stop the cooking process. Drain off the ice water then add the noodles to a mixing bowl.

After letting the noodles rest, toss the sesame oil onto the noodles. Using a tong, toss the noodles to coat them thoroughly and set aside while you prepare the rest of the dish.
Mushroom, Shrimp and Vegetable Mix:
Boil water in a stockpot and season it with salt. Blanch broccoli florets and sliced carrots for about a minute.

Drain in a colander and allow to cool in an ice bath. Set aside for later.

In a heated skillet, drizzle canola oil. Add shiitake mushrooms and saute. The mushrooms should start to shrink down and caramelize around the edges.

Add the shrimp to your mushrooms and cook until shrimp turns a bright salmon color.

Add the blanched vegetables and saute for 1 to 2 minutes.

Throw in the red bell peppers. Add the sliced scallions to the skillet along with the finely chopped ginger.

Pour in the mirin sauce and sweet soy sauce. Saute the ingredients for 1 to 2 minutes. Make sure to coat your ingredients well.

Add the noodles to the skillet and stir to coat noodles with vegetables and sauce. Cook until the noodles are caramelized or golden.

Serve your noodles in a bowl. Garnish with some thinly sliced scallions and a sprinkle of sesame seeds. Dig in, and enjoy!
Recipe Notes
Switch up your vegetables for these pan noodles. Try a combo of red bell peppers, green beans, and cauliflower!
Remember to not cook the noodles for too long to avoid making them mushy.
Nutrition
Sugar:

34g

:

Calcium:

55mg

Calories:

524kcal

Carbohydrates:

104g

Cholesterol:

7mg

Fat:

8g

Fiber:

2g

Iron:

3mg

Potassium:

439mg

Protein:

13g

Saturated Fat:

1g

Sodium:

1554mg

Vitamin A:

4519IU

Vitamin C:

48mg
Nutrition Disclaimer
Frequently Asked Questions
What can I substitute soba noodles with?
Soba noodles is a tasty ingredient that would work amazingly with our Japanese noodles recipe. But we understand that not everyone has those on hand. So instead, you can opt for regular whole wheat spaghetti, whole wheat vermicelli, or Korean buckwheat noodles. Just remember to cook your chosen pasta according to package instructions, continue with our recipe, and toss it in our mushroom, shrimp and vegetable mix. You can also experiment and try it out with some udon noodles, as these noodles are great for absorbing its accompanying sauce.
What can I substitute mirin with?
Mirin is a slightly sweet Japanese rice wine used for cooking. You can use alcoholic substitutes like dry sherry or sweet Masala wine. If you prefer non-alcoholic substitutes, try balsamic vinegar or distilled white vinegar. Just note that if you choose to use dry sherry or white vinegar, for every tablespoon used of either, add half a tablespoon of sugar. If you are using sweet Masala wine or balsamic vinegar instead, you don't have to add any sugar, as they are both inherently sweet.
Can I replace shrimp with something else?
The shrimp comes as a classic ingredient to get that Noodles and Company Japanese pan noodles flavor. However, if you have seafood allergy or simply dislike seafood, you can always substitute it for some beef or chicken slices. They will taste just as wonderful with our sweet-salty sauce.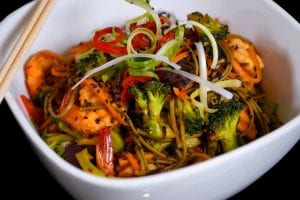 Conclusion
Making your favorite takeout food has never been more delicious (and possibly cheap)! This copycat pan noodles recipe from Noodles and Company is perfect to make when you're in a hurry. You can even make them in batches so that there are leftovers for tomorrow. Feel free to mix in your favorite vegetables and filling accompaniment for a more personalized dish.
Comments
You didn't include the soy sauce in the list of ingredients - at first look I didn't think the recipe sounded like it would have enough flavor. Oh, and for anyone who doesn't keep mirin on hand (I do as I use it all the time), a quick substitution is equal parts sake and sugar.

Comment is awaiting moderation.