Tired of your usual steamed dumplings? Well, this twist in Asian cuisine is something of a wonder to many who enjoy adding a bit of crunch to their meals. Introducing the pot stickers, a scrumptious set of dumplings steam-fried to golden brown perfection. Dumplings are a mixture of meat and chopped vegetables. They are all wrapped in a wanton to keep those delicious flavors snug. Imagine how luscious those savory combinations would be with its crunchy bottom!
These remarkable pieces date back to China's Song dynasty (960 – 1280 A.D.). Obscure legends say that a chef in China's imperial court had served these to court members. He burned a batch of dumplings that had been cooking away by accident. The chef, who had little time to redo the work, decided to present this to the court and called it his new creation. As it turns out, it was a huge hit. If court members from ages ago loved it, we're sure you will too!
Our recipe for pot stickers akin to the Cheesecake Factory one is a hearty dish that can be made anytime. Best of all, it is one of the restaurant's appetizers that are low in calories, only second to their Ahi Carpaccio. Talk about a good deal of deliciousness and health all wrapped up in those little dumplings. It is light and refreshing, leaving you with plenty of room for dessert!
If you are looking for something fun to make with friends or family, then these steam-fried dumplings are your go-to. It's sure to impress at any dinner party, or you can just go on and have them as a snack. Pair it with our recipe for Copycat Panda Express Fried Rice Recipe to get the best of both worlds.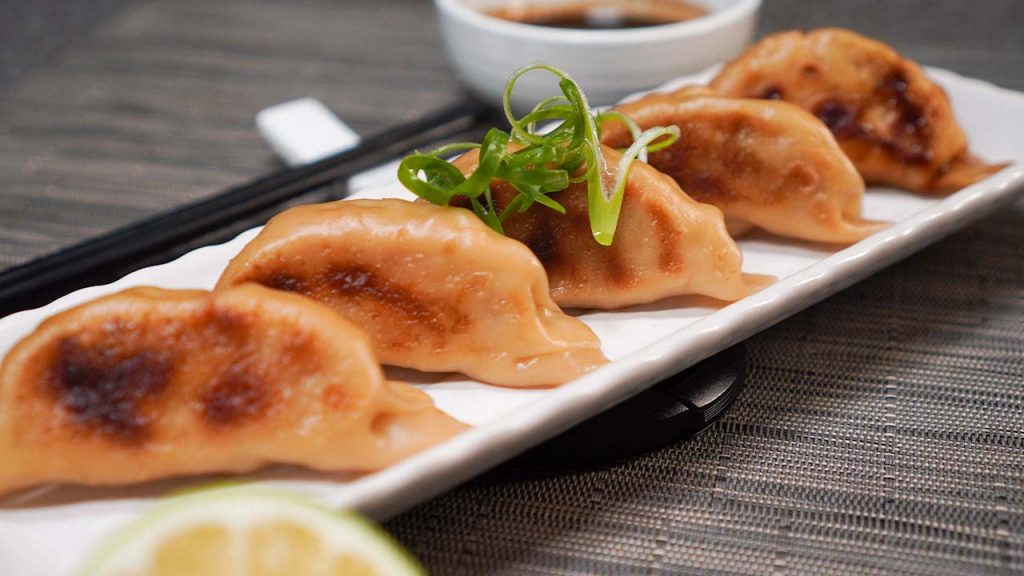 Copycat Cheesecake Factory Chicken Pot Stickers Recipe
How To Make Copycat Cheesecake Factory Chicken Pot Stickers
Crispy at the bottom, steam-fried dumplings filled with meat and chopped vegetables. Serve it fresh with rice and any light soy-sauce or any dip of your choice.
Ingredients
½

lb

ground chicken

½

red bell pepper,

chopped

¼

cup

green cabbage,

shredded

1

stalk

green onion,

chopped

1

tsp

ginger root,

chopped

½

tsp

sesame oil

¼

tsp

ground black pepper

1

egg white

10

oz

wonton wrappers

1

cup

chicken broth

2

tsp

soy sauce
Instructions
In a bowl, mix all the ingredients for the meat filling. Set aside wonton wrappers, broth, and soy sauce.

Brush the wonton wrapper with water.

Place 1 small spoonful of meat filling in the wonton wrapper's center.

Fold the wonton wrapper in half over the filling.

Seal the wonton by pleating the edges using a fork. You can also crimp them by hand.

Once you've assembled the chicken wontons, place on a large sprayed skillet over medium heat.

Cook about 12 pot stickers at a time in the skillet for 3 to 4 minutes.

Stir in broth and soy sauce.

Cover and cook for 5 minutes.

Serve and enjoy with your choice of dipping sauce.
Nutrition
Sugar:

1g

:

Calcium:

20mg

Calories:

154kcal

Carbohydrates:

22g

Cholesterol:

28mg

Fat:

3g

Fiber:

1g

Iron:

2mg

Potassium:

222mg

Protein:

9g

Saturated Fat:

1g

Sodium:

418mg

Vitamin A:

248IU

Vitamin C:

13mg
Nutrition Disclaimer
Frequently Asked Questions
What is the difference between a pot sticker and a dumpling?
Pot stickers are also dumplings, but the main difference is their cooking process. While dumplings can either be steamed or fried, pot stickers are a combination of both. You get a steamed top and a burnt bottom, creating a combination of soft and crunchy texture.

Can I freeze my pot stickers?
Yes, you can! To do this, you will need to freeze them on a baking sheet lined with parchment paper for an hour. This prevents the uncooked, chicken pot stickers from sticking. Afterward, remove the frozen pot stickers and place them in a Ziploc bag. Placing your pot stickers in a bag will keep them from getting freezer burn. These frozen pieces can last for up to 3 months. Best of all, you can cook them straight into the skillet without thawing. Take note that the cooking time will be longer compared to room-temperature pot stickers.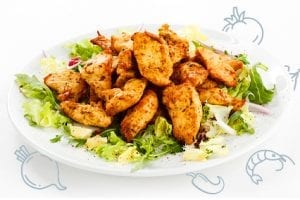 Conclusion
Pot stickers are great for sharing or eating alone! Anyone who wants to try something new from their usual dumpling is sure to love this. It is best eaten with rice or your favorite dipping sauce. These pot stickers make for a delectable choice as a main course or even a snack.