Bruschetta literally means toasted bread in Italian. In this recipe, we're going for a classic Italian bruschetta by topping juicy tomatoes in our toasted baguette. For an added twist, we're putting in protein-filled boiled eggs swimming in a rich creamy sauce. The flavor and texture of our tomato and egg salad go perfectly with our crusty toasted baguette. There are also many variations of this toasted bread recipe with different toppings like artichoke bruschetta but of course, you can never go wrong with a classic bruschetta!
You'll love making bruschetta for breakfast, snack time, and meals.  Being an easy-to-make snack and appetizer with many possible toppings, this timeless Italian finger food will be a family favorite! You'll love every bite of the crispy toasted baguette topped with creamy tomato and egg salad.
In this recipe, we used egg for our toppings since it goes perfectly with bread. But you can definitely mix and match other ingredients! This recipe is quick and easy so make this classic Italian snack that you can modify and make your own. Prep up this happy hour appetizer and let your guests enjoy this fun and tasty open-faced sandwich.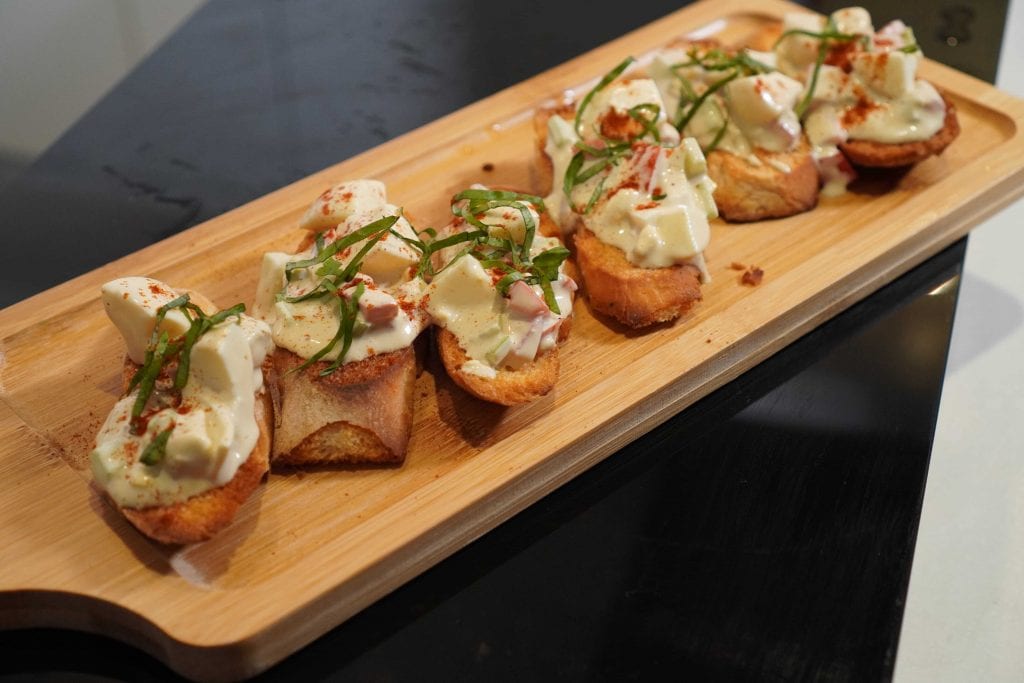 Creamy Tomato and Egg Bruschetta Recipe
How to Make Creamy Tomato and Egg Bruschetta
This is our twist on the classic Italian bruschetta, topping it with boiled eggs and tomatoes in a rich creamy sauce. Taste the satisfying crispy and silky combination of this tomato and egg bruschetta in every bite.
Ingredients
1

baguette,

about 6-inch length

olive oil

3

tomatoes,

 medium-size

1

celery stalk

5

eggs,

boiled

2

tbsp

apple cider vinegar

½

cup

soy sauce

½

cup

mustard

½

cup

mayonnaise

basil and paprika,

for garnish
Instructions
Preheat oven to 350 degrees F.

Slice your baguette into 10 pieces crosswise using a serrated knife.

Brush both sides of the sliced baguette with olive oil.

Place baguette slices in oven and bake for 15 minutes until they are lightly toasted. Set aside.

Remove the seeds of the tomatoes and chop them up. Then chop the celery and dice the eggs.

In a mixing bowl, combine the chopped ingredients with apple cider vinegar, soy sauce, mustard, and mayonnaise.

Assemble the toasted baguette in a serving plate and spread the mixture on top of each slice.

Garnish with basil and paprika and you're all set.
Recipe Notes
For your bruschetta toppings, you can easily mix and match the vegetables and other ingredients. And if you like, you can even add some meat!
Also, if you prefer a richer flavor, you can also substitute your olive oil with butter.
Depending on how big you want your bruschetta to be, you can just cut your baguette accordingly. If you're going for bite-sized pieces, you can cut your baguette in half before slicing. And if you're after bigger slices, simply cut them diagonally into ¼-inch slices. 
Nutrition
Sugar:

2g

:

Calcium:

47mg

Calories:

199kcal

Carbohydrates:

16g

Cholesterol:

87mg

Fat:

12g

Fiber:

2g

Iron:

2mg

Potassium:

197mg

Protein:

7g

Saturated Fat:

2g

Sodium:

1050mg

Vitamin A:

460IU

Vitamin C:

5mg
Nutrition Disclaimer
Frequently Asked Questions
How do I prevent my baguette bread from getting soggy?
You can make your baguette toasts 3 days ahead before serving as long as you store them in an airtight container. Just remember to add in your toppings just before serving them because it can make your baguette soggy. We also suggest serving the toppings and toasted bread separately for your guests to assemble. This way your bruschetta won't get soggy and your guests can enjoy them the way they want it!
Do I eat bruschetta with my hands?
Since bruschetta is an open-faced sandwich, we eat it with our hands. It's a light finger food and it's filling enough to be a light entree. Since we usually have a hearty amount of toppings on our toasted bread they can fall off when taking a bite. Our tip to eating it neatly would be to hold a cup or napkin with your other hand to catch whatever falls off your bruschetta. This way you can fully enjoy it and stay poised at your party.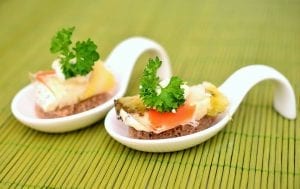 Conclusion
We're giving you the perfect snack and appetizer for your next casual meal or fancy gathering. The silky and crispy combination of our take on this Italian classic will not disappoint. It's a fun finger food that's incredibly tasty and easy to whip up. Don't miss out on this classic Italian snack and serve a stunning and delicious dish that everyone will love.
Comments
Nonude preteen models

Comment is awaiting moderation.