Are you in need of a simple, one-pot dish for dinner tonight? Well, take a gander at our jambalaya recipe! It tastes just like Bubba Gump's jambalaya dish. So if you're missing that well-seasoned plate, you've landed on the right page. This jambalaya recipe is a filling meal of chicken shrimp, sausage, and white rice all mixed in bright spices. It's a beloved Southern dish that's easy to make, and we've got the best recipe just for you. 
What is Jambalaya?
Before diving right into our jambalaya recipe, let's first talk about this spice-filled Southern staple. If you're looking for a protein-filled dish, look no further than the Jambalaya. The Jambalaya comes in two types: the Creole and Cajun.
Creole jambalaya is known as "red jambalaya" due to its mixture of tomatoes. The Cajun jambalaya, on the other hand, is browner in color due to the meats being browned and caramelized. Smoked meat, sausages, vegetables, and rice are usually found in both types of jambalaya but some add in chicken, pork, seafood, and even game meat like duck and venison. Regardless of the type, it's important to build layers of flavor into the pot as we cook and give it a good stir to avoid having a burnt layer at the bottom of the pan.
Many consider this proper comfort food, and we have to agree! For another flavorful seafood and rice mix using a different blend of spices, try out our Crockpot Seafood Paella. Going back to our homemade jambalaya recipe, it's akin to the Creole jambalaya and will taste just as comforting and more. In this recipe, we'll be sharing with you how to make jambalaya that tastes just like Bubba Gump's to serve at your next family dinner. The best part of our jambalaya dish is that our sauce mixture will certainly remind you much of Bubba Gump's signature spicy sauce! Our recipe is such a versatile pot of goodness that you can serve it with other meals.
What to Serve with Jambalaya
This jambalaya recipe can be easily paired with a bunch of other sides. But if you're seeking a Southern-style dinner, look no further from our recipes. Try the jambalaya with our Bacon-Fried Collard Greens. For a charred flavor, add in some Corn on the Cob with Cheese and Lime as a side-dish. And finally, liven up your meal up with a classic Copycat Boston Market Cornbread. It'll be just like eating at Bubba Gump's, and likely much cheaper!
You can never go wrong in impressing your family with this easy jambalaya recipe! It'll keep your family full and happy, with just enough for leftovers tomorrow. Cook these up tonight with the rest of our Southern recipes for a hearty dinner.
Bubba Gump's-Inspired Jambalaya Recipe
How To Make Bubba Gump's-Inspired Jambalaya
Explore more of Southern cuisine with our homemade jambalaya recipe inspired by Bubba Gump's. It's a seasoned mixture of rice, shrimp, meats, and tasty vegetables, which you can serve to your family tonight!
Ingredients
2

tbsp

vegetable oil

1

tbsp

cajun seasoning,

(recipe below)

1

lb

shrimp,

deshelled, deveined

10

oz

sausages,

spiced, preferably Andouille or Hot Links, sliced into rounds

1

lb

chicken breasts,

boneless, skinless, cut into 1-inch pieces

2

celery stalks,

(roughly 4 oz total), diced

20

oz

tomatoes,

(1 can), crushed

1

green bell pepper,

(roughly 4 oz), small, diced

3

garlic cloves,

(roughly ½ oz total), minced

1

red onion,

(roughly 4 oz), medium, diced

½

tsp

red pepper flakes

½

tsp

ground black pepper

1

tsp

salt

1

tsp

paprika

½

tsp

hot pepper sauce

2

tsp

Worcestershire sauce

1¼

cup

white long grain rice

1

cup

chicken broth
For Cajun Seasoning:
½

tsp

salt

½

tsp

garlic powder

½

tsp

paprika,

powder

½

tsp

ground black pepper

½

tsp

onion powder

½

tsp

cayenne pepper

½

tsp

dried oregano

½

tsp

dried thyme

½

tsp

red pepper flakes
To Serve:
1

lemon wedge,

or lime

1

tbsp

green onions,

sliced
Instructions
Begin by heating an oiled Dutch oven over medium heat.

In a large bowl, add the sausage, shrimp, and chicken pieces. Season them with the cajun seasoning. Set aside.

In the Dutch oven, add the oil, then saute the onion, bell pepper, celery, and garlic briefly.

Add the red pepper flakes, black pepper, salt, paprika, hot pepper sauce, and Worcestershire sauce. Continue sauteing.

Add the seasoned chicken, shrimp, sausage, and rice into the pot. Continue sauteing until all are evenly coated.

Add the chicken broth and crushed tomatoes. Stir to combine, cover, and bring to a boil.

Bring down the heat to a simmer and continue simmering for roughly 25 minutes, until the rice is fully cooked through.

Serve immediately, garnished with a lemon or lime wedge and sliced green onions.
Recipe Notes
Don't have cajun seasoning for this recipe? No problem! Simply mix a tablespoon of the following powders: salt, garlic, paprika, black pepper, onion, cayenne pepper, dried oregano, thyme, and red pepper flakes. Adjust it to your liking, and use it on this jambalaya or any other recipe.
Nutrition
Sugar:

4g

:

Calcium:

169mg

Calories:

574kcal

Carbohydrates:

40g

Cholesterol:

273mg

Fat:

26g

Fiber:

3g

Iron:

4mg

Monounsaturated Fat:

9g

Polyunsaturated Fat:

4g

Potassium:

789mg

Protein:

43g

Saturated Fat:

10g

Sodium:

1705mg

Trans Fat:

1g

Vitamin A:

1768IU

Vitamin C:

41mg
Nutrition Disclaimer
Frequently Asked Questions
What can I use instead of file powder?
Our jambalaya recipe uses filé as a thickener and added flavor to the dish. But if you don't have any file powder on hand, you can simply replace it with cornstarch. For added ingredients, you can even mix in some sliced okra, as the vegetable comes as a natural thickening agent.
What can I use in place of the Andouille sausages?
These sausages can be easily found at your local grocery store. But if you don't have these on hand, a similar smoky sausage would be chorizo or smoked Italian sausage. They will taste just as meaty and will pair well with your homemade jambalaya.
How can I make this jambalaya recipe vegan-friendly?
In place of the meats and shrimp, you can opt for beans and chickpeas. Adding in legumes can also complete our belly-filling jambalaya dish.
What kind of rice can I use for this recipe?
This recipe works perfectly with white rice. But other kinds of rice like Jasmine, brown rice, or Arborio rice works just as well. Just make sure to keep an eye out on your jambalaya, as rice tends to differ in texture and flavor.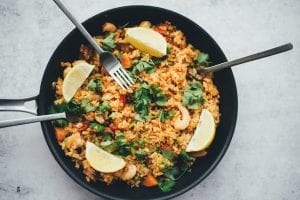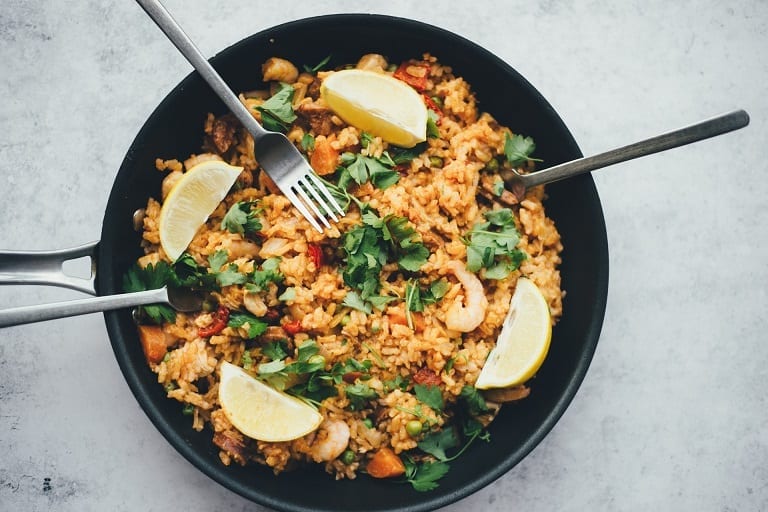 Conclusion
You won't be missing Bubba Gump's jambalaya ever again with our easy jambalaya recipe! Our recipe is great for six servings, but you're free to adjust it enough to have leftovers for tomorrow. Serve them with your favorite Southern dishes for a perfectly filling meal. Add a splash of lime wedges to really liven up the jambalaya. So what are you waiting for? Try this out for dinner tonight with the family!