Every time I'm craving for steaks or burgers, I make sure that I have these sauteed mushrooms and onions ready to use as additional toppings or side dishes. The onions and mushrooms are sauteed with Worcestershire sauce and olive oil (or butter) which helps caramelize them into a delicious deep brown color. It also adds a rich and savory flavor to the onion and mushroom side dish. Sauteing these together in a tasty sauce is really the best way to cook mushrooms and onions at home. 
It's so easy to make these sauteed onions and mushrooms since it uses simple pantry ingredients. What I focused on the most was the kind of mushrooms I had to buy. There are just so many different types! I ended up choosing baby bella mushrooms (or cremini) since they're tastier. These mushrooms have a round brown top with a robust flavor that is perfect for sauteing. You can also use white button mushrooms or portobello mushrooms as substitutes since they came from the same variety. White mushrooms are the young mushrooms while the portobello mushrooms are the older version of cremini. 
I recommend buying fresh mushrooms for this sauteed mushrooms and onions recipe. They taste better, and are less likely to get soggy when cooked. Canned mushrooms tend to have a higher sodium content because of the brine that keeps them preserved. I tried using canned mushrooms before and it really affected the texture of the sauteed dish. Mushrooms tend to release a lot of moisture when cooking so the additional liquid from the brine made things a bit difficult.
When using fresh mushrooms, however, make sure to clean it properly with a damp paper towel or a brush to gently remove the dirt. As much as possible, don't soak the mushrooms while cleaning them. Just give it a quick rinse then dry it immediately. After cleaning my baby bella mushrooms, I sliced them and then cooked them on the pan with olive oil (or butter, if you want a slightly buttery taste). Then, when the mushrooms were a bit brown in color, I added in the onions. 
Other people would cook the onions first, but I like cooking mine last since onions tend to cook really fast. Nobody wants burned onions on their grilled steak or burger! That's why I saute the mushrooms first and then the onions until they are slightly translucent. I added in the salt, pepper, and Worcestershire sauce then cooked for a few more minutes so that the flavors blend together properly. For the final ingredient, I added in the fresh lemon juice for a subtle tang and continued sauteing. 
Other similar simple mushroom recipes include white wine, or use balsamic vinegar as a substitute to the Worcestershire sauce. And, honestly, these are really good suggestions that you can also try. I've tried these before, and they really elevated the flavor of the sauteed mushrooms and onions. Other ingredients you can also add are minced garlic. It's best to add the garlic last since they burn easily. Lastly, for a slightly earthy and herb flavor, I would also sometimes add rosemary or thyme. 
After 15 minutes, I was done with my sauteed mushrooms and onions side dish. It was so good and the veggies were just perfectly tender and well-seasoned with the sauce and lemon. Feel free to enjoy it on its own or with other main dishes. Since it's just mushrooms and onions, this dish is also perfect for those who are on a plant-based diet. Personally, I like to use these sauteed mushrooms for steak dishes to give them additional flavor and texture. I garnished my grilled beef tenderloin dish with this simple sauteed mushrooms and onions side dish for dinner. My family really enjoyed eating these, and even complimented it as one of the best mushroom recipes that I've cooked so far!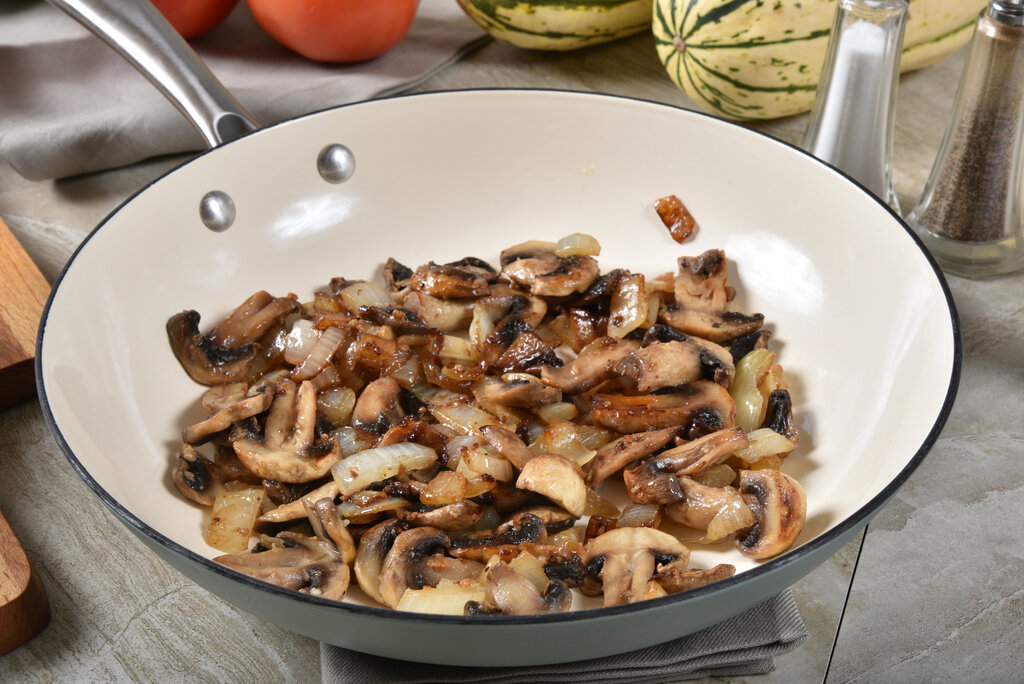 Sauteed Mushrooms And Onions Recipe
How To Make Sauteed Mushrooms And Onions
Add these tender and caramelized sauteed mushrooms and onions to your steaks or burgers for a fantastic combination of savory-sweet flavors.
Ingredients
16

oz

baby bella mushrooms,

(cremini)

1

yellow onion

3

tbsp

olive oil,

or butter

1

tbsp

Worcestershire sauce

1

tbsp

fresh lemon juice

3

cloves garlic,

minced, optional

½

tsp

dried rosemary,

or thyme, optional

½

tsp

kosher salt,

plus more for seasoning

fresh ground black pepper,

to taste
Instructions
Clean the mushrooms, then slice them. Slice the onion.

In a saute pan or skillet, heat the olive oil or melt butter over medium-high heat. Cook mushrooms for 2 minutes.

When mushrooms start to turn golden brown, add the onions and cook until it's lightly browned on the edges and translucent. If desired, add in the garlic and dried herbs.

Add the kosher salt and pepper and Worcestershire sauce and cook for another 4 to 5 minutes, stirring occasionally, until most of the liquid is cooked out and the mushrooms are tender

Add the fresh lemon juice and stir, cooking another 30 seconds to 1 minute until evaporated. Taste and add a few pinches of salt and pepper until the flavor pops.

Serve and enjoy.
Nutrition
Sugar:

4g

:

Calories:

136kcal

Carbohydrates:

9g

Fat:

11g

Fiber:

1g

Iron:

1mg

Monounsaturated Fat:

8g

Polyunsaturated Fat:

1g

Potassium:

595mg

Protein:

3g

Saturated Fat:

1g

Sodium:

354mg

Vitamin A:

5IU

Vitamin C:

5mg
Nutrition Disclaimer