Despite being famous for their endless array of dessert pies, Marie Callender has a hearty pie up her sleeve. No, it's not her German Chocolate Pie, although we do have a recipe for that too. Serve a warm slice of our Copycat Marie Callender' Chicken Pot recipe for a perfect deep-dish meal that makes less of a mess and more food for everyone to enjoy! With each bite of this homemade chicken pot pie, you'll be able to taste their famous tender chicken chunks, savory seasonings, and vegetables in a beautiful flaky crust. Prepare to be blown away by a creamy filling packed with all kinds of textures and flavors that will leave you wanting more.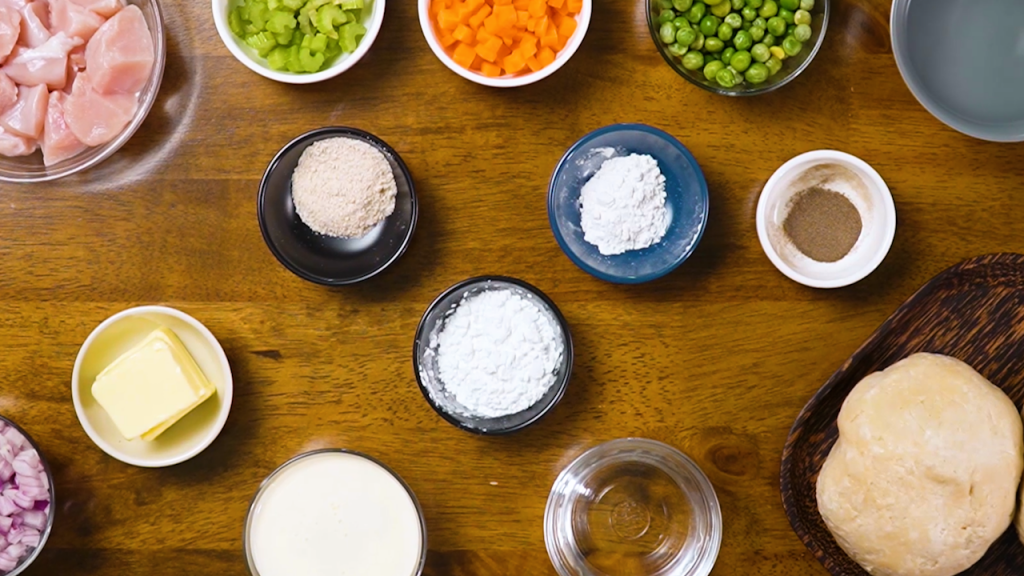 How to Make Chicken Pot Pie Crust
Before we hop into this easy pot pie recipe, first we need to know how to prepare the crust. The flaky texture of the crust is a great combination with the creamy filling. With each slice, you're greeted with a crisp sound of the exterior and its warm, mouth-watering filling. Using a pre-made crust will also give you an amazing flaky crust for your chicken pot pie plus a hassle-free prep. The bottom of the pot pie crust should have a fluted edge for the sole reason of stability. Apart from holding the filling, this prevents it from seeping between the edges that result in a soggy pie.
When you flute the edge, use your thumb to push the crust in the direction where your index finger and other thumb are holding the crust in place. Do this around the pie and there you have a fluted edge. Aside from fluting the bottom, you also have to slit the top of the chicken pot pie crust. This creates a vent for the steam to escape as your pot pie is baking. If you wish to deviate from the pie crust, easily turn this into a bisquick chicken pot pie recipe by mixing a cup of bisquick mix, one egg, and half a cup of milk to make a golden-brown crust.
Try another house specialty with our Copycat Marie Callender's Southern Pecan Pie recipe. It's a great way to practice your pie-making skills plus you'd ace that fluted edge. So, let's head right into making the best chicken pot pie recipe!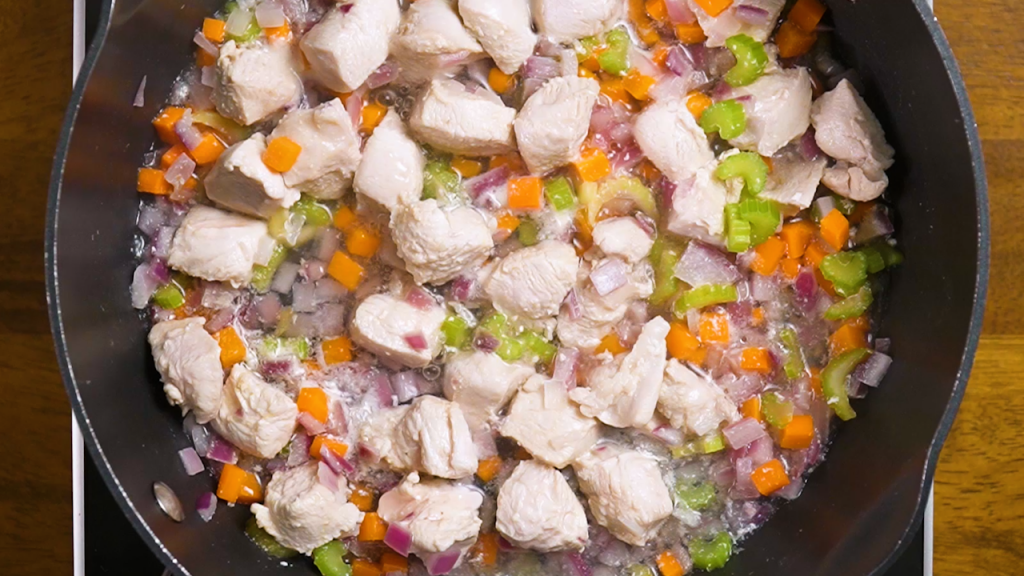 How to Make Homemade Chicken Pot Pie
The eyebrow-raising origin of the pot pie recipe dates back to the Romans where they would serve it in banquets with live birds under the crust. From there, the brits switched up the meat to lambs, pork, or deer meat. The Americans adapted to chickens and other available meat, hence our easy chicken pot pie with pie crust. 
Nowadays, we simply throw in leftover chicken meat, peas, carrots, and onion for an easy chicken pot pie like in this Chicken Pot Pie Recipe. You can easily make a homemade pot pie using a saucepan as well. Others also try to switch up the meat in their usual chicken pot pie by following either a beef pot pie recipe or turkey pot pie recipe for a deliciously filling meal. 
You can either pour the filling onto the pie crust and bake or serve as it is. You can even make a crustless instant pot chicken pot pie for a last-minute dinner! Learn about great pairing suggestions and more, by checking out our CAQ section down below. Our recipe offers a quick and easy way to assemble your pie just in time for dinner. We can guarantee it's the best chicken pot pie recipe especially since Marie Callender has yet to disappoint.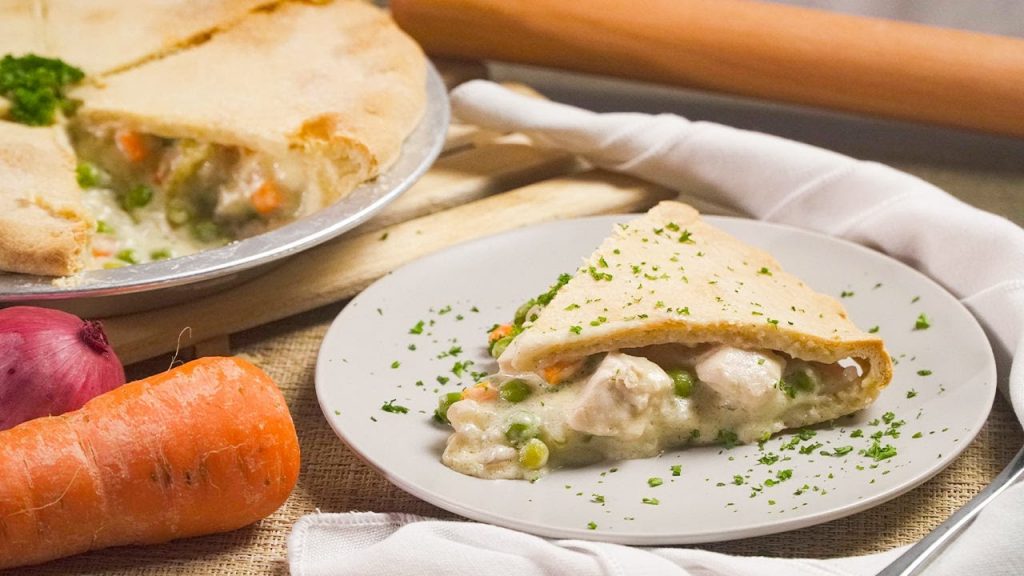 Copycat Marie Callender's Chicken Pot Pie Recipe
How To Make Copycat Marie Callender's Chicken Pot Pie
Indulge in a Marie Callender-inspired pot pie recipe. This savory dish is filled with flavorful vegetables and a mouth-watering crust you shouldn't pass up!
Ingredients
For Filling:
1

cup

water,

divided

7

oz

chicken breasts,

boneless, skinless, and cubed

1½

oz

carrots,

cubed

2¾

oz

celery,

sliced

5½

oz

red onion,

chopped

1

tbsp

chicken powder

¼

tsp

black pepper

¼

cup

unsalted butter

2

tbsp

cornstarch

2

tsp

all purpose flour

½

cup

heavy whipping cream

½

cup

frozen peas
For Crust:
2

balls of pie crust,

10 oz each, prepared & chilled
Instructions
Preheat oven to 400 degrees F.
Filling:
In a saucepan, combine ¾ cup water, chicken, carrots, celery, and onion. Bring to a boil.

Reduce to a simmer and cook for 10 minutes, stirring occasionally.

Add chicken powder, pepper, and butter.

Dissolve cornstarch and flour into remaining ¼ cup water and stir into chicken mixture.

Simmer for 3 minutes, stirring frequently until thickened.

Add peas & cream then simmer briefly & set aside.
Crust:
Roll out 1 ball as the bottom crust on a floured surface to 1 inch larger than inverted 9-inch deep-dish pie plate.

Lift the dough off the floured surface by rolling it onto the rolling pin and unroll over the pie plate.

Ease the dough into the plate loosely and press in place.

Trim the edge of the bottom crust.
To assemble:
Pour filling into the bottom crust.

Roll out another ball as the top crust and cover filling with top crust. Fold top crust under the bottom crust and cut slits for steam to escape.

Seal crust and flute edge. Set aside any excess dough for future use.

Bake for roughly 20 minutes or until the crust is golden brown and filling is bubbling.

Let it stand for 15 to 20 minutes before serving.
Nutrition
Sugar:

3g

:

Calcium:

33mg

Calories:

257kcal

Carbohydrates:

14g

Cholesterol:

69mg

Fat:

19g

Fiber:

2g

Iron:

1mg

Potassium:

270mg

Protein:

9g

Saturated Fat:

10g

Sodium:

304mg

Vitamin A:

1873IU

Vitamin C:

8mg
Nutrition Disclaimer
Commonly Asked Questions
What do I serve with chicken pot pie?
Green veggies like salad, stir-fried green beans, or asparagus make a delicious side. You can also try bread rolls and even potatoes. Try our Vinegar-Marinated Green Beans recipe to pair with your chicken pot pie!
How do I store and reheat chicken pot pie?
Reheating depends on how you stored your chicken pot pie. You can make it ahead and store the filling in an airtight container. Place it in the freezer and allow it to thaw in the fridge the night before you plan to bake it. Reheat the filling in a saucepan for 5 to 6 minutes and assemble the pot pie as instructed. If you're going to be reheating leftovers, cover the crust with aluminum foil and preheat your oven to 300 degrees F. Let it bake for 30 minutes, occasionally checking every 10 minutes. This is to ensure that your crust will not burn and your pie doesn't get mushy.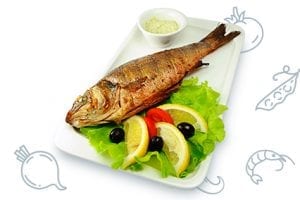 Conclusion
Serve the best chicken pot pie with our copycat recipe. Marie Callender definitely does not disappoint with her top-notch pie. This homemade pot pie is filled with savory flavors from the vegetables in the filling, the crisp, flaky crust, and creamy roux.
Comments
f8bet

Comment is awaiting moderation.

For the reason that the admin of this site is working, no uncertainty very quickly it will be renowned, due to its quality contents.

Comment is awaiting moderation.

I like the efforts you have put in this, regards for all the great content.

Comment is awaiting moderation.

Kriptoks ile mxgp token alabilirsiniz.

Comment is awaiting moderation.

37 Yıllık Kompresör Tecrübesi

Comment is awaiting moderation.

Great information shared.. really enjoyed reading this post thank you author for sharing this post .. appreciated

Comment is awaiting moderation.