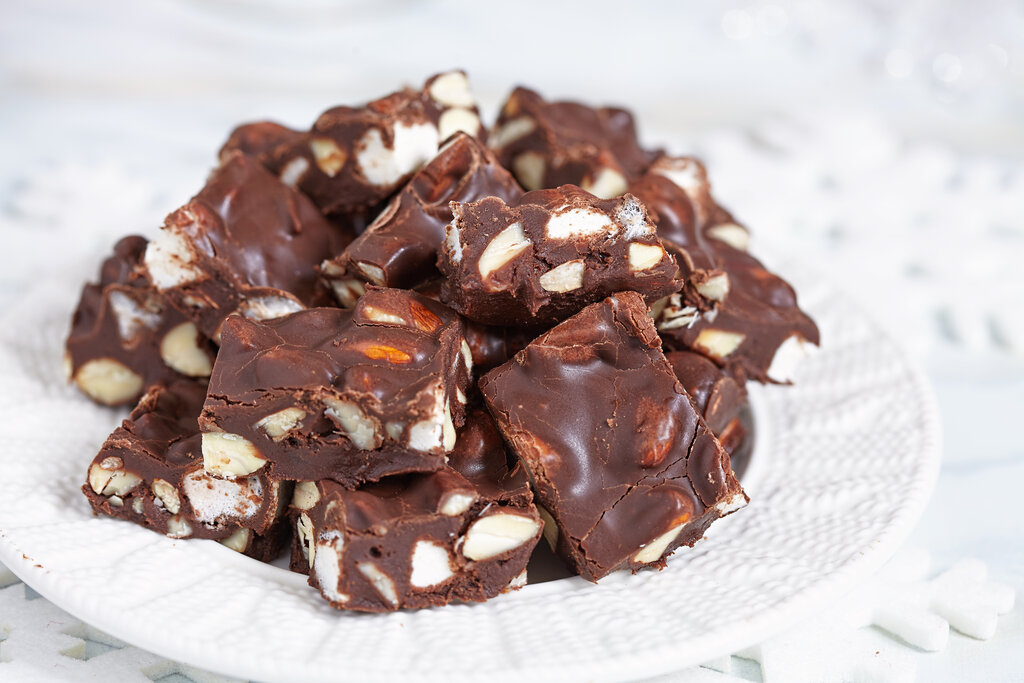 Rocky Road Fudge Recipe
I've always been a fan of anything chocolate fudge. And Rocky Road ice cream? That's practically my childhood soul food. That's why turning a classic rocky road recipe into a moist and decadent fudge dessert was the perfect sweet treat I just had to try making.
These homemade fudge delights were so easy to make since they only needed six simple ingredients. For this rocky road fudge recipe, I used sweetened condensed milk, butter, and milk chocolate chips with additional toppings such as semi sweet chocolate chips, miniature marshmallows, and chopped walnuts.
The sweetened condensed milk helped with adding thickness and flavor to the fudge. It created that perfectly moist fudge base that held the chopped walnuts and mini marshmallows well. This chewy yet crunchy rocky road fudge dessert turned out so delicious that my family and friends enjoyed eating lots of it. The best thing is I didn't even need an oven for this easy fudge recipe! Just pop the mixture in the microwave and you can get those yummy fudges, quick and easy!
The next time I make these, I'll experiment more on the different kinds of nuts I can use as toppings. I heard that pistachios, peanuts, or almonds also make for the perfect add ons. These fudgy delights are definitely perfect for serving during gatherings or the holiday season. It's a rich, moist, and nutty fudge that even stores well in the fridge for long periods of time.
How To Make Rocky Road Fudge
This easy rocky road fudge recipe is exactly what you need for a quick and tasty sweet treat! You'll only need a microwave to make this delicious homemade fudge. Enjoy the decadent taste of this chocolate and nutty fudge that just satisfied your sweet tooth.
Refrigerate Time:
3 hours
Total:
3 hours 10 minutes
Ingredients
½

cup

unsalted butter

4

cups

milk chocolate chips,

about 2 bags

14

oz

sweetened condensed milk

1

cup

walnuts,

chopped

1

cup

semisweet chocolate chips

2

cups

mini marshmallows
Instructions
Wipe down a piece of foil with the wrapper of the stick of butter, then line a deep 8 x 8-inch pan with parchment paper.

Add the butter to a large microwave safe bowl.

Melt gently, then add in the milk chocolate chips and condensed milk.

Mix well.

Melt the mixture in the microwave in 30 second increments until smooth.

Pour into the greased aluminum lined pan.

Let sit for 5 minutes.

Top with walnuts, semisweet chocolate chips and marshmallows, then refrigerate for 3 to 4 hours until set.

Cut into bars, serve, and enjoy!
Nutrition
Calories: 

323.35kcal

Fat: 

16.28g

Saturated Fat: 

10.03g

Trans Fat: 

0.22g

Monounsaturated Fat: 

2.13g

Polyunsaturated Fat: 

0.35g

Carbohydrates: 

42.55g

Fiber: 

1.45g

Sugar: 

38.68g

Protein: 

3.54g

Cholesterol: 

21.39mg

Sodium: 

51.04mg

Calcium: 

94.00mg

Potassium: 

89.74mg

Iron: 

0.73mg

Vitamin A: 

44.59µg

Vitamin C: 

0.66mg