This chocolate peanut butter fudge recipe is super easy and delightful! Our two favorite flavors, chocolate and peanut butter, are combined with sweetened condensed milk and cooked into one luscious fudge. It's a great gift to give to friends for the holidays, but oh so satisfying year-round too. You can have your peanut butter chocolate fudge as a post workout snack with a banana smoothie, or as an after meal dessert with coffee.
Tips on Making Chocolate Peanut Butter Fudge
Some fudge recipes might look intimidating in that they call for a candy thermometer, many ingredients, precise measurements, and even just a little extra of something could easily mess it up. Well, don't worry because this one's an easy fudge recipe that even beginners can follow. The fudge ingredients are easy to find, too. The only thing that's hard is waiting for it to cool and set! Anyhow, here are some helpful tips about making fudge:
Cook it on the stove top or using the microwave.

Check the recipe card for instructions for both.
You can basically mix everything together and create one uniform fudge.

But you can also make two layers and form a marble pattern by swirling them. You can even dip each bite-size fudge in

dark chocolate

or

white chocolate

to make

chocolate covered

fudge.
Mix in other delicious ingredients to the fudge

like

milk chocolate chips

, more peanut butter chips, or chopped

peanut butter cups

. Crushed

candy cane

and holiday-themed sprinkles will make it look festive! 
Let it come to room temperature

for 30 minutes first before chilling it. This helps not make it hard for the fridge to cool it. To cool down the fudge quickly, you can place the pan in an ice water bath.
Slice it when it's cold.

It'll be easier to slice. Also, it helps to grease the knife with cooking spray so that the fudge won't stick.
To store the peanut butter fudge,

keep the bite size squares in an

airtight container

. You can also wrap each square with

plastic wrap

. It'll stay good for 2 weeks in the fridge, while up to 6 months in the freezer. Just thaw it in the fridge overnight before serving.
More Easy Chocolate Fudge Recipes You'll Love
We have a wide collection of fudge recipes that you can try, but here are our top chocolatey picks! Check them out and see which one is the best fudge for you:
Oreo Fudge

— It's a soft fudge made with

marshmallow fluff

,

evaporated milk

,

white chocolate chips

, and lots of crushed Oreos! 
Cake Batter White Chocolate Fudge

— Love both fudge and birthday cake? Then this treat is for you! It's made with white cake mix,

confectioner's sugar

, butter, and it's complete with sprinkles.
No Fail Chocolate Fudge

— This

easy chocolate fudge recipe

is almost a no-brainer. Just melt

powdered sugar

, semi sweet chocolate, marshmallow fluff, skim milk, butter, vanilla, and cocoa powder together, transfer the mixture on a pan, and wait for it to set.
Vegan Chocolate & Peanut Butter Fudge

— This vegan version of chocolate peanut butter fudge is made with coconut

butter, chocolate

, maple syrup, peanut butter, and vanilla. It's a delicious treat that even non-vegans will enjoy.
How To Make Chocolate Peanut Butter Fudge
This is a super easy chocolate peanut butter fudge recipe with condensed milk for those who just love the chocolate and peanut butter combo. Make it in the microwave or stove top using only a few common ingredients.
Ingredients
2

cups

semi-sweet chocolate chips

14

oz

sweetened condensed milk

1

tsp

vanilla

a dash of salt

1

cup

peanut butter chips
Instructions
Line an 8-inch square pan with parchment paper or aluminum foil and then grease it with cooking spray. Set aside.

In a heavy saucepan, melt chocolate chips with condensed milk over. Stir constantly for 5 minutes. If you are using the microwave, zap it on High in 10 second intervals, stirring in between, until the mixture is smooth.

Remove from heat.

Add vanilla and salt. Mix well.

Add peanut butter chips. Stir to distribute evenly.

Spread evenly into the pan. Cover it with plastic wrap.

Refrigerate 2 hours or until firm.

Remove from pan; peel off the aluminum foil or parchment paper.

Cut into squares. Serve and enjoy!
Nutrition
Sugar:

13g

:

Calcium:

42mg

Calories:

134kcal

Carbohydrates:

16g

Cholesterol:

6mg

Fat:

7g

Fiber:

1g

Iron:

1mg

Monounsaturated Fat:

2g

Polyunsaturated Fat:

1g

Potassium:

110mg

Protein:

3g

Saturated Fat:

4g

Sodium:

28mg

Trans Fat:

1g

Vitamin A:

39IU

Vitamin C:

1mg
Nutrition Disclaimer
Frequently Asked Questions
Why won't my peanut butter fudge harden?
The main and usual reason why fudge doesn't set is because it hasn't reached the right hot temperature. To fix it, you can cook it again so that excess liquid will evaporate and make the mixture thicker. You can also refrigerate it.

Why is my peanut butter fudge grainy?
The peanut butter fudge comes out grainy if it was overcooked for too long and over a temperature that's too high. It causes crystallization in the fudge which is what appears as grains. This can also happen if the fudge isn't stirred while cooking so that the bottom part becomes too hot. Avoid having a grainy fudge by keeping the temperature right, sticking to the cooking time, and regularly stirring the mixture.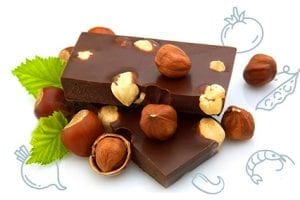 Conclusion
With just a handful of common ingredients and 10 minutes to put together, you can make a delicious chocolate peanut butter fudge. Enjoy this candy as a dessert snack, or multiply the delight by gifting it for the holidays.
Topics: