Christmas will be merry thanks to this irresistible copycat apple cobbler recipe from Fiddleheads Restaurant! In this recipe, we'll show you how to make homemade apple cobbler inspired by Fiddleheads Restaurant, New American Bistro.
This easy apple cobbler recipe is a must once the holiday season rolls around! It's one of many Christmas recipes you should try your hand on. Why? Well, who doesn't want soft cobbler dough on top of deliciously baked apples, flavored with cinnamon and caramelized brown sugar?
Once you serve this homemade apple cobbler to loved ones, they're sure to come back for seconds, maybe even thirds! And if you liked this copycat recipe, we have more apple cobbler recipes you can try. If you're looking for an apple cobbler with oats, try this Unbelievable Apple Crisp Cobbler Recipe. And for an old fashioned apple cobbler dessert, our Exquisite Apple Cobbler never fails to impress!
What Is Apple Cobbler: Cobbler vs Crisp vs Crumble
In this recipe, we're making a simple but delicious apple cobbler, just like the ones served at Fiddleheads. People often confuse a cobbler with a crumble and a crisp. Although the three may look similar, they're actually totally different kinds of pastry.
A cobbler is a baked good with no bottom crust. Fruits, like apple, blueberry, and peach, are placed in a baking dish and made as a filling of sorts. It's then topped with dollops of batter or biscuit dough, then finally baked!
Sometimes, savory filling composed of winter vegetables, like butternut squash, or even minced beef is used in place of fruits. Cobblers are popular in the United Kingdom and the U.S. as it goes all the way back to previous British American colonies. Some food historians even point to cobblers as being variations of pies.
A crumble also doesn't have a bottom. However, instead of the usual apple cobbler topping, crumbles have a crumbly and cakey, streusel-like topping (hence the name). It's usually made out of flour, sugar, and melted butter. If you try your hand at this Peach and Blueberry Crumble Recipe, you'll see how different the topping is.
Crisps, on the other hand, are exactly the same as crumbles. The only difference is that crisps' toppings are less dense and usually contain oatmeal (which becomes crisp when baking). This Cinnamon Apple Crisp Recipe shows that perfectly. Also, crumbles are often touted as the British version, while crisps are the American version.
Now you know the difference between cobblers, crumbles, and crisps! These baked desserts are so delicious and filling, they're the perfect dish to end a special holiday night.
Mouthwatering Apple Cobbler Recipe from Fiddleheads Restaurant
And what better recipe for apple cobbler should you try than this copycat from Fiddleheads? You can only find the New American Bistro in the U.S. However, that doesn't mean you won't ever get to taste their delicious apple cobbler!
This comfy restaurant located in New Jersey has many regular customers who keep coming back for their food. So, it's no surprise why many love their apple cobbler! The co-owners make the food in their own home, after all. The produce is grown in their own greenhouse too.
To copy the taste of Fiddlehead's original apple cobbler, we'll be using fresh apples for the cobbler's filling. We're sure that your homemade apple cobbler will end up being as tasty as Fiddlehead Restaurant's version! If you're interested in trying out more copycat recipes from this restaurant, try this scrumptious Fiddlehead Dip Recipe as a great side to your crunchy chips.
How To Make Apple Cobbler like Fiddleheads Restaurant
In this recipe, we'll show you how to make apple cobbler with fresh apples! This lets you get that natural, homemade taste from the original Fiddlehead's apple cobbler.
We'll also show you how to make apple cobbler from scratch by using flour, eggs, butter, spices, and other ingredients. That means no buying of pre-made ingredients like apple filling or cobbler dough topping. We're making everything from the ground up!
However, that doesn't mean that making this dish will be harder. The recipe instructions are clear. It lists down every step needed to make the best apple cobbler possible! Just follow the instructions and keep in mind the recipe notes.

Tip: Apples turn a brown color when cut and exposed to enough oxygen. To avoid this unappealing shade, slice the apples just right before baking!
If you liked this apple cobbler recipe, we have more cobbler recipes that use other fruits as filling. We have a yummy Blueberry Cobbler and Easy Peach Cobbler you can easily try for New Year's Eve!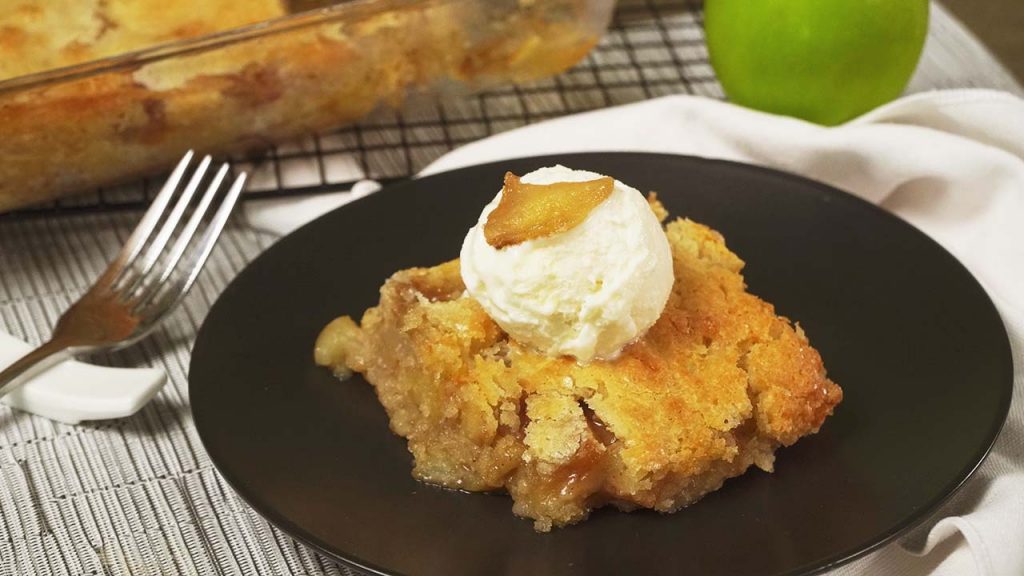 Copycat Fiddleheads Restaurant Apple Cobbler Recipe
How To Make Copycat Fiddleheads Restaurant Apple Cobbler
Bite on soft dough topping and moist, cinnamon-flavored apple fillings in this Fiddleheads Restaurant-inspired apple cobbler recipe! Try the best apple cobbler recipe for this year's Christmas celebration.
Ingredients
½

cup

all-purpose flour

1

cup

granulated sugar

½

cup

unsalted butter,

chilled

2

tbsp

unsalted butter,

cut into bits and chilled

1

egg

4

tbsp

milk

2

tsp

vanilla extract,

divided

¼

tsp

salt

6

apples,

preferably Granny Smith's, roughly 3 lbs in total, peeled, cored, and sliced into ¼-inch thick

¼

cup

brown sugar,

firmly packed

½

tsp

ground cinnamon
To Serve:
Instructions
Using a strainer, sift together the all-purpose flour and granulated sugar into a bowl.

Pour the sifted flour and sugar into a food processor.

Add the ½ cup of chilled butter into the flour mixture and blend until it resembles tiny peas. Set aside.

In a small bowl, whisk together the egg, milk, 1 teaspoon of vanilla extract, and salt.

Combine the milk mixture with the flour mixture and gently stir until the dough holds together, adding an additional 1 tablespoon of milk if necessary.

Cover with cling wrap, then chill the dough for 1 hour.

Preheat the oven to 350 degrees F.

In a mixing bowl, combine the apples with the brown sugar, cinnamon, and the remaining 1 teaspoon of vanilla extract.

Spread the apples in a baking casserole or pan of your choice and dot with the remaining 2 tablespoons of chilled butter. Drop the dough topping in small pieces over the apples.

Bake for 45 to 60 minutes, or until the apples are tender and bubbly and the topping is golden brown.

Serve warm with 1 scoop of vanilla ice cream on the side. Enjoy!
Recipe Notes
When dropping dough topping all over the apples, it's okay if there are spaces left without any topping as the dough will expand when baking.

Serve roughly 1 scoop of vanilla ice cream per slice of apple cobbler. 1 scoop is equal to roughly 1 ounce of vanilla ice cream.

If you want to serve this delicious apple cobbler with your own homemade vanilla ice cream, we have a couple of recipes you can try. This classic

Vanilla Ice Cream Recipe

is an easy, go-to recipe, while this

Copycat Baskin-Robbins Vanilla Ice Cream

uses real vanilla beans.
Nutrition
Sugar:

46g

:

Calcium:

30mg

Calories:

365kcal

Carbohydrates:

57g

Cholesterol:

59mg

Fat:

15g

Fiber:

4g

Iron:

1mg

Potassium:

181mg

Protein:

2g

Saturated Fat:

9g

Sodium:

89mg

Vitamin A:

559IU

Vitamin C:

6mg
Nutrition Disclaimer
Frequently Asked Questions
How to turn this recipe into a vegan apple cobbler?
Turn this recipe into a vegan-friendly dessert by replacing the egg, milk, and butter ingredients with plant-based substitutes. You can swap the egg with any egg substitute powders you can purchase in stores near you. Replace the milk with non-dairy or plant-based ones, like soy, cashew, or coconut milk. And for the butter, simply use vegan butter.
Can you make this apple cobbler with canned apples?
If you don't have access to fresh apples, then using canned apples is fine. Simply match the amount of apples needed (roughly 3 pounds) and proceed with the recipe as usual.
Can you make this apple cobbler recipe in advance?
Yes, you certainly can. In fact, you can make it up to 6 hours in advance. Before serving, let the apple cobbler stand for 1 hour at room temperature. Meanwhile, preheat the oven to 350 degrees F. After letting it stand, simply reheat the apple cobbler in the oven for around 20 minutes, then serve to guests.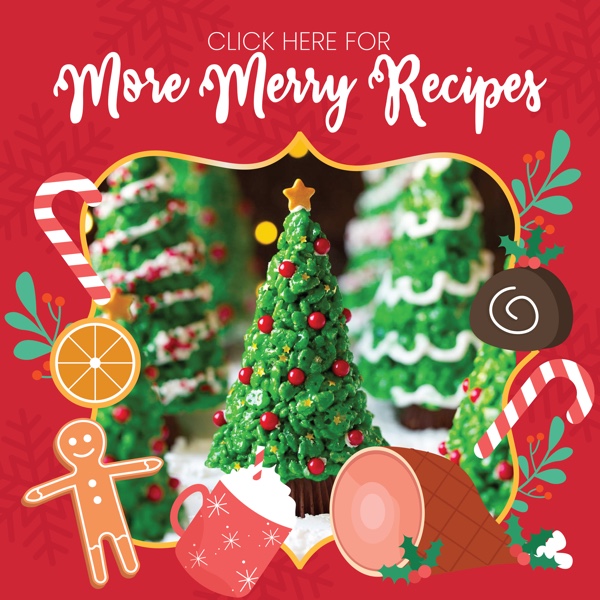 Conclusion
This Fiddleheads Restaurant-inspired apple cobbler recipe is the perfect pastry dessert for the Holiday celebrations! Serve this yummy apple cobbler dessert to your loved ones for a truly Merry Christmas.